Here Are The 10 Best Dog Leashes, According To Trainers
You'll find the best dog leash for your pup on this list 🦮
Chewy, Amazon
Chewy, Amazon
Whether you just got a new puppy or you're just looking to upgrade your dog's leash, there are tons of dog leashes you can choose from.
So how can you find the best dog leash for your pup? If you have a big dog, you'll definitely need a different kind of leash than if you have a small dog. Or if your dog pulls a lot, you'll need a special leash for that, too.
We spoke to some trainers to find out how to choose a dog leash and to get recommendations for some of the best leashes you can buy.
What to look for when buying a dog leash
When buying a leash for your dog, you should think about your pup's size, age, energy levels and how well-trained he is walking on a leash, Russell Hartstein, a trainer and founder of Fun Paw Care in Los Angeles, told The Dodo. The following considerations will help you decide on the leash attributes that'll be best for your dog.
Length — Shorter leashes give you more control, which is good for bigger dogs, puppies, dogs working on leash skills and dogs who pull. For smaller dogs, you can use a longer leash. You should also consider using a shorter leash if you're walking in a crowded area, like in a city, where you could run into a lot of other people and dogs. "The ideal leash length should be 4 to 6 feet," Julie Burgess, a certified dog trainer for Senior Tail Waggers and a veterinary technician, told The Dodo. "Anything more than that can create problems because it's more difficult to 'reel' in your dog. Leashes that are too short will cause constant issues with your dog trying to pull because there's tension on the leash all the time."
Width — A wider leash will be stronger for a big dog and dogs who pull, while narrower leashes are good for small dogs and puppies.
Material — You should look for a material that's comfortable for you to hold. If your dog's a chewer, you'll also want to look for leashes that are made of sturdy material so he won't be able to gnaw through it, or a chain leash to deter him from chewing (tips for how to stop your dog from chewing on his leash below).
Purpose — If you plan to go running with your dog, some leashes are better than others, like hands-free leashes.
Style — There are some cute dog leashes (and harnesses!) out there if you want your pup to look stylish on your walks.
According to Hartstein, there are some types of leashes and collars you definitely shouldn't use, since they'll hurt your dog. "Do not use choke chains, vibration (aka shock collars) or prong collars," Hartstein said. "Also, don't use a retractable leash."
Retractable leashes generally aren't recommended because they let your dog get too far away from you, and the cord is thin enough that it can easily break, which can allow your pup to run away or can hurt him. "Retractable leashes can hurt your dog because they can retract unexpectedly and snap [on] your dog's neck uncomfortably," Burgess said.
Best dog leashes
No matter what kind of dog leash you're looking for, these are some of the best ones you can find.
Burgess recommends this leash. It can be adjusted to be used as a hands-free leash for running or as a regular leash, so you'll get a ton of use out of it. It can even be converted into a leash for two dogs if you have more than one pup. It's made of high-density nylon and has a soft mesh velvet handle that's comfy to hold.
This leash is super popular — it has over 17,000 five-star reviews on Amazon. It's a basic nylon leash, so it's great for puppies who are just learning to walk on a leash. It comes in a narrower width, which is helpful for small dogs and puppies.
Burgess recommends this leash that has a padded foam handle that'll be comfortable for you to hold. And it's reflective, so you can safely walk your dog at night. You'll get two leashes, two poop bag dispensers and a collapsible dog bowl.
Irith Bloom, a certified professional dog trainer and owner of The Sophisticated Dog in Los Angeles, recommends this leash and harness combo for dogs who pull when you walk. It has Swiss velvet lining to keep your dog extra comfortable, and it comes in multiple sizes to fit any dog.
Bloom recommends this chain leash for dogs who like to chew their leashes. It comes in 4-foot and 6-foot lengths and is super lightweight and durable. The leather handle is strong and comfortable to hold and comes in black and brown.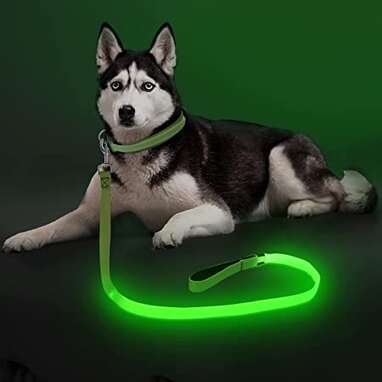 This leash lights up to help people in cars see you and your dog walking at night. The light has three modes (steady, rapid flashing and slow flashing) and comes with a rechargeable battery. We gave this leash our Paw of Approval for being so useful. One Dodo reviewer said, "I think it's great! I definitely feel safer going out at night, and I love that it doesn't need a charge after every use."
"[This] is an excellent option if you want to take small items with you, like your cell phone or treats for your dog, because it comes with a handy removable zipper pouch," Burgess said. The leash is reflective to help people in cars see you on the road, and there are extra handles on the leash if you need to guide your dog while you run. It also has shock absorbers to reduce pulling.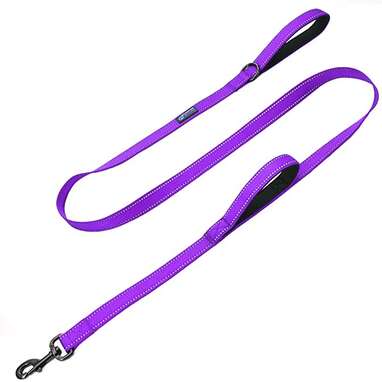 The two handles on this leash give you extra control so you can guide your dog while walking on busy city streets. It comes in two lengths (4 feet and 6 feet), so you can use it for any size dog. It has over 5,000 five star reviews on Amazon and comes in a bunch of colors.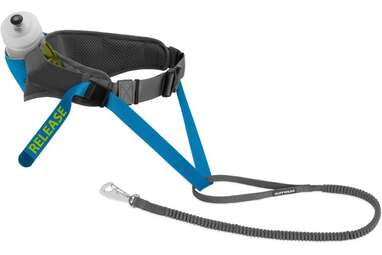 This hands-free dog leash is perfect for running with your pup. The hipbelt has a pocket for you to carry anything you need, like doggie bags or treats, and it even comes with a water bottle so you and your dog can stay hydrated. It also has a reflective trim so people in cars will be able to see you and your pup.
This rope dog leash comes in a bunch of different colors, and they all have a fun "confetti" pattern. It's made of waterproof braided rope that's extra durable and machine washable.
FAQs:
How can I stop my dog from biting the leash?
First find out why your pup's biting his leash. Some dogs just like to carry something in their mouth while they walk, which you can solve by giving them something else to hold.
"If you have any [type of] dog that loves holding something in their mouth when they walk, consider a stick or toy," Hartstein said.
Puppies whose adult teeth are coming in like to chew on just about everything, which includes their leashes, so using a chain leash can sometimes help.
"If your dog is a puppy or adolescent and is teething, you can try getting an extension on the leash where the first 1 to 2 feet is a chain and not fabric," Hartstein said. "Many dogs do not like or want to chew a chain leash."
And if your dog likes to play with the leash, teach him that the leash isn't a toy by praising him and giving him treats when he's walking without chewing on the leash.
How can I leash train my dog?
Here are some tips from Burgess and Hartstein for training your dog to walk on a leash:
"Always start training in the most boring, least distracting place — typically your home environment," Hartstein said.
Start with short training sessions that are only around five minutes long.
Attach the leash to your dog's harness (with the leash on the floor) and drop a treat on the ground near him. When your dog moves toward the treat, praise him.
"Keep taking small steps away from your dog and dropping treats so he gets used to the weight of the leash on his collar/harness and neck," Burgess said. "Work up to walking around a small, open area of your house, dropping treats and having your dog follow you with the leash dragging on the floor."
Eventually you can pick up the leash and start walking your dog around holding the leash, repeating these steps until your pup is a pro.
We independently pick all the products we recommend because we love them and think you will too. If you buy a product from a link on our site, we may earn a commission. Links are updated when possible, but note that deals can expire and all prices are subject to change.
How To Keep Your Pet From Getting Lost