Here Are 9 Of The Best Dog-Themed Halloween Decorations
If you love Halloween and dogs, you need these 🐶🧡🖤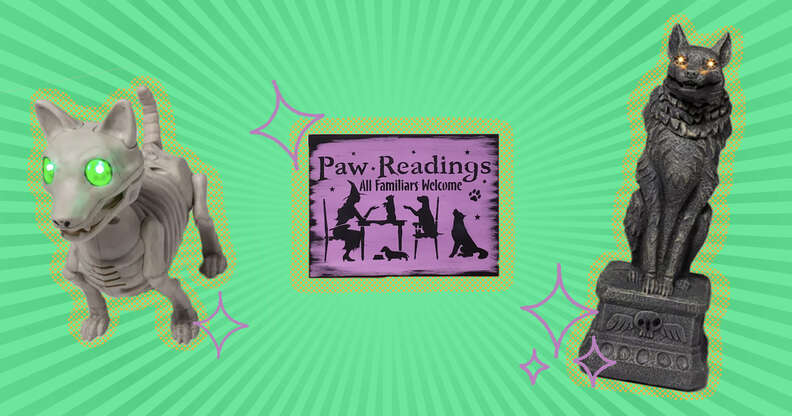 Target, Etsy
Target, Etsy
If you're a dog person, you might want to add some dog-themed decorations into the mix every now and then when getting ready for the holidays.
And Halloween is no exception. Luckily, there are plenty of scary and cute dog decorations out there that will look great in your home.
To help you out, we found nine of the best dog Halloween decorations so you can have the best-decorated house on the block.
The best dog Halloween decorations for spooky season
If you want to get a little scarier with your Halloween weiner dog yard decorations, you can get this skeleton dog. The inflatable dog skeleton is wearing a witch hat and carrying a pumpkin candy basket. It comes with stakes, ropes and sandbags to keep it in place in your yard. It also has built-in LED lights to light up at night.
This mini skeleton dog's eyes light up, and it barks and wags its tail, so it'll seem like you have a real haunted animal in your house. It's battery operated, so you don't need to put it near an outlet, and it comes with batteries included.
This wooden Halloween door hanger decoration is handmade. It features a dog wrapped up like a mummy with a cute Halloween-themed collar, and you can pick any dog breed you want. The thoughtful details are the best part, like the pumpkin basket with a real candy wrapper and the cute ghosts on the pup's collar.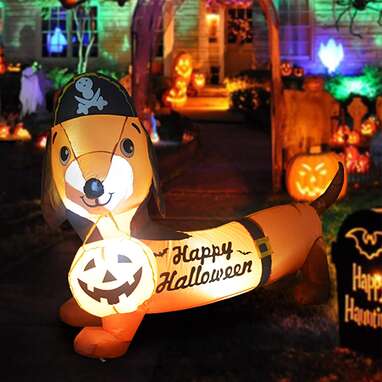 This inflatable weiner dog is the perfect Halloween yard decoration. The dog says "Happy Halloween" on the side and is wearing a pirate hat and carrying a pumpkin candy basket. It's made of durable waterproof polyester and comes with stakes and ropes to secure it in your yard.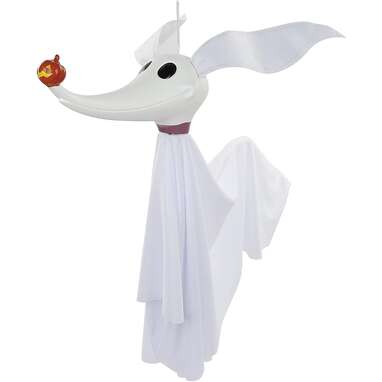 This dog ghost decoration (from The Nightmare Before Christmas) is more cute than scary. The loop on top makes it perfect to hang either in your yard or in the house. The ghost dog is 3 1/2 feet tall with a cute little pumpkin on its nose, and it has a bendable spine so you can shape it however you want.
Greet trick-or-treaters with this Halloween doormat that features a dog sitting in front of a full moon. The mat has a rubber back to keep it from moving around, and it's durable and fade resistant. The dog also comes in multiple colors so you can choose one to match your own pup.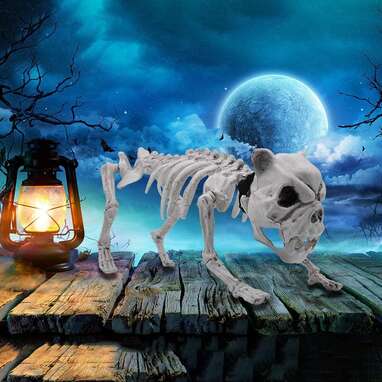 You might scare away some trick-or-treaters with this dog skeleton decoration. It's made of durable plastic that's perfect to put in your yard since it'll hold up in any type of weather. The skeleton has a moveable tail and head, so it will look super realistic (and scary). There's also a collar and leash attached for an extra spooky effect.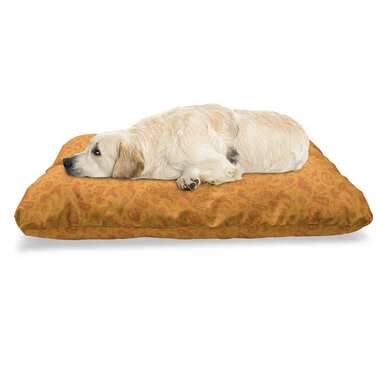 Switch out your pet's usual dog bed for this Halloween one! It's orange with pumpkins, witch hats, bats, coffins, skulls and candy on it, so it's perfect for Halloween. The fabric is water and dirt resistant, and it's machine washable. The cover also has a zipper so you can easily remove it when you need to wash it. The bed is chew resistant for pups who like to nibble on their beds.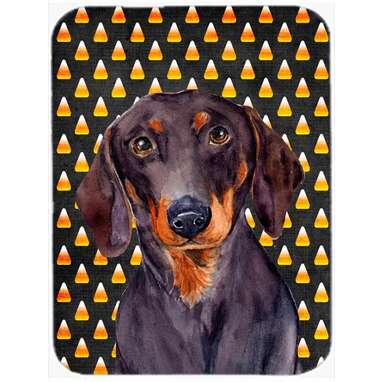 You can have two dogs staring at you while you cook with this glass cutting board that's heat resistant, has nonskid feet and features a huge picture of a pup's adorable face. You can choose from lots of different dog breeds, too, like Bernese mountain dogs, pugs or Labs — or just get one of each.
We independently pick all the products we recommend because we love them and think you will too. If you buy a product from a link on our site, we may earn a commission.