Dog Food Storage Cabinets Are A Genius Way To Class Your Home Up
No more plastic food bins 👏
We independently pick all the products we recommend because we love them and think you will too. If you buy a product from a link on our site, we may earn a commission.
Dog food bags aren't exactly the nicest thing to look at, so it makes sense you'd want to store them out of sight.
You don't want to keep your dog's food in just anything, though. You'll want a nice piece of furniture that matches the rest of your home, so it's not a total eyesore.
While most storage cabinets are over $100, they're totally worth the splurge. Because once you find the perfect piece of furniture, you'll never have to deal with a simple plastic storage container again.
If you're ready to start shopping, The Dodo rounded up the best dog food storage containers online, so you can find the perfect one for your home.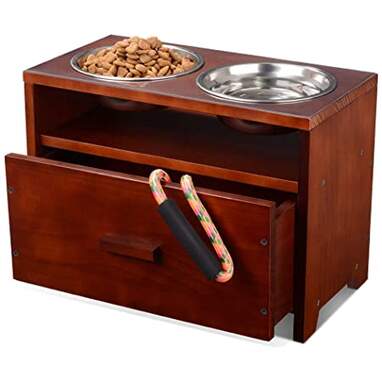 If you're looking for something simple or don't have a ton of room to work with, this cabinet will get the job done. It features an elevated pet feeder that sits on top of a drawer that can hold up to about 10 pounds of your dog's food. The cabinet is made with pine wood with a waterproof cherry finish, which looks upscale and is super easy to clean.
Although this storage cabinet wasn't technically designed to hold your dog's food (and doesn't have an elevated feeder built in), it will definitely get the job done thanks to the ton of storage space it offers. Plus, it has a desirable industrial-rustic look with a bit of a mid-century modern flair that will blend in with most interior designs.
Dog food storage cabinet
At first glance, this dog food storage cabinet looks like a beautiful set of drawers with a cherry wood finish and gold metal handles. But it's so much more. The bottom drawer actually conceals two stainless steel dog bowls for your dog's food and water, and the top drawer opens up from the top for easy storage — while the middle drawer functions just like a normal drawer would. It provides so much storage for your dog's things and keeps your dog's food and water bowls out of sight, too.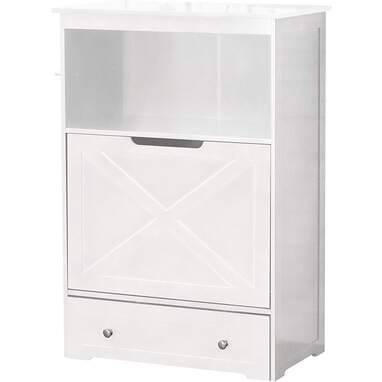 This cabinet is a good-looking piece of furniture with a ton of storage. You can actually pour your dog's food into the cabinet (it holds up to 107 cups of food), or you can put the whole bag in. It has everything you'd want in a dog food storage cabinet: a top ledge with an open shelf below, a dog food drawer that tilts open at the top, hooks on the side and a bottom drawer that holds your dog's food and water bowls.
This piece of furniture is more than just a cabinet for your dog's food — it's basically a whole closet for your dog. The top cabinet has a garment rod to hold your pet's clothes, with just enough room to hold even more of your dog's stuff, like his toys or dog food. Below that is an exposed shelf, and on the lowest level is an elevated pet feeder. There are also hooks on the side for your dog's leash and harness. The super light oak wood finish and black metal bottom is easy on the eyes and makes this cabinet a great addition to homes with modern decor.
This hand-crafted cabinet is made from solid pine wood and has a charming, weathered look that would be amazing in coastal or farmhouse-style homes. The main cabinet tilts out, with an opening at the top that can hold up to 35 pounds of dog food. And on the bottom ledge is actually a hidden drawer that slides out and reveals two stainless steel food and water bowls that are slightly elevated for your dog's comfort. And if you need a place to hang your dog's leash and harness, it has hooks on the side for that, too!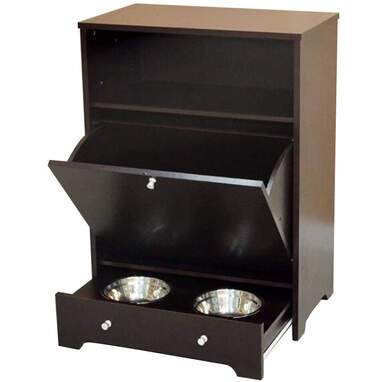 You'd never guess this was a dog food storage cabinet just by looking at it. But if you pull out the bottom drawer, you'll find two stainless steel bowls for your dog's food and water. Above that is the drawer for your dog's food, which can hold up to 25 pounds.