Give Your Pup A Mental Workout With These Dog Enrichment Toys
Get his brain buzzing with these fun toys!
Some dogs are more than just physically active — their brains like to get a good workout, too! If your dog is obsessed with staying mentally stimulated by way of chewing and hunting for snacks, then these dog enrichment toys are going to keep his brain busy and entertained.
What is an enrichment toy?
Jamie Fischer, a veterinary technician from DodoVet told us that enrichment toys are designed specifically to keep your dog interested and entertained.
"Various toys and activities can be used to help stimulate your pets physically and mentally to help curb boredom, anxiety and other unwanted behaviors," Fischer told The Dodo, noting that these toys will likely stimulate more than one of your pet's five senses: taste, touch, hearing, sight and smell.
Fischer continued, "Food and puzzle toys can be a great way to stimulate your pets' sense of smell and taste! Choose toys made with different materials and textures to stimulate your pets' sense of touch. And don't forget those squeaky and crinkle toys to stimulate your pets' sense of hearing!"
And Fischer notes that it's important to choose toys, puzzles and activities that are age, breed and size appropriate for your dog to reduce the chance of a choking hazard. It's also recommended that you don't leave your pup unattended while he's playing with any of his toys.
The best dog enrichment toys to keep your pup entertained
These are the best enrichment toys you can get for your active dog.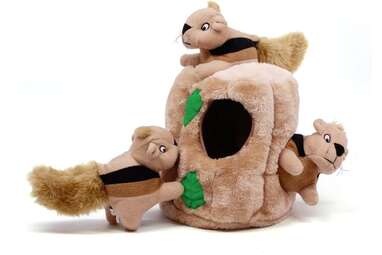 If your dog goes crazy for a squeaky plush toy, then he'll really lose it when he needs to hunt for all the squeaky squirrels in this plush log toy from Outward Hound. You can grab this enrichment toy in four different sizes and even buy replacement squirrels for it if your dog has a little too much fun.
The unpredictable bounce pattern of KONG toys keeps dogs guessing, and you can also use KONGs to keep your dog busy while you're not at home. "KONGs are great for freezing soft food to provide an extended period of entertainment, especially when your pet is in their crate or left home alone," Fischer said.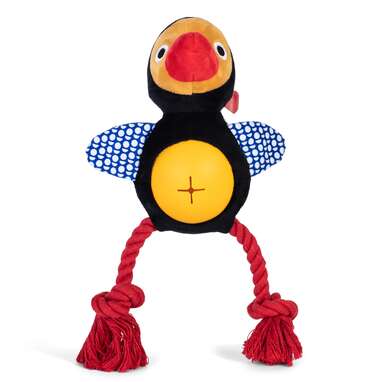 The treat-dispensing toy from The Dodo's Walmart collection is an ideal enrichment toy for dogs who love to play tug-of-war, chomp on crinkle toys and hunt for treats! The dodo bird's wings are made with crinkly material, the legs are rope, and the belly of the dodo is a treat-dispensing ball that dogs can work at all afternoon.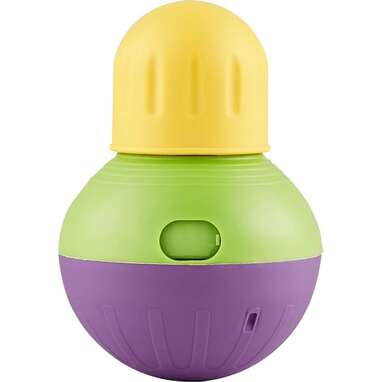 "Great for food-motivated pups!" Fischer said of the Bob-a-Lot toy from Starmark. "Also a great way to feed your pet meals if they need help slowing down how quickly they gobble up their food!" The toy has a customizable difficulty level so you can keep your pup interested once he masters the easier levels.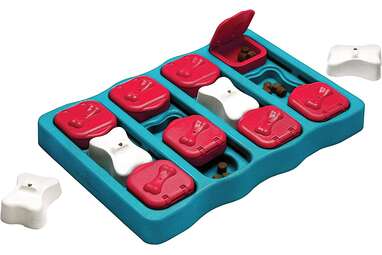 Puzzle toys allow you to hide treats behind doors or within drawers to challenge your dog and keep him entertained for hours. The Nina Ottosson by Outward Hound puzzle toy is ideal for food-motivated dogs and can be customized to make it more or less challenging to solve.
Snuffle mats are awesome for both food-motivated dogs and dogs who love to push their noses around in blankets and in their beds. You can hide treats in this snuffle mat from Pet Parents, and your dog will have to sniff his way around the plush fringe to get his reward.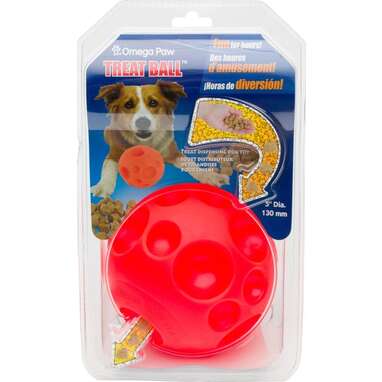 Available in three sizes, the Omega Paw Tricky Treat Ball can be stuffed with treats for your dog to dig out by bouncing, rolling and chewing. It comes in three different sizes so dogs of all sizes can get in on the fun.
"It is helpful to rotate your pets' toys often to help keep toys new and exciting!" Fischer said. So definitely pick up a few different enrichment toys to keep the fun going.
Want access to a vet 24/7? With DodoVet, you can connect via video chat, phone or text with an empathetic veterinary expert who can help you be the best pet parent you can be. Say goodbye to Dr. Google and have all your pet parent questions answered anytime, anywhere. Learn more here.
We independently pick all the products we recommend because we love them and think you will too. If you buy a product from a link on our site, we may earn a commission.