Cyber Monday Dog DNA Test Deals That Are Too Good To Pass Up
Mystery solved!
Have you ever looked at your mixed-breed dog lovingly and wondered, "Who exactly are you?"
Though knowing your pup's exact genetic makeup certainly doesn't matter when it comes to how much you love him, a dog DNA test can help you better understand your dog's (potential) future medical needs, how to feed him a more balanced diet, and can even give you clarity into his behavior and personality traits.
If you've been considering picking up a DNA test for your pup, Cyber Monday is definitely the time to do so. We've rounded up seven tests that are offering major discounts, so there's no better time to finally find out exactly who your dog is — and how to keep him healthy!
8 Cyber Monday deals on dog DNA tests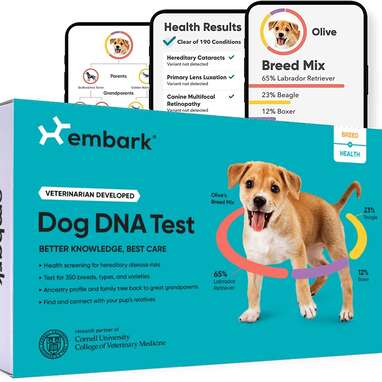 With over 16,000 5-star reviews on Amazon, Embark is a trusted way to discover your dog's DNA. In this test kit, you'll receive not only his breed mix, but also a health summary so you can know ahead of time if he's more prone to any health conditions in the future. Not only that, over 90 percent of dogs find a close relative (like a cousin), and 12 percent discover a direct family member thanks to thorough testing. We tried this DNA test kit on our own dogs and loved it so much we awarded it our Paw of Approval.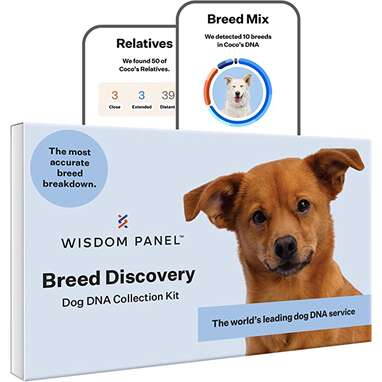 Wisdom Panel screens over 350 breeds to offer a super accurate breed report. This test can trace your dog's ancestry and test for medication sensitivities (so you'll know whether your dog may have a negative reaction to common medications beforehand), and your dog just might find someone he's related to as well! Nearly all dogs (99.9 percent) find a relative through Wisdom Panel's breed database.
Perfect for purebred pups, this test looks at 215+ genetic health risks, including MDR1 drug sensitivity and glaucoma, among many others. It also offers breed validation and an opportunity to discover your dog's relatives so you can find and connect with other dogs who share the same DNA (over 90 percent of dogs tested with Embark match with a relative!).
Orivet screens for over 350 breeds, types and varieties of dogs so you can have an accurate report for your dog (including the percentage of each breed that makes up your BFF), and it pinpoints any health risks he may be more prone to later in life. With a quick turnaround, you'll receive your results in two to three weeks, and be included in Orivet's LifePlan (a personalized wellness plan based on the breeds discovered, your dog's age, weight, gender, location and lifestyle).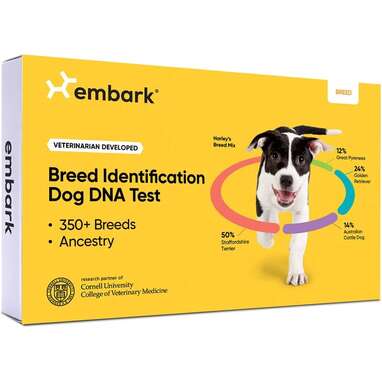 If you'd simply like to discover which breeds make up your dog and aren't interested in an additional health screening, this test is for you. With a simple cheek swab, Embark will analyze over 230,000 genetic markers and screen for over 350 dog breeds.
If you decide to try a dog DNA test, we hope the experience is not only entertaining, but helpful when it comes to keeping him healthy for the years ahead.
We independently pick all the products we recommend because we love them and think you will too. If you buy a product from a link on our site, we may earn a commission.