The 5 Toughest Dog Crates For Separation Anxiety
Safe and strong 💪
We independently pick all the products we recommend because we love them and think you will too. If you buy a product from a link on our site, we may earn a commission.
Does your dog suffer from separation anxiety?
While it isn't easy knowing that leaving the house can negatively impact your pup, you unfortunately can't stay home forever just to keep him comfortable.
While your dog should go to the vet if he has signs of separation anxiety, if he's causing destruction around the house when you're out, your best bet to find a crate that'll keep him (and your couch cushions) feeling safe while you work with your vet to get him help.
How to find the best dog crate for separation anxiety
Dogs who suffer from separation anxiety may display destructive behaviors you need to consider when shopping for a crate.
For example, some dogs will try to escape or chew through a crate when panicked, so you'll want one that can withstand the power of a frantic dog.
And if your anxious dog is prone to using the bathroom indoors, you might want to consider a crate that can drain liquids.
To help you sift through all the crates the internet has to offer, The Dodo found some of the toughest crates on the market, all built to keep your dog (and your home) as safe as possible when you need to leave the house.
Heavy-duty dog crates for separation anxiety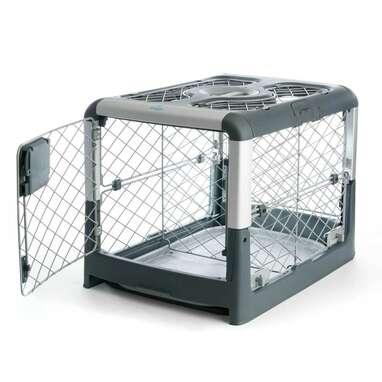 Diggs
The Revol Dog Crate crate has a unique diamond-shaped mesh pattern that helps prevent any injury to your pup's paws or mouth. It's also easy to bring with you since it collapses down and is made with carrying handles.
Chewy
This crate comes with its very own super comfy mat. It also features a special locking system that allows you to lock the entire crate (three different locks) all by performing just one locking step.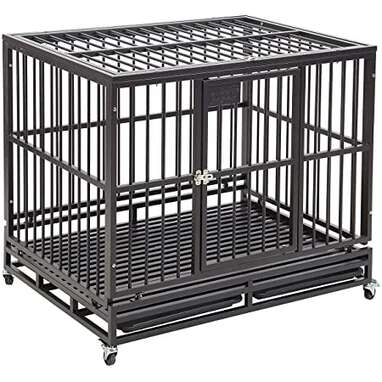 Amazon
This crate is built for even the strongest dogs. Made with 20-gauge steel and strong latches, even the best escape artists won't be able to break out. It also comes with removable wheels so you can roll the crate around to wherever you need.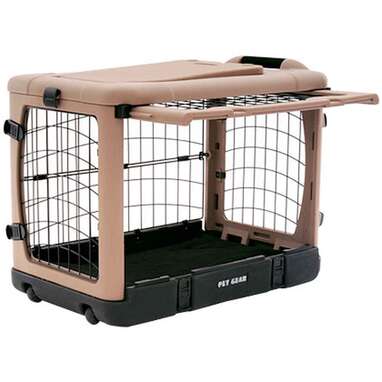 PetMeds
Nothing helps an anxious dog like feeling secure — and this crate comes with its very own fleece mat to help your pup be comfy. It also has four points of entry, with the main door opening up and stowing away in the top of the crate (just like a garage door!).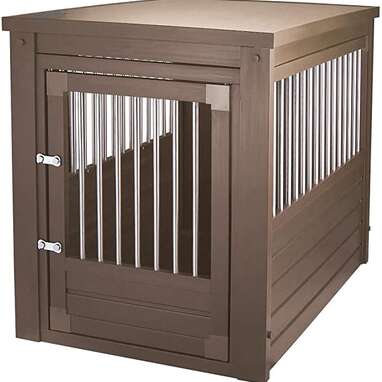 Amazon
Here's a powerful crate that's a little easier on the eyes than the others. It's so cute it can even be used as an end table. But don't worry, it's still built to make sure your anxious pup is safe when you're out.