8 Best Dog Crates For Every Type Of Pup
For crate training and travel.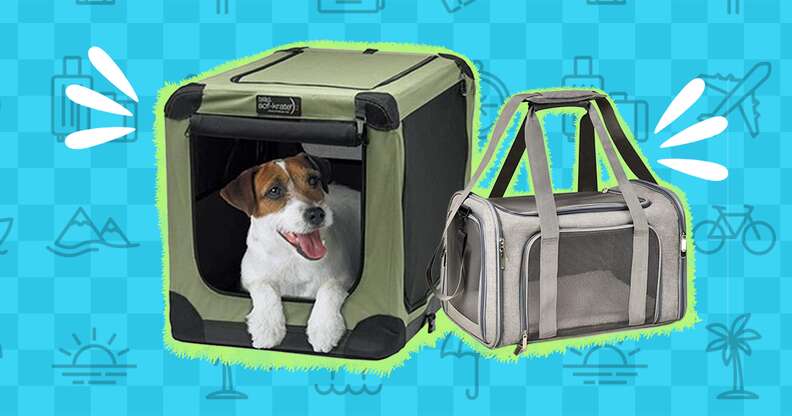 Finding the best dog crate is super important if you plan on crate training your pup. But which crate is the best for your dog?
There are so many great crates out there to choose from that you may be overwhelmed if this is your first time crate shopping. Luckily, The Dodo read the reviews to find the best dog crates that are pet-parent-approved and talked to Dr. Whitney Miller, Chief Veterinarian at Petco, who weighed in on which crates are best.
Taking your dog's size and needs into consideration, here are the best crates for every and all kinds of pups.
What is crate training?
Crate training is when you work with your dog to get him used to and comfortable with being in a crate when you're not home.
"A crate is an ideal way to keep your pet safe and the type of hideaway your dog instinctively craves," Dr. Miller told The Dodo. "Think of it as a sanctuary they can retreat to and relax, regroup and de-stress. A major benefit of crate training is that it taps into a dog's natural instincts. This, in turn, makes house training easier while also protecting the dog and your home when you're not able to have direct eyes on your dog."
Though crate training takes time and patience, most dogs respond well to being crated and end up seeing their crate as a den-like refuge, where they can go to feel safe and comforted.
What type of dog crate is best?
There are so many different crate styles and designs out there that it can be difficult to know which one may be best for your dog's situation. Dr. Miller suggested that if you're starting fresh with a puppy, wire crates are a great go-to.
"I recommend beginning with wire dog crates," Dr. Miller said. "Wire dog crates often fold flat for storage or travel but can be heavy. Wire crates are open on all sides, and your puppy can see what is going on around them."
Sometimes being able to see his surroundings may make it more difficult for your pup to feel safe and secure, so you can drape a blanket or crate cover over the top to up the sense of security (but make sure your puppy is unable to chew whatever cover you decide to use through the wire grid).
"Both plastic dog kennels and soft-sided crates are typically better for crate-trained dogs, not puppies," Dr. Miller added. "Puppies tend to chew through soft-sided crates, so pet parents should reserve those for when they're older and a bit more comfortable with their crate. Plastic dog kennels don't have dividers and are typically too large for puppies, so unless pet parents are crate training a grown dog, I recommend holding off for puppies."
Best dog crates for big dogs
Here are some highly rated dog crates pet parents with big dogs love.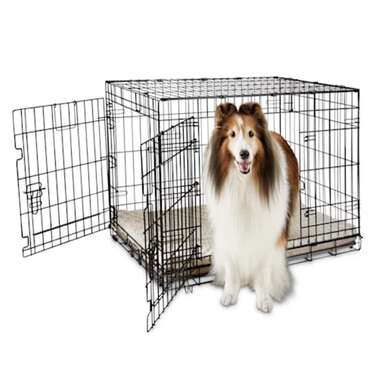 The You & Me folding wire dog crate comes in a bunch of different sizes, including large, extra-large and extra-extra-large, making it a great buy for any larger breed. "Very sturdy and easy to fold and unfold. My German shepherd puppy … is 95 lbs [and] loves this crate," One Petco customer wrote. "Since he is still growing, it has enough room to allow him to have good movement as he fills out."
For big dogs who are already crate trained, Dr. Miller recommends the You & Me Stow & Go canvas crate. The large size fits big breeds, including Australian cattle dogs and bulldogs. It has a lightweight metal frame with several flaps that roll up for ventilation and visibility.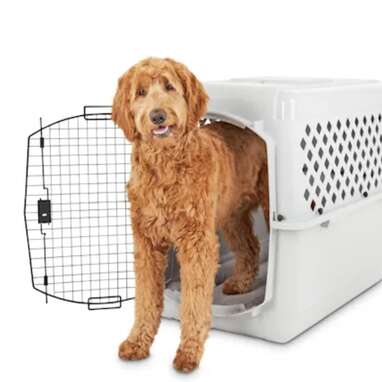 Great for larger crate-trained dogs, the EveryYay Going Places plastic crate is a basic and spacious kennel, great for short-term crating needs. "I got the large for my 70-pound pit bull. And it's perfect," one pet parent wrote. "Easy to put together, and it's made very good. This is his 4th [kennel] 'cause he broke all the others [and] …it's still holding up really well!"
Best crates for small dogs
These are a few pet-parent-approved crates for small dogs.
For the tiniest of small dogs, check out the Frisco Fold & Carry wire crate, which is the perfect crate for crate training. It comes in various sizes, with the smallest being extra-extra-small. "I have a couple of these, and they are a good quality and easy to use," one Chewy customer wrote. "[The] 24 [inch] is good for my Pomeranian puppy, and just got him the 30 inch for when he outgrows that one. Probably these will last forever, well made. Definitely would recommend."
This easy-to-assemble soft-sided crate for small dogs is lightweight, well ventilated and is available in sizes that fit pups up to 100 pounds. The smallest size fits breeds similar to terriers best and is snug enough to create that den-like feel.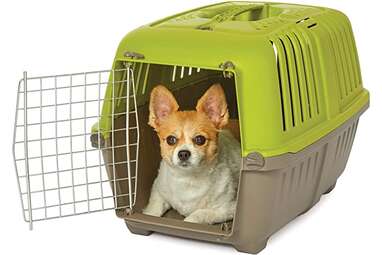 Made specifically for small and toy breeds, this dog crate-carrier combo is the perfect size for your super-small BFF. The top is completely ventilated, and the wire door swings open for easy in and out.
Best dog crates for traveling
And for traveling, check out these top-rated crates and carriers.
When traveling with your big dog, you want a crate that is lightweight, easy to set up and break down and will keep your dog cool and comfortable on the journey. This soft-sided crate from Amazon Basics does all of that and fits in most vehicles.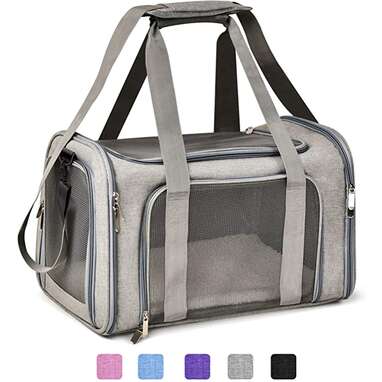 If you're looking to take your little guy with you on the plane, this carrier from Henkelion is TSA-approved and provides plenty of space for your small pup. "This is the perfect size for a small dog that travels on a plane," one Amazon reviewer wrote. "Will fit under most seats and is comfortable for the dog and easy to carry. The price is better than any I could find in stores."
With the right crate, crate training and traveling with your pup will become a breeze. And the crate may just become his new safe space.
We independently pick all the products we recommend because we love them and think you will too. If you buy a product from a link on our site, we may earn a commission.