Get Your Dog His Own Couch So He Can Stay Off Yours
He'll never steal your spot on the sofa again 😉
You probably love a good snuggle sesh with your dog — maybe just not on your couch.
If you don't want to worry about hair and rips (and covering your sofa to avoid them), picture this: a sofa specifically made for your dog. And yes, it's as cute as it sounds.
There are all kinds of dog sofas out there — big and small —so you're bound to find one that works for your pup.
How to find the best dog couch
There are a few things you'll need to think about in order to find the best couch-style bed for your dog.
Measure your dog
Finding the best couch for your dog is all about finding the perfect fit. To do this, you'll need to take a few of your dog's measurements.
You'll want to start by measuring his length (from the base of his neck to the top of his tail) so you know how long his couch needs to be so he can be comfortable.
Measuring his height is a good idea, too, to make sure you don't buy a dog sofa that's too tall for him to jump up on.
Consider cleaning requirements
If convenience is a top priority for you, you'll want to look for a dog couch with a machine-washable cover.
Not all sofas for dogs will have one, though. So while finding a machine-washable option is definitely doable, it does limit your choices.
Anticipate accidents
From shredded cushions to unexpected pee puddles, all pet parents know that accidents happen.
But if your pup's frequently ripping things up or peeing inside, you'll want to look for a dog couch made with waterproof or durable material.
Best dog couches
The Dodo rounded up the best and the cutest couches for dogs of all sizes.
This mini couch is great for teeny-tiny pups!
Your 75-pound curler will be obsessed.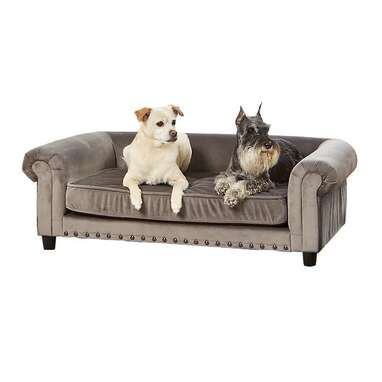 Whether you have a pair of small dogs or an 80-pound chonk, this sofa is the perfect spot for your BFF.
It's made by La-Z-Boy, so your pup will probably never want to get up.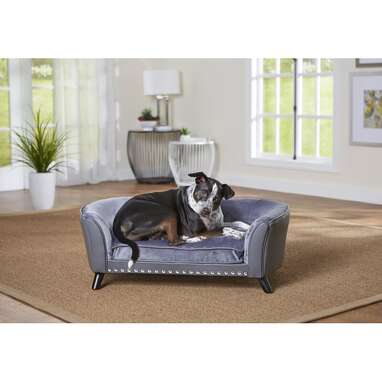 The curved shape is super stylish, and this cushy couch can fit bigger pups, too (up to 50 pounds).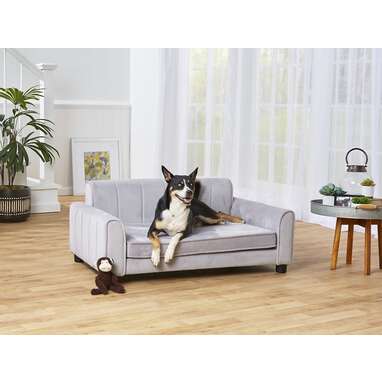 This huge sofa is perfect for pups who love to stretch out or curl up. It can also hold dogs up to 60 pounds.
It's ideal for small pups and comes in three different colors (including a super fun pink option).
The armrests are actually pillows so your pal has somewhere super soft to rest his head. And you can remove the cover and pop it in the wash when it starts looking a little dirty.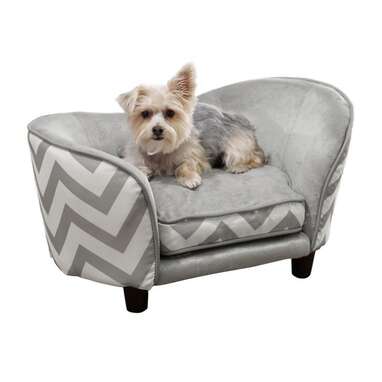 Your small dog will be snoozing in style on this chevron-patterned couch.
We independently pick all the products we recommend because we love them and think you will too. If you buy a product from a link on our site, we may earn a commission.