6 Cooling Vests To Make Sure Your Dog Doesn't Get Too Hot This Summer
More fun in the sun 🐶☀️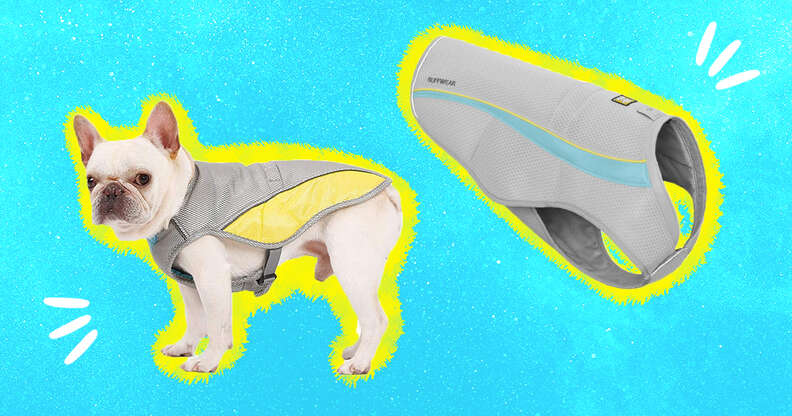 There's nothing like spending tons of time outside with your dog in the summer.
But with all that backyard playtime and daily walks in the sun, you might be looking for ways to help cool down your dog. Making sure you have a water bottle with you is very important, and here's one more suggestion: Have you ever considered a dog cooling vest?
A dog cooling vest is an easy-to-use accessory that straps to your dog (similar to a harness), keeping him cool without restricting him from all the running around he loves to do.
Dog cooling vests typically work by either using freezable ice packs which are placed inside the material or, more conveniently, by simply dunking the vest in cold water, wringing it out and putting it on your pup. This process is called evaporative cooling technology, so as the water evaporates, it helps cool down your pup. Isn't science kind of amazing?
Here are some of the best ones we found:
When shopping for a dog cooling vest, you'll want to look for vests that are easy to take on and off with zippers or Velcro (or elastic that stretches easily); made of lightweight, breathable fabric that offer a tailored fit that won't hamper your pup's mobility; and, of course, can cool your dog while he's out adventuring. Other factors to consider: how active your dog is, whether reflective elements are necessary (do you tend to walk your dog at night or in areas with low visibility?), and whether you want a vest that uses ice packs or evaporative technology. Both will cool your dog effectively, but the act of inserting ice packs into your dog's vest is perhaps less messy (and wet!) than soaking the vest yourself and putting it on your dog.
We've found some of the best top-rated cooling dog vests out there so your dog can keep doing the things he loves — and you can feel confident knowing he won't get overheated.
6 best dog cooling vest options to buy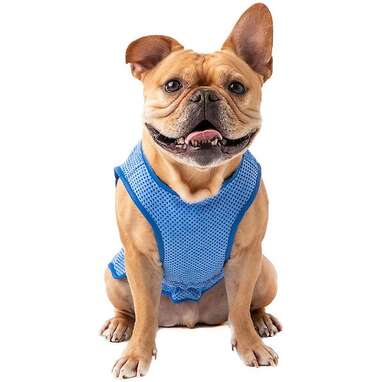 With lightweight fabric and two adjustable closures, your dog will feel super comfy in this cooling vest for all his outdoor adventures. We love that it comes in a variety of sizes for just the right fit, its affordable price tag, and that it slowly releases water through evaporation, keeping your pup cool for four to six hours at a time.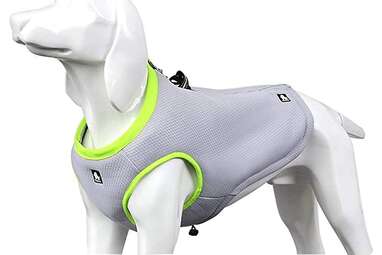 This vest will keep your pup cool with three layers of cooling fabric and evaporative technology and is lightweight and breathable for easy movement. And a super cool feature of this vest is that its gray color reflects heat from the sun and its coordinating lime green color gives off higher visibility (especially handy for evening walks).
This dog cooling coat by Horay World uses dehydrated ice packs to offer serious heat relief. Plus, the mesh material is so lightweight it's not adding any extra heft to your dog in the heat. Simply freeze the ice packs overnight, then insert them into the cooling vest for hours of cooled-down enjoyment!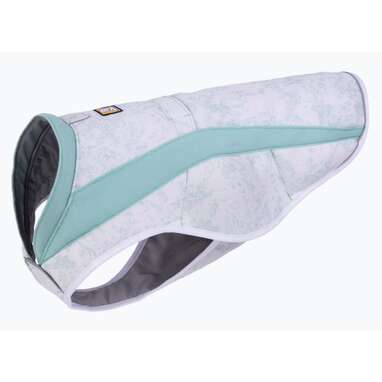 Not only does this evaporative vest keep your dog cool on hot summer days, but it's also made with UPF 50+ protection (which is basically like SPF for fabrics). We also like to see brands that are continually improving their products. Ruffwear has updated their material for improved abrasion resistance (especially good for forest hikes and rough terrain, and eliminates wear and tear) and water absorption so the vest can be worn even longer.
To ensure mobility, this water-retaining vest is a little shorter than the others, so it's perfect for dogs who don't love wearing long coats and are super active. It cools down the heart and chest region, and it will look super adorable on your pup.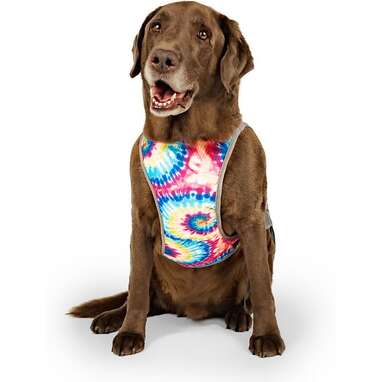 Well, that tie-dye design is pretty awesome, for starters. Like the other vests, this one by Canada Pooch comes in multiple sizes and has mesh layers for optimal circulation and air flow in addition to its water-retaining fabric, which cools down your pup. But we really love its adjustable chest girth, in case someone's put on a few pounds (we're not judging!).
Pro tip: If the vest dries out before your walk is over, try pouring some more water on it!
Here's to keeping your pup cool so you can have lots of fun together outside this summer.
We independently pick all the products we recommend because we love them and think you will too. If you buy a product from a link on our site, we may earn a commission.