4 Dog Cooling Products For The Summer Heat
Keep your pup cool this summer 😎
Summer comes with all types of outdoor activities for the whole family — and that includes tons of fun for your dog, too!
But all that heat isn't always the most comfortable for your pup, which is why making sure they stay cool is important so that your dog doesn't overheat or — even worse — get heatstroke.
4 dog cooling products to fight the heat
These are some of the best dog cooling products you can get to make sure your dog stays cool this summer:
Amazon
Perfect for backyard BBQs — or a pup who'd rather nap by the pool than cool off in it. This pressure-activated cooling pad doesn't need any bells or whistles to work. No refrigeration, water or electricity needed! Once your pet lays down on the pad, it does its thing and keeps your pet cool for hours!
Amazon
Want to help keep your dog's body temperature down during all those games of fetch? This bandana just needs to be submerged in water and refrigerated for 10 minutes for the cooling effect to work.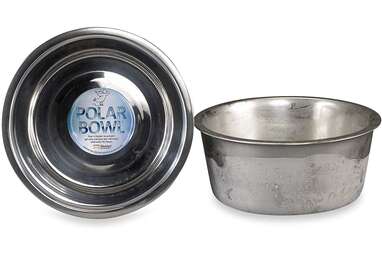 Amazon
Are you and your pup hanging in the sun-soaked backyard this summer? Keep your dog's water cold for hours with the Polar Bowl. Just freeze the bowl and your dog's water will stay perfectly chilled through all that backyard chilling.
Amazon
Between all that swimming and playtime, your dog is going to get extra thirsty. Help him out by getting him this step-on fountain. He'll love being able to control when his water comes out — and the fountain doubles as mental stimulation!
While sometimes being outside can be too hot for your pup, making sure to have some of these dog cooling products can help you ensure he's always safe, no matter the temperature.
We independently pick all the products we recommend because we love them and think you will too. If you buy a product from a link on our site, we may earn a commission.