9 Stockings Your Dog Will Love Getting Into On Christmas Morning
Great for stocking stuffers 🎄
Your pup's been such a good boy this year that he deserves extra love this holiday season. And what better way to store your pup's many presents than in a Christmas stocking?
Whether you want an elegant, low-key style or something super festive, Christmas stockings are a great way to decorate your home and have a place to keep some of the great little Christmas gifts you're getting for your dog.
We've rounded up some adorable dog Christmas stocking picks so that you can get your pup in on all the holiday action this season. Here's to celebrating with your BFF!
9 dog Christmas stocking options to store his gifts in this holiday season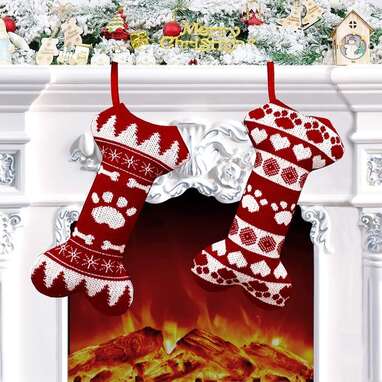 Have two dogs? These adorable and festive bone-shaped stockings come in a two-pack and have plenty of room to fit all of your dogs' Christmas gifts.
This elegant stocking is customized with your dog's name and comes in a variety of beautiful thread colors, including burgundy, antique gold and dark green.
Not only can you add your pup's name to this adorable stocking, but you can choose from three classic Christmas colors to make the stocking really pop.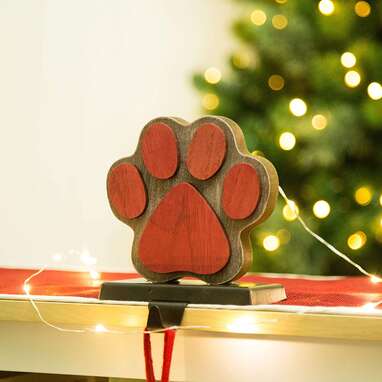 If you need help keeping your dog's stocking in place, this festive stocking holder is perfect for your mantel, staircase or anywhere else you want to hang your stockings.
Already have a stocking you love for your dog but want to make it even more personalized? This custom stocking tag is perfect for adding a little extra to his stocking — and there's a cat version for any feline siblings!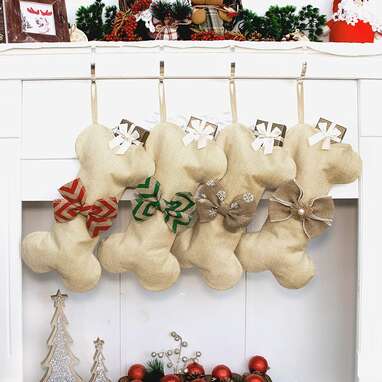 Sticking to natural vibes in your Christmas decor? These burlap stockings will let you stick to your style while still including your pup in the holidays.
While not as customizable as some of the others, this dog stocking is adorably detailed and perfect for all dog lovers.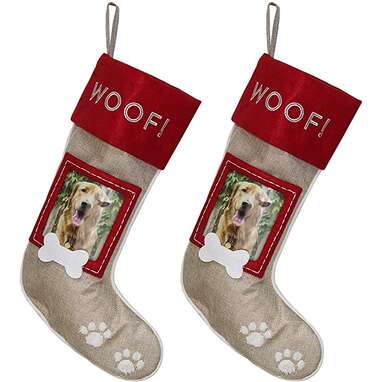 Here's another two-pack that's just as warm and fuzzy as your pup. It's made of burlap, and you can make this set extra special by adding photos of your dogs! We love the special accents, and you can even include your cat in the fun, too.
Does Christmas mean buffalo plaid to you? This stocking's perfect for a festive mantel. It also comes in white-and-black plaid if that's more your style.
Here's to playing Santa for your BFF. We hope your dog has a great time "opening" his Christmas stocking this year!
We independently pick all the products we recommend because we love them and think you will too. If you buy a product from a link on our site, we may earn a commission.