10 Dog Christmas Cards To Send To The Whole Pack
The best cards your friends and family will receive!
Christmas is just around the corner, and that means it's time to start planning out which Christmas cards you'll send to your friends and family. If you're hoping to stick with a dog theme this year, we found some adorable, funny and downright beautiful dog Christmas cards that are destined to get a spot on everyone's fridge this year.
And no judgment if you feel like you can't decide which ones you like best — you may have to add a few more people to your recipient list just so you can pick up more than one pack of cards!
The 10 best dog Christmas cards to send to your friends and family
Here are the best dog-themed cards we found.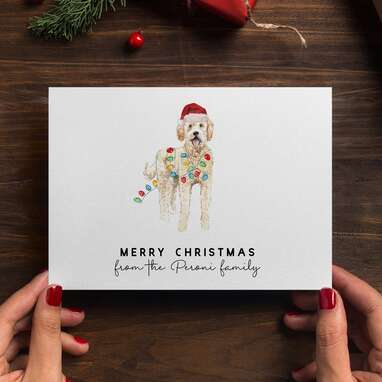 CharliesDogStore on Etsy lets you choose which breed of dog you'd like to feature on your set of 10 Christmas cards. You can also choose to add your family name at the bottom for an even more custom look. And the cards come blank on the inside so you can add your own festive season's greeting.
One dog's naughty is another dog's nice! These funny Christmas cards from Allyn's on Amazon ask you to define naughty. You can also choose another set of cards that read "Feliz Naughty Dog" or "Let Me Explain," or you can grab a variety pack that includes all of the above! All the cards open to reveal a sweet "Merry Christmas" greeting inside.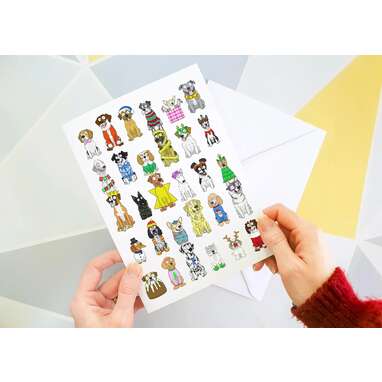 These individually sold Christmas cards from GiddingsGifts on Etsy are decorated with an illustration of dogs dressed for the holidays. The cartoon features 30 different breeds and the inside of the card has been left blank so you can include a personalized message.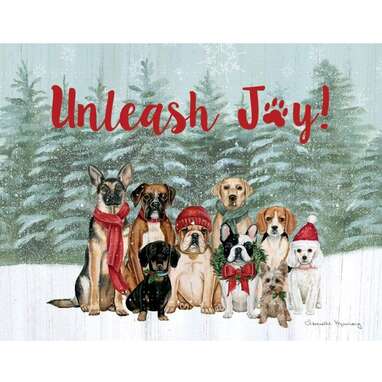 Have this pack of festive dogs wish your loved ones a happy holiday season. Inside each "Unleash Joy!" card is a message that reads, "Wishing you joy and happiness this holiday season," so you can simply sign and send!
How could you possibly get upset at that face? This adorable "I really tried" Christmas card from LiyanaStudio on Etsy has an adorable pit bull illustration on the front (you can choose either a gray or brown pit bull) and a blank interior for a personal message. This is just one of several LiyanaStudio dog Christmas cards available.
These cute illustrated cards from The Best Card Company come in a variety pack of 20 so everyone on your mailing list can enjoy a unique motif! The Holiday Dog Antics pack comes with cards that show dogs licking candy canes, eating someone else's Christmas dinner and ripping down a Christmas tree.
Printed on either white cotton or recycled craft paper, this funny Christmas card from DeanPenn on Etsy features a mischievous pup who got a little carried away with the Christmas tree decorating. You can grab a set of 10 cards, and each comes with a brown kraft paper envelope.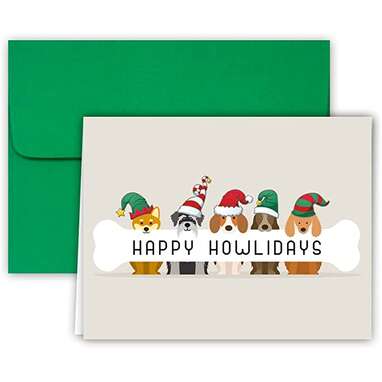 This punny set of cards reads "Happy Howlidays" on the front and has a message inside that reads "May your holiday season be filled with tons of treats!" You can grab 25 cards for a great price.
All these dogs want for Christmas is to take a ride in their parents' cars! These funny dog Christmas cards from The Best Card Company feature a variety of different dogs going for rides with Santa hats on. This set includes 10 assorted cards that read "Merry Christmas" inside.
The dogs on the front of the BeadazzleDesigns Christmas cards from Etsy look like they're getting together to celebrate the season — and you're invited! This set of 10 cards are blank on the inside for your own special greeting, and feature an entire pack of different dog breeds.
And if you're looking to represent cats during your Christmas card ritual, too, then we found some cute cat cards you definitely need to check out.
We independently pick all the products we recommend because we love them and think you will too. If you buy a product from a link on our site, we may earn a commission.