6 Seat Covers That'll Protect Your Car's Interiors From Your Dog
For pups who love mess.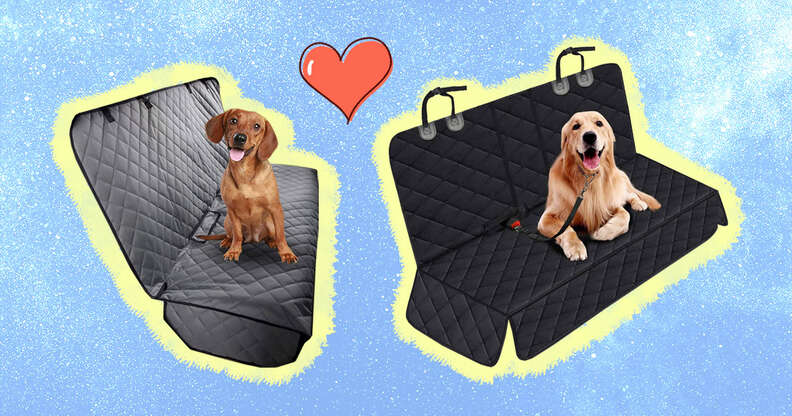 Taking your dog along for car rides can be a lot of fun, especially when you're going to the dog park or another fun outdoor activity.
But as a dog parent you know that trips in the car (especially when you're coming back from playing outside) can get very messy. Some dogs shed a lot, even during short car rides, and are more than happy to cover your seats in drool and muddy pawprints.
To help keep your car seats safe from a messy dog, dog car seat covers can be real lifesavers. But with so many options out there, how can you find the best dog car seat cover for you?
The Dodo rounded up the best dog seat covers based on specific categories so you can find a dog car seat cover that's perfect for you, your car and your dog.
Why use a dog seat cover?
Seat covers for dogs can help keep your car clean and your dog safe in the car.
Dog car seat covers protect your car seats from any messes your dog leaves behind, including dirty pawprints, pet hair, slobber and vomit (if he gets carsick), which is super helpful if you travel with your dog a lot, or just like taking him to the dog park.
Some dog car seat covers are made with a nonslip material that prevents your dog from sliding around in the back seat, which makes car rides a little bit safer. And some rear car seat covers that are designed in a hammock fashion can also prevent your dog from climbing into the front seat, which prevents distracted driving and, ultimately, car accidents.
How to find the best dog car seat cover
When looking to purchase a car seat cover, you should consider the following features:
Seat type
There are dog seat covers that are designed to cover your car's passenger seat, rear seat and trunk, so you should decide which seat your dog (or you) prefers.
Fabric
The type of fabric that your car seat cover is made of matters. Ideally, you'll want a material that's durable enough to withstand scratch marks and occasional gnawing. You also might want something waterproof if your dog likes to swim or gets super slobbery. A car seat cover made with a nonslip material either on the bottom or top of the cover is also going to be important to keep your dog secure and in place while you're driving.
Fit
You want a car seat cover that'll be large enough to cover your seats completely, but small enough to actually fit in your car.
Dog seat covers that have adjustable straps are a good way to go, since every car is different, and it'll ensure the cover will fit snugly on your seats.
Seat belt holes
Having a dog seat cover with seat belt holes is going to be super useful since you won't have to remove the cover every time someone needs to ride in your backseat. It also lets you strap in your dog to the seat belt by using a dog car harness so the ride with your dog can be super safe.
Machine washable
A car seat cover that's easy to clean is an important consideration since that's probably a major reason why you're getting a car seat cover in the first place. Many car seat covers are machine washable, so finding one that checks off that box will save you a lot of stress.
Best car seat covers for dogs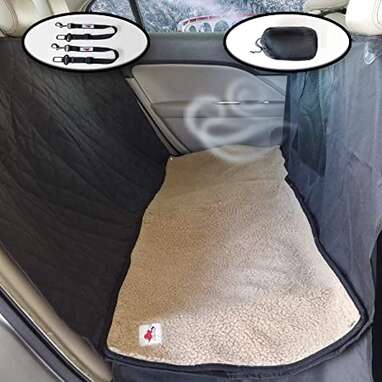 This car seat hammock is lined with a fleece mat that ensures optimal comfort for your BFF while providing him with some traction for his paws so he's not sliding around while you drive. It also attracts dog hair, which is actually great in this case, since you want it to accumulate on the mat instead of around your car. And when it gets dirty, the fleece portion is removable so you can throw it in the wash.

And for added security and durability, this dog car seat cover also comes with metal buckles instead of plastic ones.It also has a mesh barrier between the front seat and the back seat to keep your dog in one place while providing him with a view of his favorite pet parent.

It also has a mesh barrier between the front seat and the back seat to keep your dog in one place while providing him with a view of his favorite pet parent.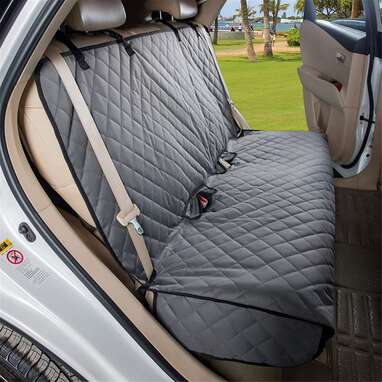 This product has everything you'd want from a back car seat protector. It's made of a thick quilted material that's not only heavy duty, but also super comfortable for your dog. It's also waterproof and machine washable for quick cleanup. It has seat belt access holes in case you want to use a dog car harness. And to keep the mat (and your dog) in place while you're driving, the underside of the cover is made with a mesh material that has a ton of traction.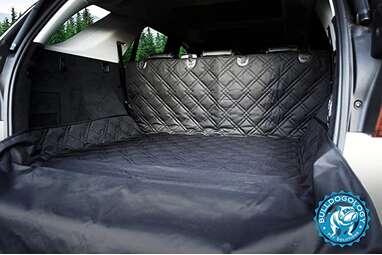 If you like to keep your pups in the trunk of your SUV, this seat cover is the way to go. It's made of a super thick quilted material that has double stitches for extra durability. It's also waterproof and machine washable for those bigger messes. This seat cover is also super easy to install, and Bulldogology claims that it only takes 30 seconds to place in the car, which means you can get on the road quicker. There are also bumper flaps to make sure your dog gets in and out without getting your car dirty.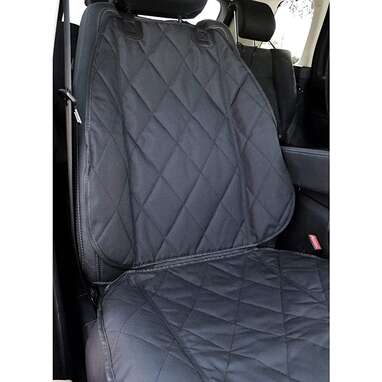 This all-black passenger seat cover can put up with any mess: It's made with an ultra strong polyester, has three layers of waterproof protection and is machine washable. Even so, the cover is still pretty comfortable and has a high-end, luxury feel to it. It also has holes for your seat belt, so you don't have to worry about removing it for your next human passenger.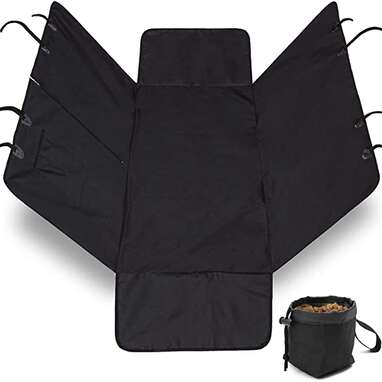 Even though this car seat cover is budget friendly, it still gets the job done and ticks most of the boxes. It has seatbelt access, a nonslip underside and adjustable straps, and it's machine washable. It even comes with a collapsible dog bowl for feeding or keeping your dog hydrated on the go.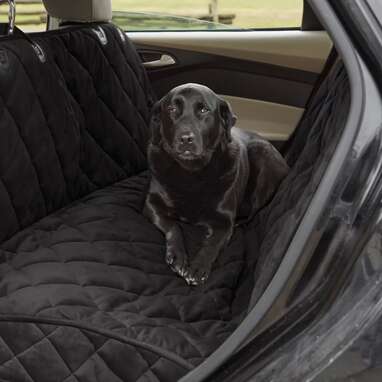 Don't let the price tag fool you: This dog car seat cover is actually 100 percent worth it. It's made of a super cushy material that will keep your dog very cozy in the car, yet it's water resistant, so it can handle pretty much any dog mess. It also has seat belt access and special anti-slip backing to keep your pup nice and secure. We put it to the test with our own pups and gave the Orvis dog seat cover our Paw of Approval!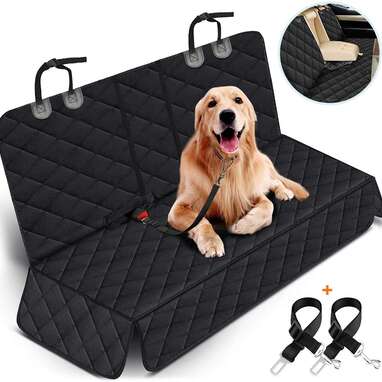 Most car seat covers are sized to accommodate any size car, but this cover is especially fitting for small vehicles. Not only is this dog seat cover on the small side, but it also comes with flaps that can hang over the side to keep the cover snug on the seat.