Dog Blankets Made For Snuggling Up Together On The Couch
There's a blanket for every type of pup!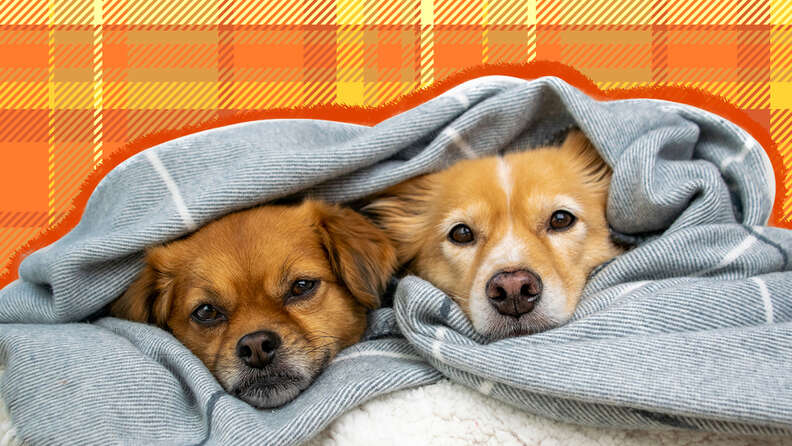 Who doesn't love cuddling up on the couch at the end of a long day with your favorite blanket? If your dog loves snuggling just as much as you do, then you definitely need to invest in a cozy dog blanket that he can call his own.
If you're on the hunt for the cuddliest dog blanket ever, or are simply looking to add to your growing collection, we found the best dog blankets for every type of snuggler, cuddler and blanket snuffler. From fuzzy faux fur and sherpa to lightweight plush and waterproof selections, you'll find the perfect blanket for your couch, bed or crate.
Here are some of the best blankets for your pup.
The best dog blankets you can buy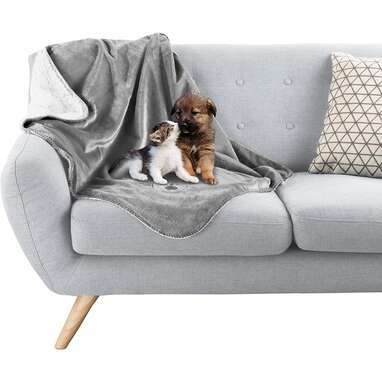 If accidents are inevitable in your household, then you may want to check out the waterproof blanket from PETMAKER. It's made with water-repellent flannel on one side and absorbent sherpa on the other that will ensure cleanups are a breeze. And these blankets are machine washable, so even when accidents happen, your dog won't have to sacrifice his favorite cuddle buddy.
This faux-fur blanket from Best Friends by Sheri is probably the softest dog blanket you can find. It's made with a faux-fur material that's meant to mimic a mother dog's fur, which soothes and comforts dogs while keeping them cozy and warm. You can pick one of these throws up in either the standard or jumbo size.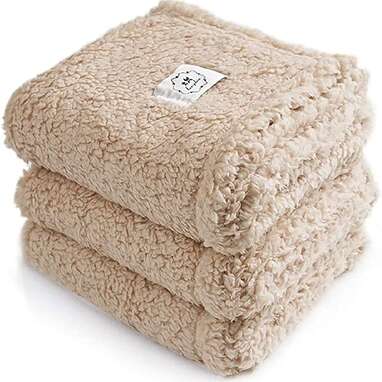 Available in sizes small, medium and large, the Luciphia fleece blankets come in a pack of three so you can make sure your dog has a cozy spot to snuggle up in no matter where he is in your home. These blankets are machine washable and come in three neutral tones that look great in every home.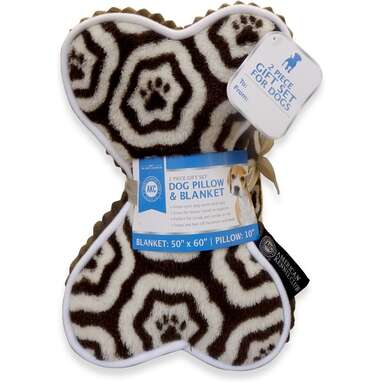 Not only will your dog get to snuggle up in a plush fleece 50-inch by 60-inch blanket from American Kennel Club, but he'll also get to rest his head on an adorable matching bone-shaped pillow! You can pick up this matching set in either brown or red and place it in your pup's crate or on the couch! It's the perfect pairing for a smaller dog who loves to cuddle (and who won't shred the pillow to bits!).
If your dog prefers sleeping on the cool floor rather than a cozy dog bed, and loves to cuddle but gets hot way too easily, then this quilted microplush blanket from PetFusion may be perfect for him. It's a super basic lightweight blanket that provides just the right amount of warmth to be comfy but not stifling.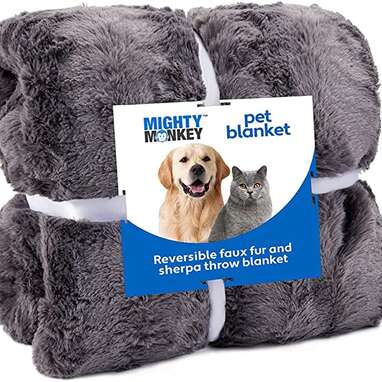 One side of the MIGHTY MONKEY pet blanket features ultra-soft faux fur, and the other side is made with cozy plush sherpa, so your dog can switch sides depending on his mood! And the MIGHTY MONKEY blanket is ideal for large dogs because of its wide range of sizes — you can snag one that spans a whopping 60 inches by 70 inches!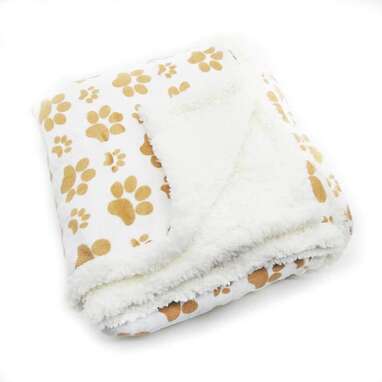 The adorable paw print pattern on this flannel dog blanket from HappyCare Textiles makes it clear that this blanket is your dog's and your dog's alone! This blanket comes in four different colors, is machine washable, and features one side of soft flannel fabric and one side of plush sherpa.
This single-layer fleece blanket from Furrybaby is so simple in design that it'll look good anywhere in your home — whether your dog sleeps there or not! It comes in a variety of sizes and colors, and because it's a single layer of fabric, it's a great topper for the end of your bed, or it can be doubled up and used as a mat for your dog to sleep on.
This dog blanket from L.L. Bean was designed to go wherever you and your dog go. It's soft yet durable enough to take on camping trips, car rides and outdoor adventures. It comes in three different colors and two sizes and can be machine washed when you return home.
Once you introduce your dog to his brand new blanket, you'll have a hard time getting him out of his crate or off the couch. Let the nonstop cuddling commence!
We independently pick all the products we recommend because we love them and think you will too. If you buy a product from a link on our site, we may earn a commission.
5 Dog Sleeping Bags For When They Need That Extra Warmth