You Can Get Your Dog Her Very Own Advent Calendar
Treats for every day ✨🎄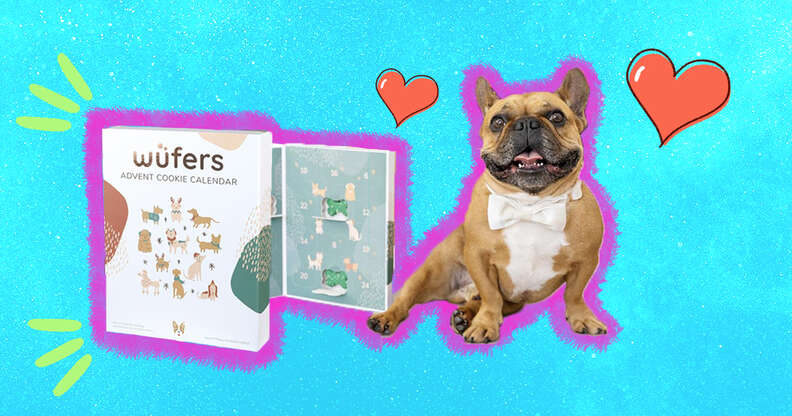 A dog Advent calendar is a fun way for both you and your pup to get excited about the holiday season.
As you count down the days to Christmas, you'll open a small gift each day that'll be a complete surprise for your BFF. And really, what pup doesn't love a daily toy or treat?
These super adorable Advent calendars are just what you need to spruce up your holiday decor and get your dog's tail wagging as he discovers the magic of the holidays.
We've rounded up the cutest dog Advent calendars on the internet so you don't have to — some come with their own treats or toys included, while others give you the chance to fill it with your pup's favorite goodies! Either way, he'll be so excited.
11 dog Advent calendars you'll love opening together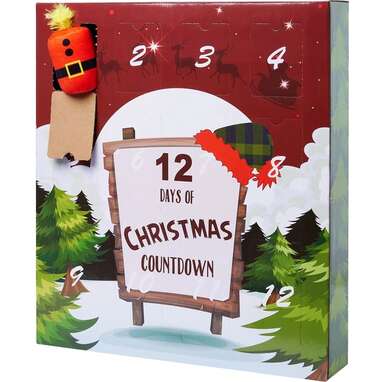 Your small-to medium-sized pup will have 12 days of fun leading up to Christmas with this Advent calendar filled with toys. There's a variety of toys included, from latex and soft plushies to rope toys for tugging. And every plush toy includes a squeaker for added excitement!
This Advent calendar includes 23 bone-shaped cookies and one paw print cookie. The treats are individually wrapped, handmade and baked fresh with peanut butter, apples and cinnamon for your pup's enjoyment (the illustrations on the box are pretty cute, too).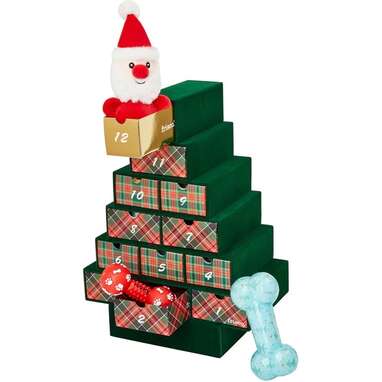 This calendar includes 12 days of adorable toys for your pup — and a beautiful Christmas tree-shaped box you can keep for years to come. He'll love the variety of materials and textures used in these toys, from plushies to latex and rope toys (and plenty with squeakers inside, too!).
25 days of jerky? We're pretty sure your good boy deserves a whole month of snacks with this dog Advent calendar. We love that each piece of jerky comes in a different shape and size, too!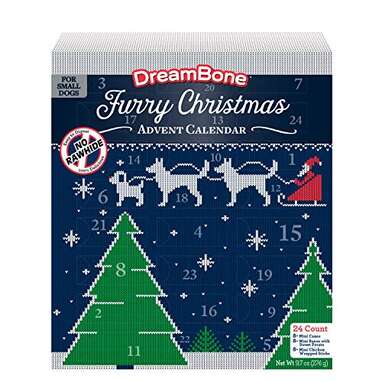 This Advent calendar includes 24 days of rawhide-free chew toys that are safe for your pup. They're easy to digest and will help clean your dog's teeth and gums as he chews (plus, he'll love the flavors).
This hanging Advent calendar reads: "Dear Santa, I've been a good dog" (and obviously, your dog has been extra good this year). It's made of a durable red-and-white cotton blend fabric that will last, so you can use it again and again. It has 25 pockets for you to add your pup's favorite treats or toys.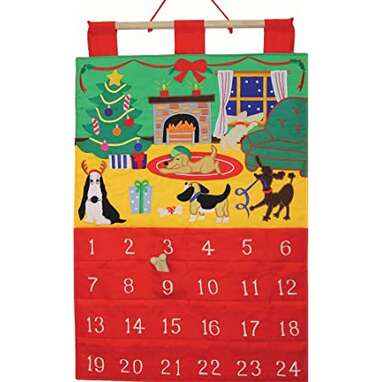 This fabric Advent calendar has 25 pockets for every day leading up to Christmas. The top of the calendar has a cute, holiday-themed image of a bunch of dogs hanging out by a fireplace and a Christmas tree, and you can put your dog's favorite treats or toys in the red pockets below.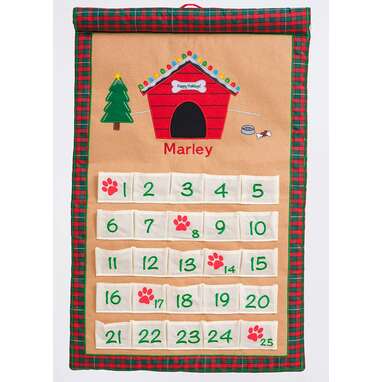 This keepsake Advent calendar has a dog house with Christmas lights on the roof and a Christmas tree on it. With 25 pockets for you to add treats or toys, you can also have it customized by getting your pup's name embroidered on it. So special!
We love the handmade touches of this Christmas tree Advent calendar — the bow on top, holly details and 25 pockets to add treats. Make things super easy by ordering the calendar with treats already included.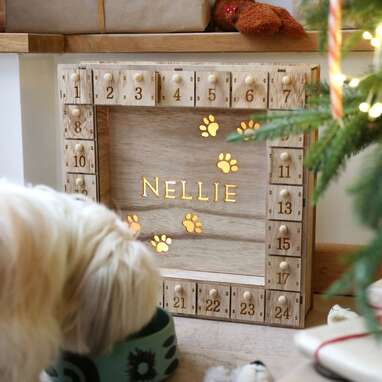 This wooden Advent calendar has a natural finish and would look great in your home even after the holidays. There are 24 numbered drawers for treats. Plus, lights in the back of the box shine through to the front to light up your pup's name, which you can have laser cut in the center.
This hanging Advent calendar has a dog with a Santa hat and scarf and says "Merry Christmas." It has 24 red, green and white pockets for you to add treats or toys for your pup. There's an attached candy cane that you can use to mark the date in the pockets leading up to the big night.
Happy Holidays! Here's to spending time together with your BFF — which is really what makes the season merry and bright.

We independently pick all the products we recommend because we love them and think you will too. If you buy a product from a link on our site, we may earn a commission.