9 Coziest Gifts For Staying Home With Your Dog
'Tis the cuddliest time of the year 🎅🎄🐶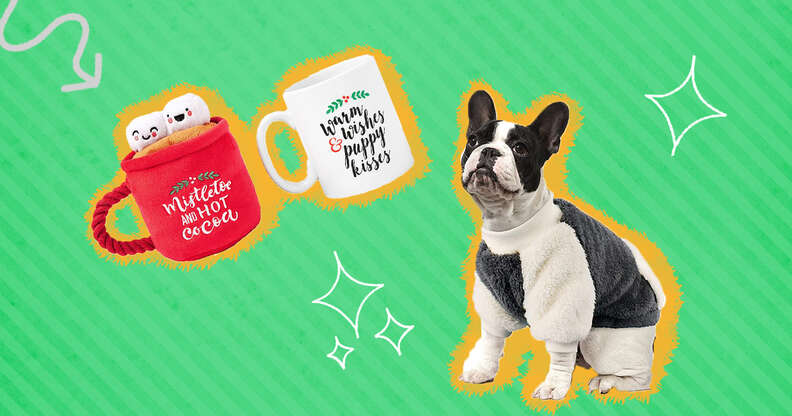 Due to stock shortages and delivery delays, items may arrive later than usual. Be sure to order items while they're in stock!
We independently pick all the products we recommend because we love them and think you will too. If you buy a product from a link on our site, we may earn a commission.
Is your idea of the perfect night snuggling up with your pup on the couch and binge-watching the latest Netflix craze?
If staying home with your pup is your power move, then making sure she's as comfy and cozy as possible must be high on your list.
Here are some of the best — and coziest — dog Christmas gifts you can get your pup to make sure your nights spent at home are the best nights ever.
Amazon
This snuggly blanket is perfect for long winter nights spent inside. It comes in a bunch of different sizes and is made of warm fleece.
Amazon
This cozy bed is already beloved by The Dodo dogs (and kids!), so you know you're going to have the coziest evenings. You can also opt to get a blanket along with the bed.
Amazon
There's nothing like pajamas to make a cozy night even better. These adorable red plaid pj's are perfect for keeping your pup warm and festive.
Amazon
If you have a pittie, then you know that getting pj's that fit her bulky shape isn't always the easiest. These pajamas are made specifically for her unique (and extra-wiggly) body.
Amazon
Does it get a little drafty during the cold months? This heating pad is perfect for keeping your pup nice and toasty.
Amazon
This sweater is specifically designed for small breeds, like Chihuahuas, Yorkshire terriers, Maltese and Pomeranians.
Amazon
Looking for a new dog-friendly movie to watch? "A Dog Named Christmas" is a Hallmark Classic and soon enough it'll be an annual watch for you and your fur baby.
Amazon
No cozy night in is complete without a candle. You can choose from a variety of sayings that fit you and your dog's personality the best.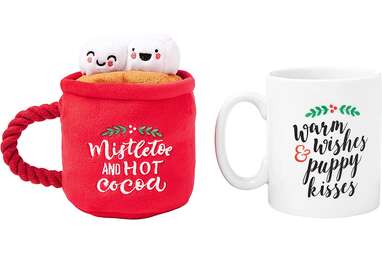 Amazon
If your idea of a night in includes mugs of hot chocolate, then this set is for you! You'll get your very own adorable mug while your pup stays safe and gets to enjoy her own hot cocoa — as a toy!