8 Cooling Pet Beds That'll Keep Your BFF Chill All Summer Long
He'll thank you for it (after he gets up from his nap) ☀️😴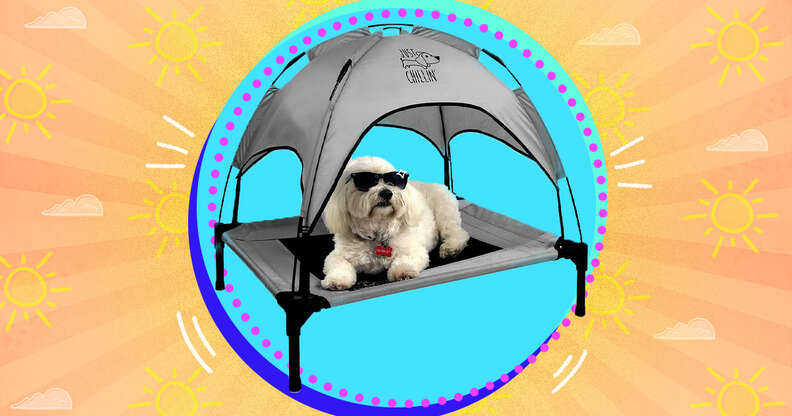 While you might think you can use your pet's bed all year round, dog and cat beds can actually make your pet super warm in hot summer temperatures (and even make his bed a bit stinky as a result). But just because it's 90 degrees out doesn't mean your cat or dog shouldn't have something cozy — and cool — to curl up in!
That's where a cooling pet bed comes into play. The best cooling pet beds can be elevated or a comfy mat on the floor, and will have specific elements to keep your pet cool, whether that's breathable fabric which provides extra airflow to cool him down on an elevated bed, or a cooling gel insert that begins working when activated.
If you're looking to invest in a cooling pet bed for your cat or dog, these are some of the best-reviewed beds on the market right now, and can be used both indoors and outdoors:
When shopping for a cooling pet bed, you'll want to consider the material's breathability — look specifically at moisture-wicking ability or a loose weave material that promotes airflow, like cotton, polyester, linen or bamboo. Also consider its size (both your pet's measurements and whether it will fit in the space you have allocated for it), any accessories it may include (a detachable pillow or canopy, for example) and how comfortable your dog or cat will be in the bed. If he has any mobility issues, you might want to skip the elevated beds and opt for a cooling bed or mat since they're lower to the ground, for example.
9 best cooling pet bed options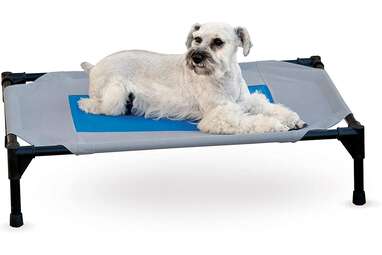 Like other cots, this one will raise your pet off the ground to keep him cool — but this model has a built-in cooling pad in the center for extra chill, making it our overall winner. Just add some tap water to the pad, and your pet will stay cool for hours. We also love that it can support dogs up to 200 pounds!
Amazon
This elevated pet cot has a removable canopy — making it perfect if your pet likes to hang out in the backyard with you in the afternoon. Let 'em get some shade from all that sun, or remove the cover to bring the cot inside.
With a cooling gel pad (and cozy canopy if you want to bring it outdoors!), the Etna Pop Up Cooling Shelter is a great place for your cat (or small dog, up to 25 pounds) to relax when it's hot out. Pet parents love that it's easy to clean and can fold flat for simple portability.
This option is portable and folds down for easy storage — which makes it great for travel. Your dog or cat will love the cushioned top pad, and with a steel frame construction, this bed can support a pet up to 100 pounds. Pack it away in the included storage bag when not in use!
Chewy
The design of this elevated pet bed boasts a bolster around the side and back l, so it's perfect for pets who love to nestle and cozy up to the sides of their beds. We also appreciate that this bed is lightweight and easy to move around in case your pup enjoys the occasional afternoon sunning session.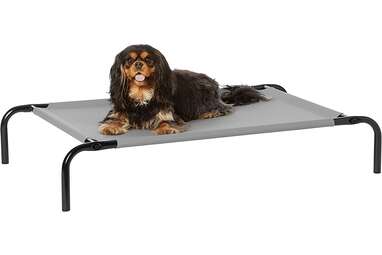 At $25, this is an affordable pet bed with the best qualities. And with excellent reviews on Amazon, it's kind of a no-brainer. The mesh fabric is breathable and keeps pets cool by allowing air to flow. We also appreciate the fact that this bed is super simple to clean and assembles easily.
This elevated pet bed comes with an extra-special touch — a detachable pillow! Perfect for pets who like having a little head support while they rest. The maximum load for this bed is 40 pounds, so it's perfect for small dogs and cats.
Billed as the "original" cooling gel pad for dogs, this pressure-activated mat works without water, electricity or refrigeration and recharges after 15–20 minutes of non-use. A gel pad is ideal for senior animals or pets with medical conditions who may have a hard time getting into an elevated bed.
Made of soft cooling gel memory foam, PETORREY's dog bed provides comfort for dogs suffering from joint pain or any orthopedic issues. It comes in a variety of sizes, and we love that the outer pad is scratch-proof and machine washable!
After you and your pup get home from playing outside, he can rest easy in his cooling pet bed. You might even be tempted to lie down next to him!
And here's a few additional tips for keeping your pet cool at home this summer:
Make sure your pet has access to plenty of shade and water when he's outside, but keep him inside when you can.
Keep the air circulating indoors — air conditioning is better than fans, ideally, but open windows can create a nice cross breeze. Or place a bowl of ice right in front of a fan that oscillates.
Be sure to have plenty of clean, fresh water available in a few different locations in your home.
Summer is for dessert and doggie ice cream!
Here's to keeping your pet cool and relaxed this summer!
We independently pick all the products we recommend because we love them and think you will too. If you buy a product from a link on our site, we may earn a commission.