The Coolest Dog Stuff On Amazon You Didn't Know You Needed
Not the usual toys and treats ✨
As a dog parent, you probably have the basics covered — the standard dog bed, the trusty dog bowl and a growing pile of plush toys. But you're looking for something cool for your BFF.
Say no more — The Dodo's got you covered. From unique new twists on classic pet products to fun new toys and accessories, Amazon has tons of cool stuff for your dog that you definitely haven't seen before.
Remember, it doesn't count if you spend all your money on your dog. Dogs deserve
all
the good things.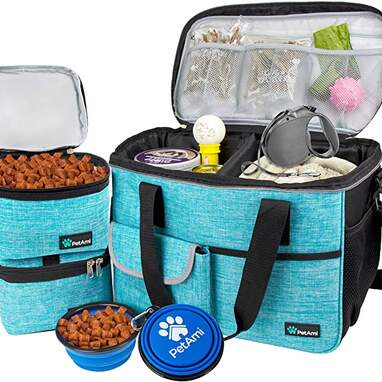 Whether you're just headed to the park for the afternoon or traveling cross-country, this travel set makes it easy to pack up your pup's belongings while you're on the go. It comes with two food container bags and two collapsable bowls, plus plenty of storage for other dog goodies.
Turn your backseat into dog heaven with this versatile quilted, non-slip seat cover. It can be installed "hammock style" — where your dog is totally secure in a hammock-like enclosure — "bench style" — where passengers can ride with your dog in the back seat — and it can also be divided up for front seat use, or attached in the way-back as a cargo liner. With a 4.8-star rating, pet parents love the flexibility.
Have you ever wondered what your mixed-breed pup actually is? This dog DNA test from Embark screens for over 350 breeds and varieties, as well as checks for over 200 genetic diseases that could affect your dog. All you have to do is swab your dog's cheek and mail it to Embark headquarters, and wait patiently for two to four weeks to see what your dog is made of — literally.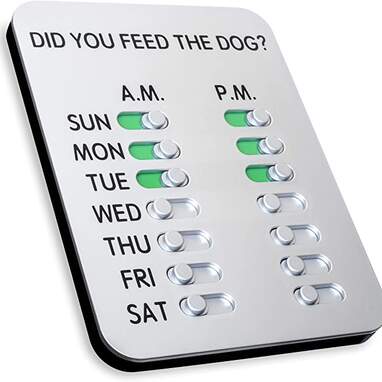 How many times have you fed the dog only to learn that your spouse/roommate/kid/etc., had already fed him an hour earlier? It happens more often than any of us would like to admit. This small yet effective signboard can be attached to the inside of the door where you keep your dog's food to ensure double-feeding is a thing of the past. Sorry, bud, you can't fool us anymore.
Your favorite beach drink just got dog-ified. Amazon pet parents are loving this new White Paw parody squeaker toy that makes it look like their dog is indulging in either "Mutt Mango" or "Waggermelon" hound seltzer. The puns will make you roll your eyes, but you have to admit that it's pretty hilarious.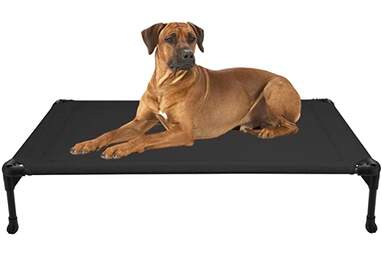 If your dog runs hot, this cooling cot is a great alternative to the standard dog bed. It's made with a textilene mesh that promotes air flow, and it's lightweight enough to move around the house. It even features awesome slip-resistant claw-foot legs — stylish!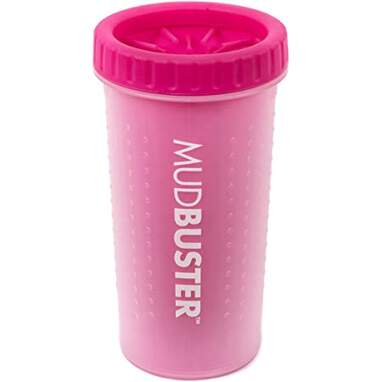 This thing stops muddy paw prints in their tracks. This three-part paw cleaner comes with a tumbler, a silicone brush bristle insert and a twist-off retainer ring that all work in tandem to easily and gently clean your dog's paws after an afternoon of running around in the mud. Over 21,000 Amazon shoppers agree that the MudBuster is the "Best. Thing. Ever," as one person wrote. "It gets the sand from between their pads, and is gentle enough that even my most stubborn pup tolerates it!"
Alternatively called the "dog casino," this interactive puzzle dog toy will either be the most fun thing your dog does all day, or will make your dog really mad at you — sorry in advance. This toy makes your dog work for his treats by pushing the right buttons and pulling the right drawers to unlock the treats. He may get frustrated, but the frustration is worth the reward.
Send your dog on a quest to get all six squirrels out of the trunk, which, as dogs who have played with this toy would tell you, is easier said than done. Nearly 29,000 dog moms and dads have left a five-star review on this product, with one person writing that their pup, nicknamed "Piranha," has yet to destroy it: "She just shakes the house with her head vigorously and the squirrels go flying. This is her favorite toy … I really, really don't get it — but this is the Samsonite of all dog toys."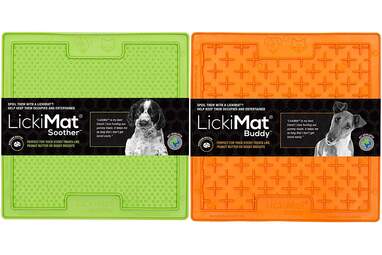 If your dog has anxiety or needs to be distracted for a while (thunderstorms, mail deliveries, that enemy neighbor dog is walking by the house, etc.), the LickiMat is here to save the day. The environmentally-friendly, vet-approved mat is designed to be a stress-relieving activity. Simply put a serving of a healthy, spreadable snack like yogurt or dog-safe peanut butter on the mat, and let your dog lick away.
Maybe it's the nostalgia factor. Or maybe it's the mysterious way Gumby seems to survive even the most aggressive play sessions. There's just something about this Gumby plush toy that has made over 15,000 pet parents give him a five-star review. "He treats this toy [differently] than the other ones that I have purchased for him," one pet parent said. "It's not a chew toy to him … He just holds it in his mouth. All the time. It's just odd, but we are going with it because it seems to make him happy."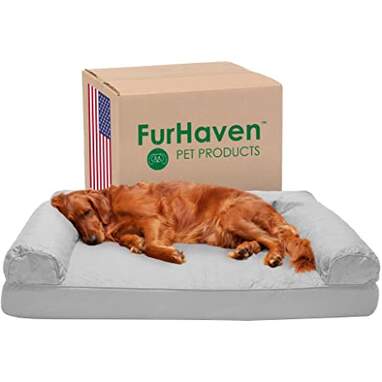 This bed is so comfortable you may just want to sleep on it yourself. The L-shaped chaise design gives your dog comfort and security, and the combination of the orthopedic support foam and plush faux fur cover is easy on his joints. Over 45,000 pet parents have bought a version of the Furhaven bed for their dog — and the photos in the review section say it all.