Presented By

13 Cool Products You Didn't Know You Needed For Your Cat
Must have 😻
Presented By

If you want to really treat your cat (and honestly, treat yourself in the process!), it's time to think outside the box. Regular old treats and toys are great, but you're on the hunt for the coolest cat stuff there is online — and we're here to help you on that search.
Having scoured the internet for the coolest of cool cat things to buy, there are 13 products that stand out from the crowd. From fun new techy toys, to places for your cat to hang out and snuggle up, these out-of-the-ordinary cat products are definitely things both you and your pet will love.
Here are some of the coolest things you can grab for your cat (and you, too!).
The 13 coolest cat products and accessories: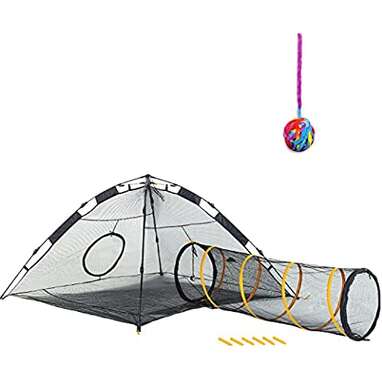 Let your indoor cat run wild in the Outback Jack outdoor cat tunnel. This mesh tent-and-tunnel combo lets your cat have some outdoor fun while still staying as safe as possible. The compound is easy to transport and can be secured to the ground with the included sandbags.
Cats can be a bit weird about drinking water. Sometimes, if it's not running water, they don't want it. That's why Veken's pet fountain has become a must-have for so many cat parents. It keeps a constant stream of water going to encourage your cat to stay hydrated. And the gentle waterfall sound is actually super relaxing for cat parents, too.
The outside world is basically cat TV, which makes this window perch from PEFUNY the perfect spot for your cat to be a couch potato. It attaches to a window with four suction cups that can hold up to 40 pounds.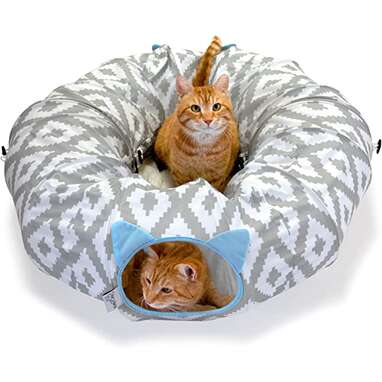 Your cat won't be able to decide whether to sleep on top or inside her new bed from Kitty City. The tunnel bed is a donut-shaped cat bed with a rim around the outside that's actually a tunnel for your cat to play in. The tunnel around the outside can even partly detach and expand from the bed to make a larger play space.
One of the coolest things for cats on Amazon is the Good Pet Stuff hidden litter box. What looks like an ordinary house plant is actually a disguise for your cat's "place of business." It's designed with a filtered ventilation system that controls dust and odor, and over 11,800 pet parents say this thing is beyond awesome.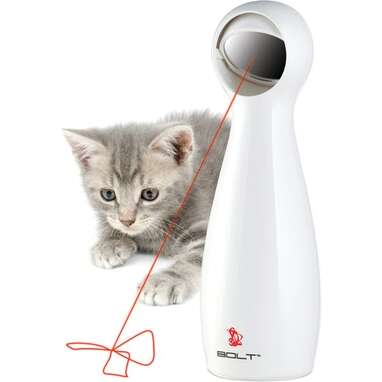 Cats never get tired of playing with laser pointers — but you sometimes do. That's why PetSafe designed an automatic laser pointer toy that randomizes movements and keeps cats entertained for 15 minutes at a time. Just press the button and watch your cat go nuts!
Disposing of your cat's used litter just became so much less of a chore thanks to the Litter Genie Easy Roll Pail. It can hold up to eight days of soiled litter so you don't have to take daily trips to the trash anymore. Just scoop it, drop it and lock it to seal away odors for days. It also comes with perforated refill bags, and the pail itself is made with 99 percent recycled plastic. You'll also be saving plastic bags from entering landfills by consolidating your weeks' worth of soiled litter into one disposal bag.
This isn't just a cat tower. This is a kitty mansion. The Furhaven multi-level cat tower comes with two houses, three perches and several levels of climbing fun. Each tower even comes with two ball toys attached so your cat can rest and play.
Now you can easily take your cat anywhere and everywhere with the PetAmi cat carrier backpack. Each size of the backpack zips open for easy access, and the breathable mesh material makes traveling so much more enjoyable for your cat. It also features mesh pockets for drinks and treat storage and comes in 10 fun colors.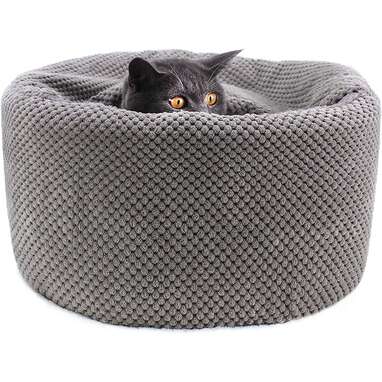 It's a bed, it's a blanket, and it's the perfect spot for your cat to cuddle up in on a chilly day. The Winsterch warming cat bed comes with a removable cushion and an attached blanket that creates a soft and cozy cocoon effect. You can pick up the warming bed in one of three different sizes.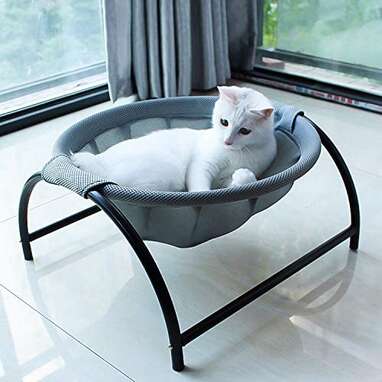 This hammock from JUNSPOW is a super cool buy for your cat — literally. The mesh fabric is breathable, and the space between the bed and the ground creates airflow underneath your BFF to keep her comfy. And the cup-like shape is meant for curling up in. You can grab one in either gray or pink to suit your cat's personality.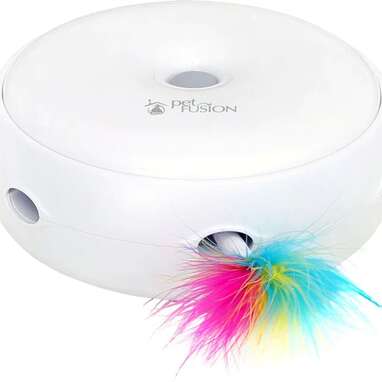 Watch your cat go wild trying to catch the faux-fur toy attached to the robotic arm of the PetFusion Interactive Cat Toy. The toy randomly rotates between six different side openings, so your cat will never know which spot it will peek out of! And this toy can be played with day or night — it features an LED light that makes it fun to play with in the dark, too!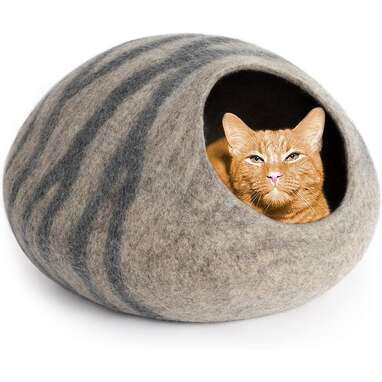 Made from cozy 100 percent Merino wool, and available in a variety of different colors, your cat will feel safe and protected in this cat cave from Meowfia (which won The Dodo's Paw of Approval). This bed looks like a piece of art with its interesting shape and fun colors, and your cat can use it either as a cave or collapsed as a padded bed on hotter days.
Pick up one (or all!) of these cool cat products for yourself and your BFF to make your lives so much easier — and fun!
We independently pick all the products we recommend because we love them and think you will too. If you buy a product from a link on our site, we may earn a commission.