Here Are 14 Christmas Dog Toys To Give Your Pup The Best Holiday Ever
It's playtime 🎁🎄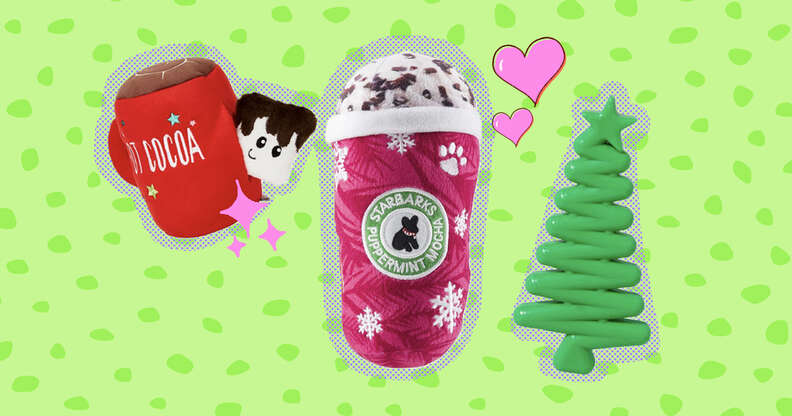 Due to stock shortages and delivery delays, items may arrive later than usual. Be sure to order items while they're in stock!
We independently pick all the products we recommend because we love them and think you will too. If you buy a product from a link on our site, we may earn a commission.
Presents are one of the best parts of the holidays, so you'll want to make sure your dog has some gifts to open on Christmas, too.
But there are tons of Christmas dog toys out there, so trying to find the perfect one for your pup can be a challenge.
To help you out, The Dodo found 14 of the most fun Christmas dog toys so your pup can have the best holiday ever.
Best for dogs who like to chew
This KONG Christmas bone is made of a non-abrasive tennis ball material that your dog will love chewing, and it's even softer than regular tennis balls, so your pup won't hurt his mouth with all his gnawing. It includes a squeaker and is super bouncy, too.
This Christmas tree chew toy is made of durable nylon to hold up to your dog's chewing, and it's peanut-butter-flavored, so your dog will love it. The toy also helps keep your dog's teeth and gums clean as he chews, so it's a win-win!
Best for dogs who like to fetch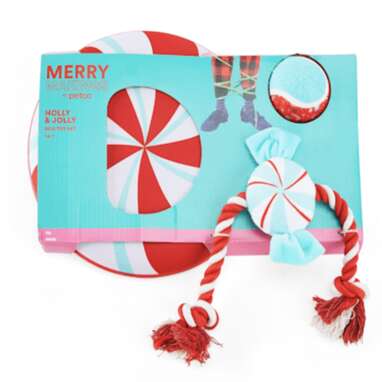 This Christmas toy set includes three different toys — a disc, a rope toy and a tennis ball — so your dog can play all day. The disc and rope toy look like candy canes, and the tennis ball has a fun holiday print.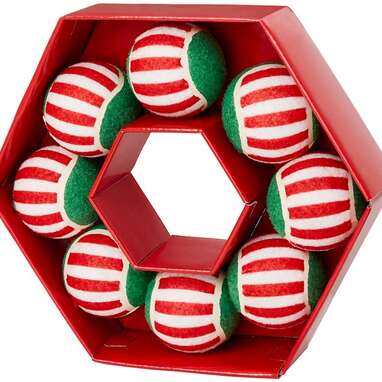 These squeaky tennis balls come in a wreath-shaped box — it doesn't get more festive than that. They're made of a bouncy rubber, so your dog will get lots of exercise chasing and playing with them. They also have a felt cover that's nice and soft for your pup.
Best for dogs who like tug-of-war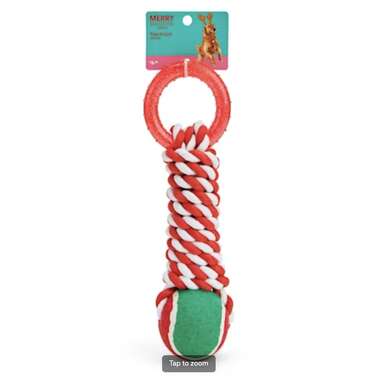 This rope toy is perfect for tug-of-war with your dog. One end has a ring that you can easily hold onto even if your dog is super strong. The other end has a tennis ball for your pup to chew on when he wins.
Best for dogs who like squeakers
This adorable plush moose toy is wearing plaid holiday pajamas and ear muffs. Your dog will love the sounds from the squeaker and crinkle lining.
This plush squeaky pickle toy is so cute. The pickle is wearing a Santa hat and says "Naughty, dill with it," and your pup will love playing with it (even if he made the "Nice List" this year).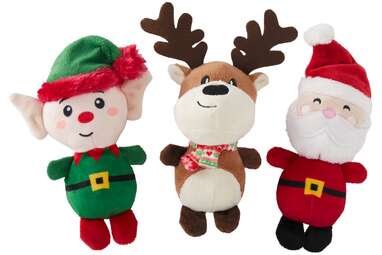 This Christmas toy set includes Santa, an elf and a reindeer. The toys are a soft plush and have a squeaker to get your pup excited to play.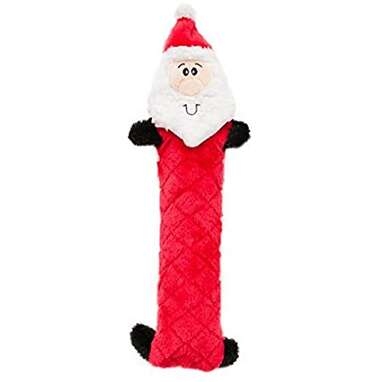 Your dog will love playing with this Santa Christmas toy. It's lined with an extra layer of material and is cross-stitched, so it's super durable and will last long after the holidays. It's filled with crinkle paper and squeakers to keep your dog entertained.
Best for dogs who like puppuccinos
Your dog won't even notice that you aren't letting him eat any Christmas cookies with these gingerbread man and coffee toys. The toys include crinkle paper and squeakers, so your pup will be super excited to play with them.
Let your dog in on the peppermint mocha fun with this "Starbarks Puppermint Mocha" dog toy. The plush toy is squeaky and comes in multiple sizes for different sized pups.
Best for dogs who like hide-and-seek
Your dog will love searching for the hidden gingerbread man, Christmas tree and candy cane in this gingerbread house. This hide-and-seek toy is plush, and the toys to hide inside have squeakers included. This interactive toy lets your dog play on his own so you can finish cleaning up from all the Christmas festivities.
This hide-and-seek Christmas toy will keep your dog entertained all day. There are a few holiday varieties to choose from — reindeers, stocking, Christmas tree, gingerbread men and polar bears. The toys are also squeaky to keep your pup interested as he tries to find them all.
Best for dogs who like to tear apart their toys
If your dog likes to tear apart his toys, get him one that's actually made for that. This plush cocoa mug is made to be destroyed, and it has a surprise stuffed, squeaky marshmallow inside.
You'll be able to find the perfect Christmas present for your pup with this list, no matter what his favorite type of toys are.