These Cat Water Fountains Will Change The Way Your Cat Drinks
You can finally have your bathroom faucet back🚰
What's that old saying again? Oh, right — You can lead a horse to water, but you can't make him drink. "Horse" should be replaced with "cat" because, as all cat parents will tell you, trying to get your BFF to stay hydrated is a seemingly endless battle.
That is, unless you have a water fountain specifically designed to entice your cat to keep coming back.
Amazon shoppers can find an awesome variety of cat water fountains on the site, including the below top-rated favorites among cat parents that are all eligible for Amazon Prime.
Cats may be finicky about drinking out of a water bowl, but there's no way their curiosity won't be piqued when they see one of these water features appear on the kitchen floor.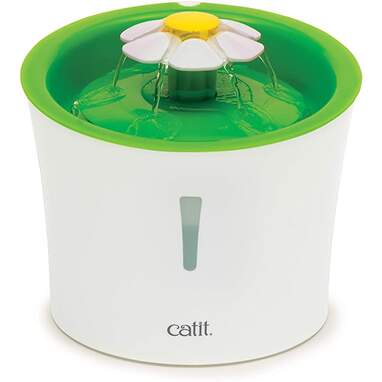 Not only is the Catit Senses 2.0 fountain cute, it's also much-loved for its easy-to-clean design and the cap on the basin (which prevents cat-caused spillage). And as one reviewer noted, "The Catit came in a cardboard box with pipes printed on it and holes to cut out. Best free cat treat puzzle ever!" If that's not the most adorable thing ...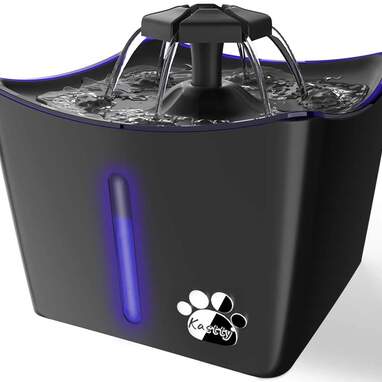 This thing may look like some sort of no-nonsense gaming device, with its matte black finish and LED lights, but the Kastty fountain is actually a top-rated drinking bubbler that can hold up to three liters of water. Five-star reviewers say that their cats are drinking more water now and love both the "flower waterfall" and "gentle fountain" bubbler options.
The faucet-like fountain setup of the NPET fountain makes your cat think she's drinking out of the sink (which many cats love), and the clear plastic basin makes it easy to tell where the water level is at. "My cat literally only drinks out of the sink," one five-star reviewer wrote. "Refuses to drink out of a bowl or anything else even if it's fresh … She actually uses this one with it having the faucet added to it!!"
This easy-to-clean model from PetSafe is a favorite among cat parents because of its flow-control feature, see-through water basin and built-in reservoir, which lessens the amount of times you need to refill the water storage chamber. It has over 11,000 five-star reviews and has been a favorite on Amazon since 2011.
The PETKIT Pure Drink is a system that simulates a natural bubbling spring, which hopefully speaks to your cat's natural instincts so that she drinks more water. It's USB-powered, contains an "eversweet" filter and tray and features a pump-saving automatic shutoff. One five-star reviewer wrote, "I know fountains … this one is the best on the market to date."
The Comsmart cat water fountain features a water-level window so you can easily keep track of how much water is in the system. The stainless steel basin can hold 2.4 liters of water and comes in a variety of different colorways so you can find one that suits your cat's style.
Is this a zen tabletop water feature or a pet drinking fountain? It's kind of both. The PetSafe Drinkwell fountain is a two-tiered bubbler system that encourages pets to drink more water with its gentle waterfall design. The top-rated fountain is also marketed as a great bubbler for senior pets, as they don't have to bend down to drink from the ground-level basin — they can simply sip from the top!
The Wonder Creature stainless steel fountain is dishwasher safe and features a filtration system and automatic shutoff pump that will stop when the water gets too low. Over 16,800 cat parents love this model because it's clean and quiet, and the auto-shutoff ensures the pump won't burn out when the fountain runs dry.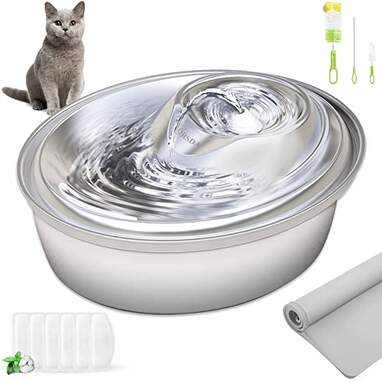 Available in both a 2-liter and 3-liter size, this stainless steel bubbler from ORSDA is low profile and dishwasher safe. Cat parents can choose from a handful of different waterfall effects, and the filter is easy and safe to change.
This super-silent pet fountain from Veken circulates 2.5 liters of water through an all-natural filter that takes out chlorine and heavy metals and improves the taste for your cat — yup, the same cat who drinks out of that water glass that's been on your nightstand for a week. Nearly 30,000 reviewers rave about this fountain, with one person saying, "This is by far the best pet water fountain I have gotten!"