Cat Trees And Condos Your Cat Will Probably Move In To
Never leaving 🤣
We independently pick all the products we recommend because we love them and think you will too. If you buy a product from a link on our site, we may earn a commission.
Cats love exploring — but they also love having a home base to come back to.
That's where cat condos come in. These towering posts rise above ground and give your cat plenty of space to play, hide and watch over their kingdom — AKA your house.
Since cat condos can come in all shapes and sizes, there's definitely one out there made perfectly for your own cat's personality and habits — and that you wouldn't mind adding to your decor.
Here are some of the most wildly creative cat trees and condos the internet has to offer.
Wayfair
What better way for your cat to look out upon his land than by perching high up in his — totally fake — tree? This has three levels and can blend into your home almost as well as your cat will blend into the leaves. It also comes in varying seasons (aka colors) — perfect if your cat's coloring is totally an autumn.
Wayfair
This perch pod not only looks freaking cool, but your cat will be hidden and cozy while she hangs out up and away from all the commotion that happens on the floor.
Wayfair
If you're looking for a cat condo-slash-shelf that literally blends into your home, this one's for you. Most of your guests won't even realize it's really where your fave feline is hiding — that is, until she pops out and surprises everyone.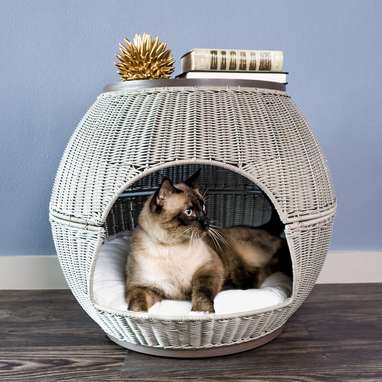 Wayfair
This cat bed wicker table medley is so cute that it wouldn't be a surprise if someone purchased it without even owning a cat. Your cat will be comfy and cozy — and you'll have an adorable end table.
Wayfair
While this one might not be a high-rise, it's the perfect starter home for kittens or cats with mobility issues. With a removable cushion and a ball to play with this will quickly become your cat's favorite — and most comfy — hiding place.