7 Best Cat Slow Feeders On Amazon For Fast Eaters
No more scarf and barf.
We independently pick all the products we recommend because we love them and think you will too. If you buy a product from a link on our site, we may earn a commission.
Some cats waste no time chowing down on their kibbles or wet food — but what they don't know is that faster isn't always better. In fact, fast eating can cause your cat to vomit immediately after eating or feel bloated and gassy for hours after mealtime.
To slow down your cat's eating in order to help her feel better, you can serve her next meal in a slow feeder, which is a bowl specifically designed to force your cat to take her time.
According to parents of fast-eating cats, these slow feeders have led to reduced vomiting and bloating, and although their cats aren't necessarily happy about their routine change, they must admit that they do feel better.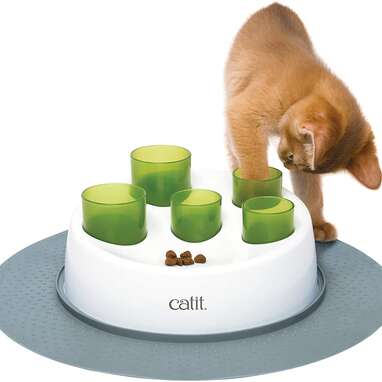 The Dodo gave the Catit Senses 2.0 Digger our Paw of Approval because it actually puts cats to work during meal or treat time, slowing down their eating and putting their brains to the test. Plus, it's easy to keep clean — just pop the tubes out of the base and clean them separately. And though your cat might be frustrated at first, it turns out that Catit 2.0 Digger is kind of fun for her, too!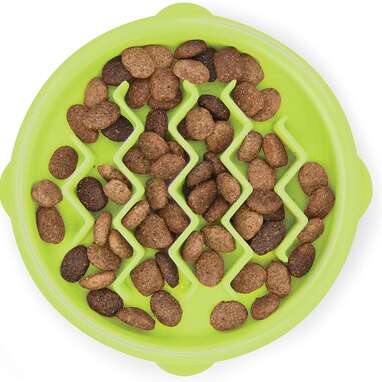 The zig-zag grooves of the Petstages cat slow feeder on Amazon make it just a little bit harder for your cat to grab her kibbles. And because she's forced to take her time eating, this feeder will improve her digestion and reduce vomiting and bloating. "Since buying this bowl, we have not had ONE barf incident outside of the occasional hairball, which nothing cures because it's a cat thing," one pet parent wrote. "I fully recommend this slow feeder if you have a cat that eats too fast and barfs it back up … It really does work."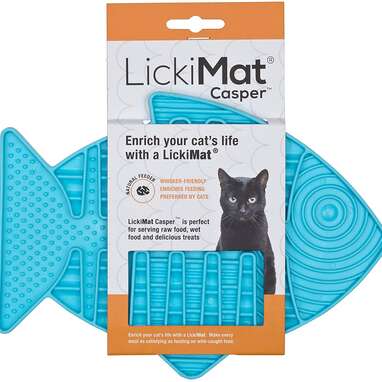 For cats who love wet food, the LickiMat fish-shaped cat slow feeder is great for purées and pâtés. Smear the food all over the mat, and let your cat get to work. According to the Amazon listing, this mat mimics feeding in the wild, so your cat will enjoy crouching and taking her time getting all the good stuff from the nooks and crannies.
"My greedy cat loves it!" one five-star reviewer wrote about the TOPNICES cat slow feeder on Amazon. "Now she can have her breakfast and keep it down. I rinse it with water after every feeding." The longer, larger design of this feeder spreads out the kibble and slows down eating.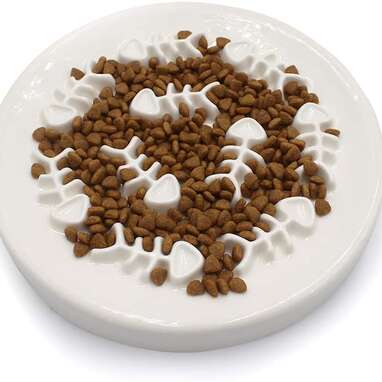 Like the other slow feeders on this list, this cat slow feeder on Amazon from MWZTECH uses divots and rivets on the inside to trap kibbles and ensure slow feeding. Except this one is that much more cuter thanks to the adorable fish skeletons lining the bottom of the bowl. Not only do they add a fun design element to the slow feeder, but the "ribs" also help trap smaller kibbles, making mealtime that much slower.
Another cat slow feeder on Amazon with a fun motif at the bottom is this one from Cilkus. It comes in four fun colors, including green, pink and yellow, and features a school of swimming fish at the bottom. You can pick one up in either the small or large size and watch your cat slow down her eating and feel better after mealtime.
Need a slow feeder that's raised a few inches off the ground (which also promotes healthier digestion)? This bowl from RoyalCare is a double whammy. With three fins on the bottom and a pedestal base that raises it up an inch or so, this bowl will stop belly issues in their tracks. Plus, the bowl is tilted 15 degrees, so your cat won't have to arch her neck so far over the rim to eat.