The Cutest Cat-Themed Pillows For Your Couch Or Bed
Soft and snuggly!
We independently pick all the products we recommend because we love them and think you will too. If you buy a product from a link on our site, we may earn a commission.
If you're looking to add something new to your growing collection of cat home decor, The Dodo is here to happily scratch that itch. These cat pillows will look adorable on your couch, bed or favorite reading chair, and apologies in advance — you'll have a hard time picking your favorite.
According to those who have bought them, these cat pillows are the best. They're super squishy, soft, snuggly and a great addition to any home decor scheme. And real cats even seem to like them, too!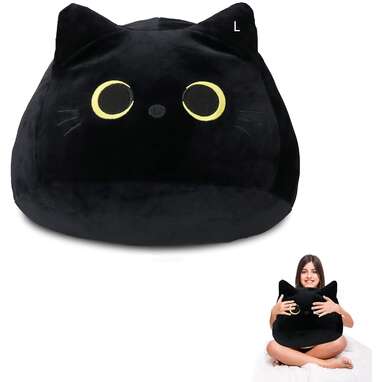 Great for both decoration and cuddling, this adorable black cat pillow on Amazon from Bisceolife is a must-have for cat lovers. "This plush is adorable!!!!" one five-star reviewer wrote. "The fabric is very soft and squishy … When first getting out of the box, the plush will look flat at first, but after fluffing it up, it's very fluffy. Overall, this plush is my cat's new twin, and I love it."
If you're cat obsessed, then there's a good chance you've stumbled upon Pusheen and all of Pusheen's adorable merch. And this plush pillow is no exception. It's made of a soft microfiber fabric and is about a foot long, making it a great cat body pillow for your couch or bed. That little smile is truly adorable.
"I'm a grown man (beard and all) and I still find myself carrying it around the house like a kiddo with a security blanket," one five-star reviewer wrote about the ARELUX plush pillow on Amazon. "I was so impressed by its cuddliness I bought a smaller one for each of my children, too. They all fell in love with their own specific animal." There are a bunch of animal shapes to choose from, including a cute gray cat and another tan cat.
This massive plush cat pillow from Aslion will become your new favorite thing as soon as it arrives. You can grab an extra-large one (90 centimeters) to use as a backrest for reading, or a smaller one (50 centimeters) to provide a bit of neck support when lounging. Or, you know … you could always get one of each!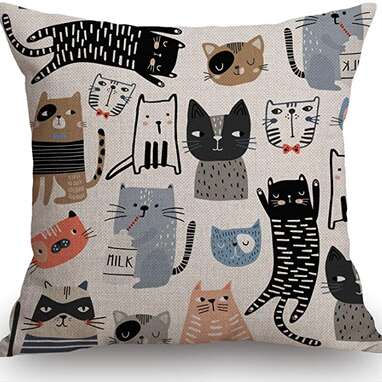 Love cats of all shapes and sizes? So does Swono, the brand behind this adorable multi-cat print pillow. Thanks to the abstract cat-themed pattern, this throw pillow will fit in a myriad of different design schemes.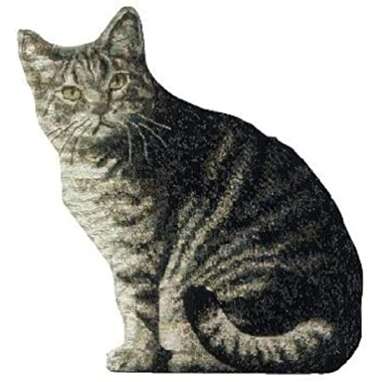 This cat-shaped pillow from Manual Woodworker is so lifelike that you may just think an actual cat crawled onto your couch. "Wonderful facial expression. Quite cynical, like any self-respecting cat," one pet parent wrote. "I bought this FOR my cat … Jury is still out on whether I can get her interested. But, I unexpectedly really like the image and enjoy having it sit on my desk, with or without my cat's interest."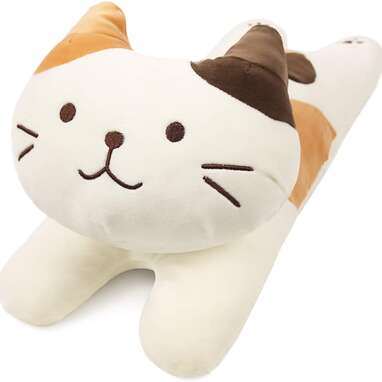 This cat pillow was built for snuggling. It's super squishy; made with soft, snuggly fabric; and is a whopping 23 inches long, making it perfect for sleeping on. You can pick one up with calico markings, tabby stripes or with gray spots.
Available in both pink and white, this reading pillow from SUNSIDE will hug and support you as you curl up with a good book. It's a memory foam pillow, meaning it will shape to fit you perfectly, and the cover is removable and machine washable.
Nothing is more true than the message on this cat pillow — "All you need is love and a cat." If you have an existing 18-inch by 18-inch throw pillow that needs a facelift, this cover will do the trick.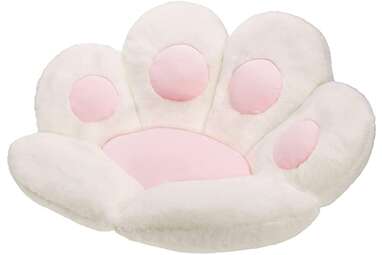 Need a softer cushion than the one your office chair comes with? This cat paw pillow from DITUCU is the cutest solution there is. "I freaking LOVE this paw cushion!" one five-star reviewer wrote. "[It] absolutely saves my butt … It keeps my buns/legs cozy and from being abused by the macrame ropes on my chair. Buy yourself this thing. You deserve it."