The Best Cat Leash You Can Buy For Your BFF, According To The Experts
The pros share why they love these leashes.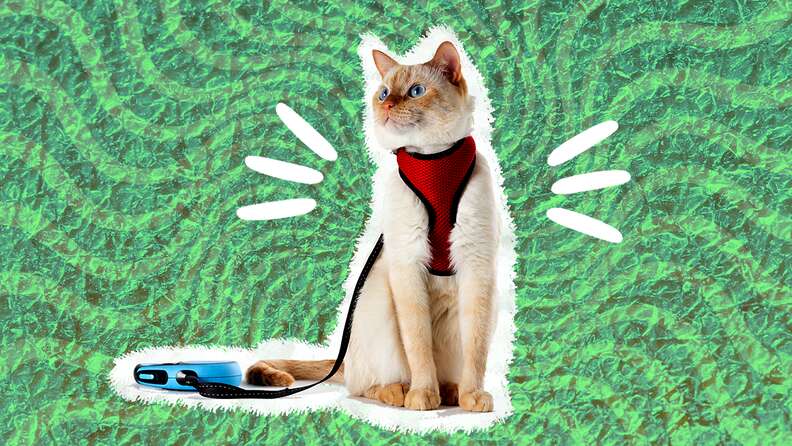 If your curious cat loves staring out the window, imagining herself out there, then you've probably considered training her to walk on a leash to help her live her best life. Just like dogs, cats can be trained to wear a harness and leash and go on daily walks — and starting off that training with getting the right gear is the first step to success.
"Leash training a cat is a process that can take time, but in the end provides you an opportunity to bring your sweet feline out into the world with you in a way that is safe and helps them feel secure," Kate Karam, resident pet expert at Chewy, told The Dodo.
We consulted the pros and found some of the best cat leash options available to buy online and learned why they're so loved. From basic starter leashes to a flashing LED leash for nighttime walks, there's something on this list for every cat who is dreaming of going outside.
Keep in mind that leash training and walking may not be suitable for all cats. "Leash walking is not for most cats," Meagan Licari, a representative with Puppy Kitty NYC, told The Dodo. But for cats who warm up to the idea of walking, "owners must get their cats used to the harness and triple check it fits properly before use," Licari said.
"Shy cats should never be brought out on a leash and should remain indoors at all times," Licari noted. "You also should always have a carrier with you at all times [if/when you're out on a walk], in case a situation arises where it's not safe for the cat to be on a leash. Example, dogs off leash, children, fireworks, crowds."
What to look for when shopping for a cat leash
Before you purchase a leash, there are two main features you'll want to take into consideration, according to the experts.
Style and length
The style and length of your cat's leash are two considerations that go hand in hand.
"I recommend a flat leash between four and six feet, which allows your cat some freedom to explore but keeps you in control," cat behavior expert Dr. Mikel Delgado of the Rover Dog People Panel told The Dodo.
"I have always used the plain, flat leashes with my own cats," veterinarian Dr. Sandra Mitchell told The Dodo.
There are also bungee-style and woven leashes that can be purchased for your cat, but those leashes may be best for cats who are already used to walking with a nylon flat leash. We'll go more into detail about bungee and woven leashes later.
The best cat leashes you can buy
According to the experts, these are some of the best cat leashes you can grab for training your cat to go on walks and be outdoors.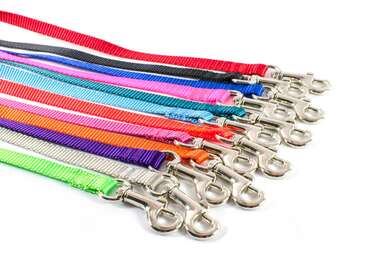 Dr. Mitchell likes the small pet leash from Fox Valley Pet Wear because it meets all the requirements for a great cat leash. These leashes are the recommended flat nylon style that comes in a ⅜-inch width, which is perfect for small animals. You can customize your leash to be the exact color and length you want, and even include a D ring, which helps hold keys or poop bags.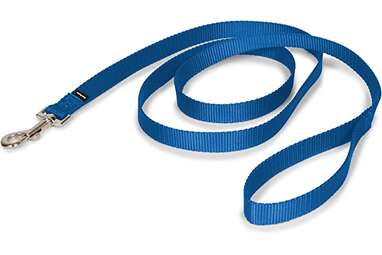 The PetSafe Premier Leash is a flat nylon leash that comes in three widths (1-inch, ¾-inch and ⅜-inch, with the two smaller sizes being ideal for cats), as well as two lengths (either 4 or 6 feet long). The swivel clip prevents the leash from getting tangled around your cat, and the leash even comes in a handful of bright colors to increase your cat's visibility while you're out for walks.
Licari recommended the harness and leash from rabbitgoo for pet parents who want a solid starter set. It comes in two sizes and a variety of different colors, and it has over 27,500 five-star reviews on Amazon from pet parents who have tried it. The harness is super adjustable, and the basic, flat nylon leash gives your cat plenty of space to explore while you maintain complete control.
"Note that a leash should never be connected to a cat's collar, but instead to a harness," Karam said. "Collars can come undone, and tugging can injure a cat's rather fragile neck."
If your cat's already a pro at walking with a harness and leash attachment, then you may consider taking her on longer walks and hikes with you. If that's the case, then Albert Colo, a pro at hiking with his Bengal cat, Mia, recommends using the harness and rope leash from his brand OutdoorBengal.
"I like using a rope leash and a carabiner," Colo told The Dodo, explaining that this setup "tangles less than thin leashes" and is "more durable than a regular leash [because] it resists abrasion from floor dragging, which happens more often [with cats] than with dogs."
"You can remove the knot at the end if the cat climbs on a tree or hides on a bush so that on the way out/down the cat doesn't get trapped because of the handle," Colo said of the OutdoorBengal leash, adding, "If you are walking with the cat on your shoulder and they jump, with a thicker rope you avoid abrasion on your neck."
Plus, as Colo noted, the rope leash "looks great in pictures."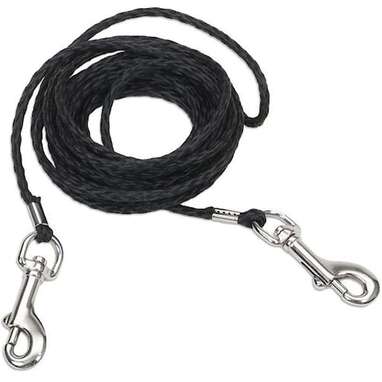 If you're not planning on taking your cat out for walks, but rather want a hands-free leash to allow her to spend time out in the backyard with you, then the tie-out woven poly leash from Coastal Pet Products is a win, according to Karam.
"While you should NEVER leave a leashed cat unsupervised, this cable with hooks that attach to your cat's harness and to a fixture, such as a stake, can provide a way for your cat to safely and comfortably enjoy a little sunshine," Karam said. "This leash is great for camping trips or when you are working in the yard and don't want to risk a wandering cat."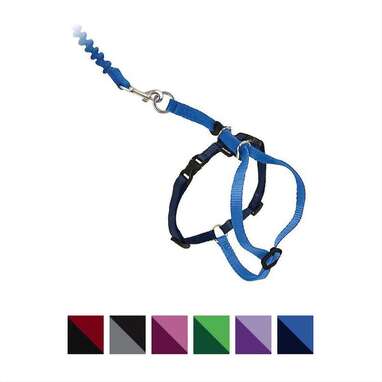 Bungee leashes are great for cats who are already used to walking on flat leashes and want a bit more freedom to explore. And this bungee leash from PetSafe comes with a harness, too.
"For more adventuresome cats, I really like the bungee leashes," Dr. Mitchell said. "But a bungee leash is great for more 'out and around town' cats that want to climb trees and such."
For walking at night, or even dusk or dawn, Karam recommends using a light-up leash like the PATPET LED leash to make sure you're staying as safe as possible.
"While this is technically a 'dog leash,' there is no reason your cat can't also benefit from an illuminated leather leash with a nighttime viewing range of up to 350 yards," Karam said. "Safety first when it comes to walking your cat! This is great for those dusk or dawn walks when the light is dimmer. The leash has three different light modes that can be programmed, and it hooks onto a cat harness."
We independently pick all the products we recommend because we love them and think you will too. If you buy a product from a link on our site, we may earn a commission.
7 Cat Harnesses For Vet Trips And Outdoor Adventuring