The Cutest Cat-Themed Hats On The Internet
That cat beret 😻
We independently pick all the products we recommend because we love them and think you will too. If you buy a product from a link on our site, we may earn a commission.
Bad hair day? Cold ears? Boring outfit? All of these problems are instantly solved by throwing on a hat — and when you've got a fun collection of cat-themed hats, you may start looking for reasons to add a hat to any outfit.
From fun baseball caps to cozy winter beanies, there are a bunch of cute cat hats out there — and no matter your personal style, there's something on the below list that will definitely suit your taste.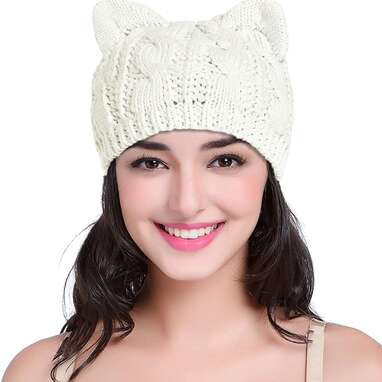 With over 970 five-star reviews on Amazon, the V28 knit cat beanie is a favorite for its adorable cat-ear shape and for the fact that it's available in so many fun colors. It's a bit of a slouchy fit and is made with 100 percent cotton yarn, so it's soft and machine washable.
Make sure your head and ears stay nice and toasty this winter by grabbing the Bellady cat ear beanie from Amazon. This hat is made from super-soft acrylic yarn and features ear flaps that can be tied together with the attached pom-pom strings. And up top, you get to rock a set of adorable cat ears. This beanie comes in a handful of neutral colors.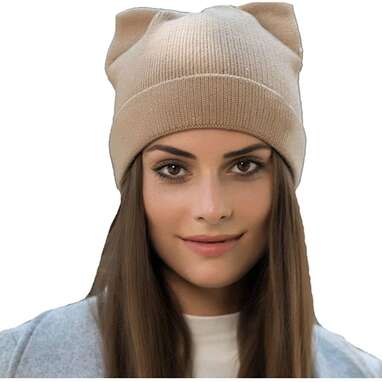 If you're looking to keep the cattiness of your hat more subtle, then this design from Wanture may be perfect for you. The hat is designed with a squared-off top so when you wear it, the stitched corners look like barely-there cat ears. Grab this hat in khaki, gray or white.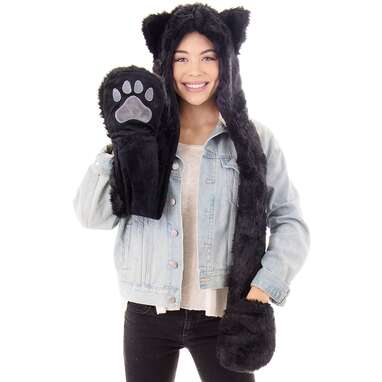 Made of ultra-soft faux fur and plush material, this 3-in-1 winter accessory from Simplicity will keep your head, ears, neck and hands warm during the cold months. "I bought this as a gift for my friend, and she loved it!" one five-star reviewer wrote. "The quality was perfect, and I was impressed. The paw details are also very cute!"
Available in black, blue, red and gray, the "Meow" beanie from Beurio adds a touch of sass to any outfit. The "O" is embroidered to look like a cat face, and it's a not-so-subtle way to let others know you're crazy about cats.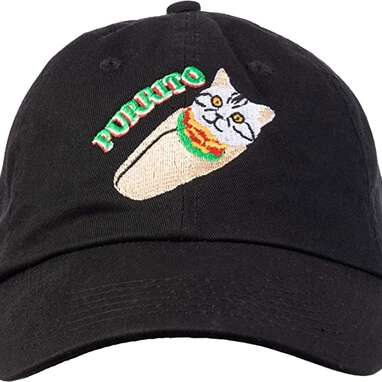 Designed and embroidered by artisans in Ann Arbor, Michigan, this "Purrito" baseball cap is a funny accessory every cat lover needs. The cap is a classic six-panel "dad-style" hat with an adjustable strap at the back, so it will fit a variety of different-sized heads.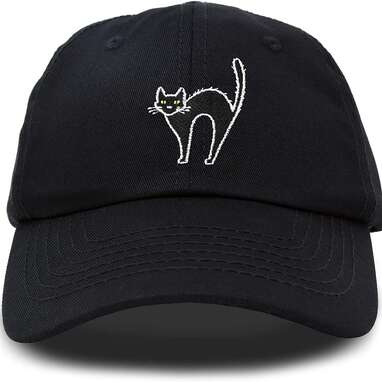 This adorable 100 percent cotton baseball cap from Dalix comes with a black cat embroidered on the front. You can pick this hat up in a variety of different colors, and it's a "must buy" according to one five-star reviewer, who wrote, "I bought this for my wife, and she loves it. It's very well constructed using good materials and fits perfectly. It's exactly the colors shown in the photos and as cute as it can be!!!"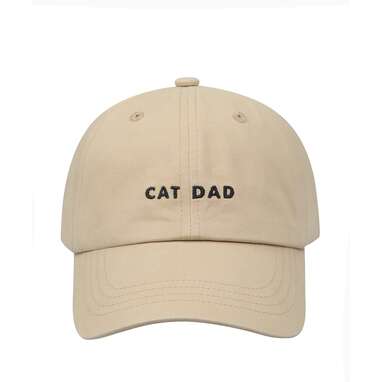 Choose from either the "Cat Dad" or "Cat Mom" embroidered logo on this baseball cap from Hatphile to show your pride in being a cat parent. The low-profile font keeps the hat looking classy, and the neutral tones available will match any outfit so you can wear this thing every day of the week.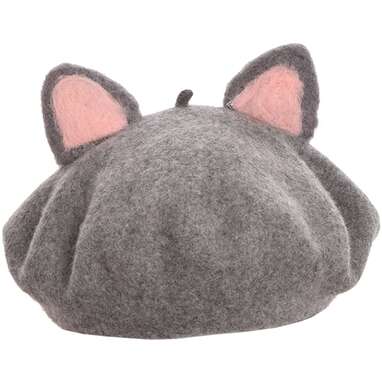 This sweet beret-style Lolita hat from GRACEART is handmade with felted wool and topped with cutesy cat ears. Available in gray and pink, these hats are the cherry on top of any Lolita-inspired outfit as well as any outfit that needs an extra bit of cuteness.