These 11 Adorable Surprises For Your Cat Are All Handmade
Made with love 💕
We independently pick all the products we recommend because we love them and think you will too. If you buy a product from a link on our site, we may earn a commission.
Shopping small is always fun to do when buying unique gifts for friends and family. Receiving a handmade item seems to feel so much more special and personal. So, why not treat your cat to the same luxury?
The Dodo rounded up handmade cat goodies small businesses are offering in the world of cat toys, huts, collars and other fun cat stuff, and cute doesn't even begin to cover just how adorable these things are.
The wall-mounted cat shelves from Enjoy The Wood not only look cool as wall decor, but they give your cat an awesome place to play and hang out. The handmade shelves come in a variety of different wood finishes, and you can choose from various different styles and shapes so that you can build a custom set to fit your decor and cat's needs. "I really appreciate the workmanship and details they put on this cat furniture," one five-star reviewer wrote. "Not only great for cat activity, but your house looks pretty and artsy."
Grab a set of three crocheted donuts from Simply Hooked and watch your cat have an absolute ball. The colorful crocheted treats are filled with organic catnip and polyfill stuffing, and cat parents say that these have become their cats' new favorite things. "Wow! Christmas in October for my boy Sterling," one five-star reviewer wrote. "The beautiful crocheted catnip donuts arrived today and my kitty is hooked! Thank you so much for making his day, and mine, of course!!"
Pugs2Persians' breakaway cat collar in the brand's glow-in-the-dark "gold moon and stars" pattern is made with reinforced cotton and top-quality hardware, and comes with either a bell or a charm attached. "We use breakaway clips on our cat collars for your kitty's safety," the listing reads, and if you contact the seller, you can further customize the end result.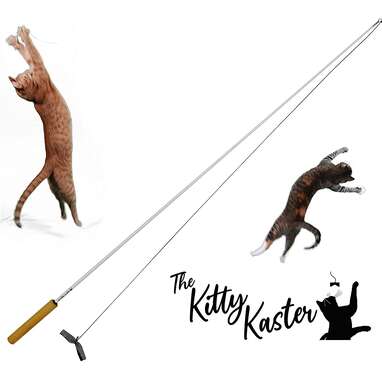 "My cat loves this so much," one five-star reviewer said of the Kitty Kaster handmade cat toy. "The day it came he wanted to play nonstop. Anytime I put it down he would pace and meow. Eventually I HAD to stop because he was breathing so heavy." It's a 39-inch pole with a 34-inch line that will have your cat dancing, jumping and running about.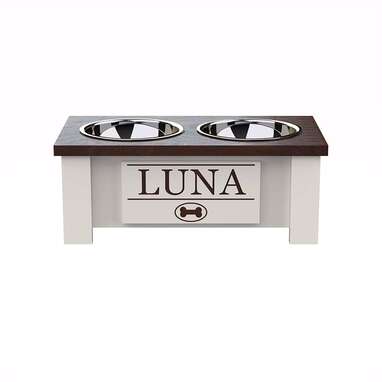 This 4.8-star-rated personalized bowl stand from Groove This Workshop comes in four different sizes and six finishes. You can customize the sign in front to read your pet's name, and the stand comes with two stainless steel food bowls. "I wanted my dog's name in Kanji and I wasn't sure if they could do it," one five-star reviewer wrote. "We talked extensively on Facebook via the chat feature. The communication was excellent. They did an amazing job."
Made from durable canvas and sturdy wood, this handmade pet teepee gives your cat a super-stylish place to chill out. The easy-to-set-up teepee comes with a hypoallergenic soft mat and arrives in fully recyclable packaging. "Easy to set up, simple to clean, great for cats!" one cat parent wrote. "All four of my cats love these and use them regularly. There's enough space in there for them to comfortably sleep and hang out. Thanks so much!"
"Unfortunately, the cats will not share these no matter how many we give each of them," one cat parent joked about the handmade Furball Fanatic fortune cookie catnip toys. "They will hoard as many as we will give them. It is definitely one of their favorite toys." Each pack comes with two felt cookies with catnip inside, and your cats will definitely get a kick out of these sweet little toys.
If your cat's a kicker, she'll love these kicker toys from Kitty Kicks. These toys are 11-inch fabric tubes made out of an assortment of quirky prints and stuffed with organic catnip and polyester filling. "Whoa!!!!! Every cat I know loves these!!" one cat parent wrote. "My cat is not a huge toy guy at 18, but he LOVED this and spent a full hour with it when I first gave him one. A friend has four cats and I sent them a few too, every cat loved it! Another friend bought them for her mom's cats, guess what?! They loved it! 10/10 highly recommend."
This bowl stand is made by Cades and Birch out of bamboo and is also completely customizable. The stand comes with two or three ceramic, dishwasher-safe bowls depending on which stand you select, and you can work with Cades and Birch to personalize to your heart's content. "[It's] a perfect piece of artwork," one five-star reviewer wrote. "Gave as a gift and the recipient was thrilled. Packing was done so carefully. Even got a dishwasher magnet with it."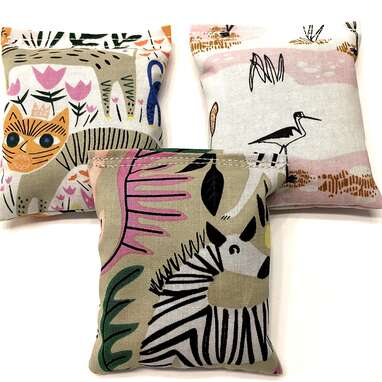 Each cat toy pouch from Sand and Sea Organics is filled with certified organic catnip and is made from organic cotton fabric and sewn with organic cotton thread. You can grab a set of three for $16.99, and Sand and Sea Organics promises that you'll be completely satisfied or they'll give you your money back.
This 24-inch rainbow crocheted blanket from Comfort for Critters is the perfect size for your cat to curl up on and sleep away the day. And by purchasing this blanket, you're supporting CFC's mission to give away blankets to shelter pets in need. "To support this mission, and ship our free blankets to shelters, we gather the extra yarn (after making our shelter blankets) and create our one-of-a-kind 'Remnants Reborn' blankets!" the Amazon Handmade listing reads. "This rainbow blanket includes yarn from 32 different shelter blankets we've made and donated. So no two of our blankets are alike and every blanket is unique!"