10 Best Cat Halloween Costumes She Won't Hate
She's going to look AMAZING 🎃🙀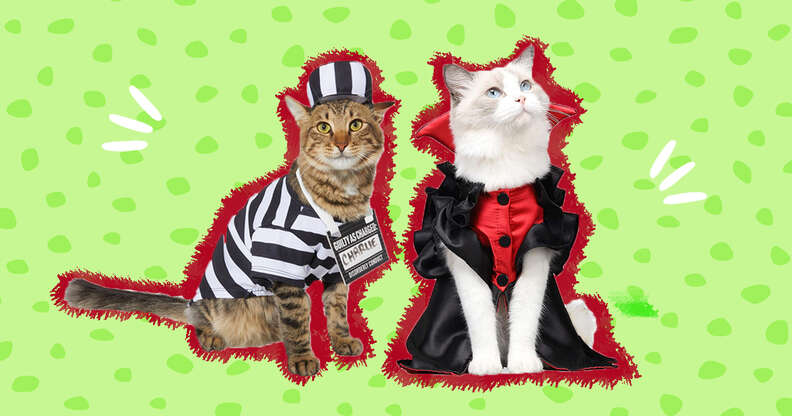 We independently pick all the products we recommend because we love them and think you will too. If you buy a product from a link on our site, we may earn a commission.
If you're a Halloween lover who's looking to get your cat in on all the action, then you're probably in the market for costumes that your cat won't totally hate.
Whether you're looking for cat Halloween costumes that are super adorable or ones that'll make your friends laugh, there are plenty of options to choose from.
The Dodo rounded up some of the best cat Halloween costumes — so you can spend more time strategizing on how you'll get the perfect picture for Instagram.
Amazon
This costume slips on just like a harness, so it's perfect for cats who are comfortable wearing one. It also comes with a D-hook for easy attachment to a leash (if your cat rolls like that).
Chewy
Imagine the photo ops you'll get with your cat dressed like everybody's favorite farm animal. It also has belly and neck straps to ensure a secure fit.
Amazon
This lion mane is designed to comfortably fit adult cats (or small dogs, if your cat has some canine siblings!). And according to one pet parent who purchased this, "The softness of the costume was a really nice surprise," — so your cat will look mighty yet comfy.
Chewy
You may have said your cat looks like a loaf of bread before, so why not actually make her look like bread for Halloween? This costume is easy to put on and take off, so your cat won't even have to suffer through too many straps.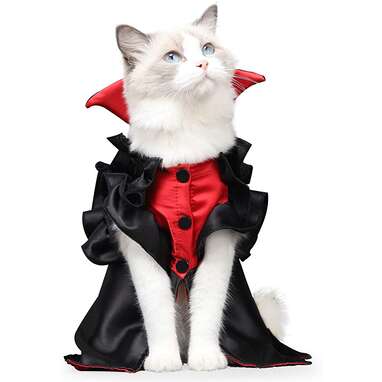 Amazon
Your cat loves biting random things, so why not let her dress the part this Halloween? This adorable vampire costume even comes with a durable button that helps keep it in place. "And the great thing is it comes with buttons, which means your furry friend can't just scoot across the floor to slide it off like mine usually does," one Amazon reviewer said.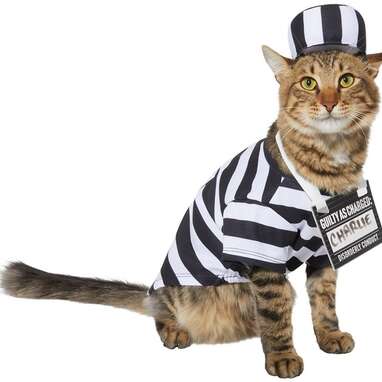 Chewy
TBH, sometimes cats feel like they belong in prison with all the mayhem they cause at home. This costume lets her play the part, and it even comes with a dry erase board so you can customize what she's in for, like waking you up at 4 a.m.
Amazon
If you already know you'll never get a costume on your cat, these adorable Halloween-themed collars will still get her in the spirit without having to make her dress up. And it's a two-pack!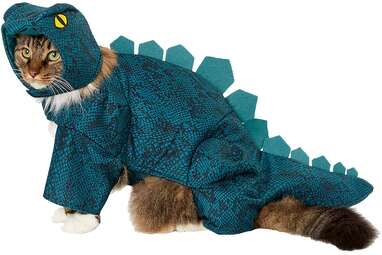 Amazon
Obsessed with all things dinosaurs? This two-piece costume is made to comfortably fit your prehistoric kitty while bringing the entire family a bunch of laughs.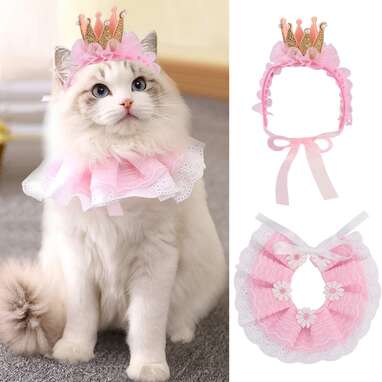 Amazon
If your cat's the diva of the house, this princess costume will fit her personality perfectly, making sure all who meet her know they're simply there to serve Her Highness. It can also double as the perfect birthday outfit (although divas never wear the same thing twice).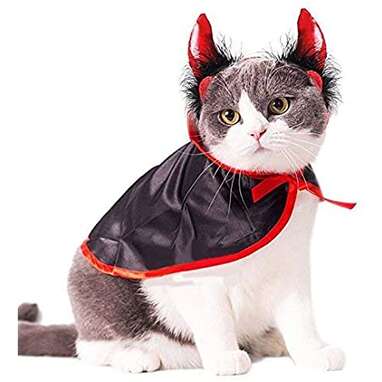 Amazon
This costume will show off your cat's (adorable) devilish tendencies. Just like one pet parent said, "Cutest costume ever, reflects my cat's personality in a very cute way."