The Most Festive Cat Christmas Sweaters To Get Your BFF In The Holiday Spirit
'Tis the season for festive sweaters!
Whether you're planning a pet-friendly tacky Christmas sweater party, or simply looking to keep your cat warm during the chilly winter months, picking up a cozy and cute cat Christmas sweater is a great way to get both yourself and your cat in the holiday spirit.
These cat Christmas sweaters are not only super festive in their designs and colors, but they're also comfy and cat-approved according to pet parents who left reviews.
So if you're hoping to convince your cat to step into a holly-jolly sweater for the holidays this year (though, don't force it if she's not having it!), these are the best cat Christmas sweaters you have to check out.
The best options for a cat Christmas sweater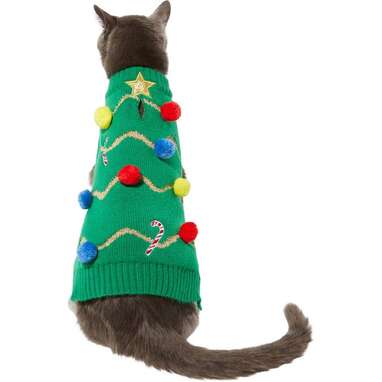 Complete with pom-pom ornaments and embroidered candy canes, your cat can show up to the party looking like an actual Christmas tree in this sweater from Frisco. It comes in sizes ranging from XS to 3XL, so cats (and even dogs!) of all sizes can get in on the tacky sweater fun.
Okay, so this technically isn't a sweater. But how could we not add this Christmas cape to the list? Trimmed in white faux fur, this hooded red velvet cape will turn any cat into Mrs. Claus for Christmas festivities. Sizes range from small to large, and the cape is easy to put on with a simple tie at the front.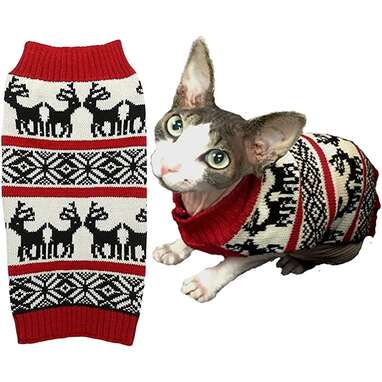 Knit in a classic reindeer pattern, this red, white and black cat Christmas sweater from Lanyar is about as festive as it gets. Your cat can wear this throughout the holiday season and beyond, and the warm acrylic material will keep her extra toasty when she's curled up next to the fire.
You can get two cat Christmas sweaters for the price of one with this set of two from HYLYUN. Each features a fun and unique reindeer motif knit in reds, whites and grays. You can pick this set up in sizes ranging from extra-small up to extra-large.
This cat Christmas sweater from Frisco has all the highlights of Christmastime — string lights, ornaments, Santa hats, Christmas trees and even … mugs of beer? (Maybe that's hot chocolate.) You can pick this sweater up in a size between XS and 3XL.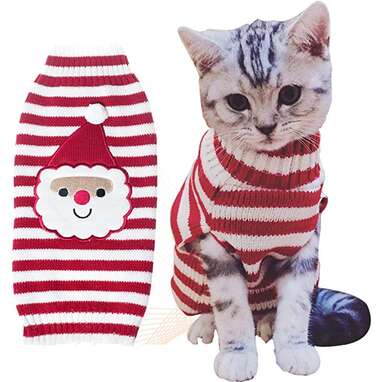 Available in sizes from extra-small through extra-large, the striped Santa cat Christmas sweater from BOBIBI is one of the most adorable on this list. The red and white stripes look like a candy cane, and over 700 pet parents say their cats have never looked more festive and ready to celebrate the holidays.
Dinosaurs like to celebrate Christmas, too! This funny sweater from Frisco features a ferocious-looking T. rex decked out in a full Santa costume embroidered on a simple red sweater. And all sizes of this sweater come with a keyhole cutout so you can slip a leash through the neckline to attach to a harness or collar.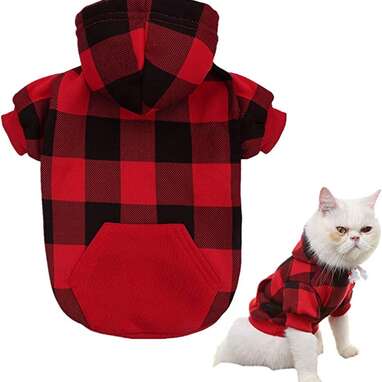 This cute plaid hoodie, which comes in a range of colors, is the perfect outfit for a super cool cat who prefers a more casual look. It comes in sizes ranging from XS to 2XL, so you can grab a matching one for your dog, too. And yes, that pouch pocket can hold treats and toys!
If you're looking for a cat Christmas sweater that can be worn after the holidays wrap up, the sweaters from Evursua are made in unique colors besides the standard red, white and green. The camel-colored sweater with blue snowflakes, for example, can be worn all winter long.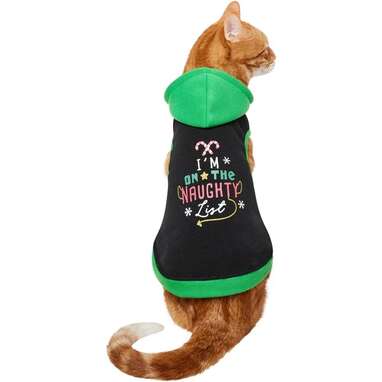 If your little elf is always up to some mischief, you may want to pick up this hilarious hoodie from Frisco. It reads "I'm On The Naughty List" and features a candy cane and snowflake design. This hoodie comes with a comfy ribbed underside that makes it super cozy, and it also has a hood for those super chilly nights.
Make Christmas Day all the more special by gifting your cat a Christmas sweater to wear while perusing through her stocking and opening her gifts. Just remember, if she doesn't seem to enjoy dressing up, don't force her into it! The holiday will be so much more fun if everyone is happy and enjoying themselves.
We independently pick all the products we recommend because we love them and think you will too. If you buy a product from a link on our site, we may earn a commission.