Cute And Funny Cat Christmas Cards To Send To Your Friends And Family
The cards are beyond adorable!
If you're looking to send a bit of humor (and cuteness!) to your friends and family alongside your season's greetings this year, then there's no better way to do it than with a cat-themed Christmas card. Even when illustrated, cats just know how to put a smile on people's faces!
So if you're a cat lover and you're on the hunt for the best cat Christmas cards to spread some holiday cheer, we found a handful of adorable and funny cards anyone would be happy to receive.
The cutest cat Christmas cards to send out this year
Here are our top picks for the best cat-themed Christmas cards.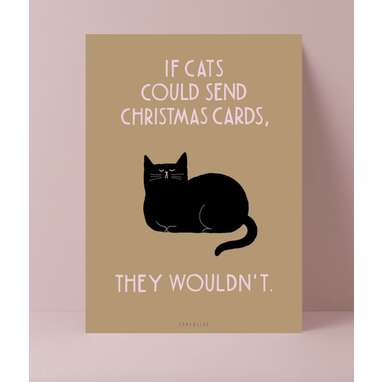 "They wouldn't." And it's true. This hilarious card from typealive on Etsy is the perfect Christmas card to send to those who know how sassy cats can be. On the backside, the card is blank so you can write your own Christmas greeting.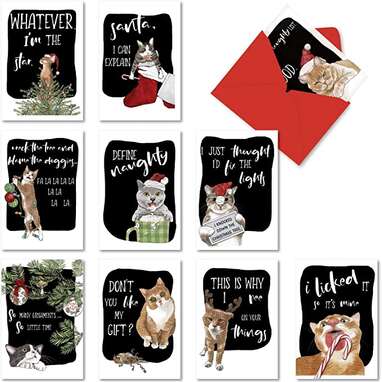 Keep the sass coming with this set of 10 assorted cat Christmas cards from NobleWorks. Each card features a cat with attitude and quotes like, "So many ornaments … So little time …" and "Define naughty."
You can pick up a set of 10 Christmas cards depicting this very patient cat trying to trick his archnemesis, who's undoubtedly too smart to fall for it. The illustration is by artist Rachel Lofton, who sells these cards through her Etsy shop. Inside, Lofton included the phrase: "May the desires of your Heart be yours this Season."
Grab a set of 10 cards from deWintonPaperco on Etsy, each featuring a beautiful (and funny) illustration of curious cats exploring the Christmas tree. The card is blank inside so you have plenty of room to write your own message.
The cats may have successfully climbed the Christmas tree in the last set of cards, but on the cards by Paper Frenzy, the entire thing has tipped over. You can pick up 25 of these cards for a great price, and inside each one is the phrase, "May your Holiday Season be Filled with Joyful Noise!"
Artist Fiona Scoble of ChurchMousePress on Etsy designed a card that puts a twist on the classic Christmas carol. Rather than five golden rings, you can have a cozy calico. And instead of 10 lords a-leaping, you have a proud Persian preening!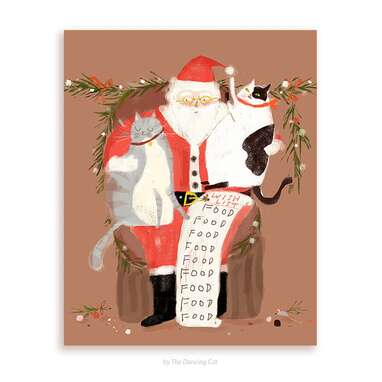 If you've ever wondered what would be on your cat's Christmas wishlist if she could make one, artist Jamie Shelman spelled it out for her in this funny card. You can pick up either a single card or two different packs via Shelman's Etsy store.
How cute is this black cat tree illustration from ArchivePaperandPress on Etsy? The front reads "Meowy Christmas" and the inside is blank so you can pen your own Christmas greeting.
Choose just one or mix and match any of the above picks to send out the best season's greetings your friends and family will receive this year!
We independently pick all the products we recommend because we love them and think you will too. If you buy a product from a link on our site, we may earn a commission.