These Top-Rated Cat Carriers Will Make Car Rides So Much Easier
Your cat might even learn to *like* traveling 🚗
Transporting your cat in any capacity can be a bit of a nightmarish experience, especially if she's not a fan of car rides. To help you out, The Dodo rounded up a great selection of cat carriers for the car that could make your next trip to the vet or road trip across the country much less stressful.
According to tons of five-star reviews from cat parents, these cat carriers are safe, secure and may just be comfortable enough to make your cat actually enjoy a ride in the car.
The Petisfam carrier features two methods to secure the carrier to a car seat to ensure maximum safety. It has mesh siding to let your cat see and give her great ventilation, as well as a top-loading zippered flap that makes getting her in and out of the carrier simple. Over 3,600 pet parents have given this carrier a five-star rating, saying it's a quality product that they'd easily recommend.
Pet Gear's carrier is basically like a little market basket for your pet that comes with a foldable domed top for easy access. It can be secured to a car seat using a seat belt loop, and with over 3,000 five-star reviews, pet parents say that this carrier is a major upgrade from the standard hard-sided pet carrier.
This version of the Pet Gear carrier features a booster seat made specifically for pets riding in the car. The booster, which can be secured to the carrier with a simple clip-on method, lets your cat look out the window on her ride. "She gets in and can see out the window of my vehicle," one pet parent said. "It has sturdy mesh all around that helps her get plenty of ventilation. Easy to clean, convenient to switch [between] vehicles and attractive."
Over 15,800 people love this soft-sided cat carrier from Henkelion, specifically because it opens at the top, making it easy to get your cat in and out without a hassle. Plus, this carrier easily fits in smaller spaces without making your cat feel cramped. "I have a rather long and tall 15-pound cat that travels with me, so I was looking for a good pet carrier that wasn't super bulky and is easy to clean, and this is perfect!" one pet parent wrote. "My cat can fit comfortably inside and it can lay down flat when we aren't using it so it won't take up a ton of room in the car!"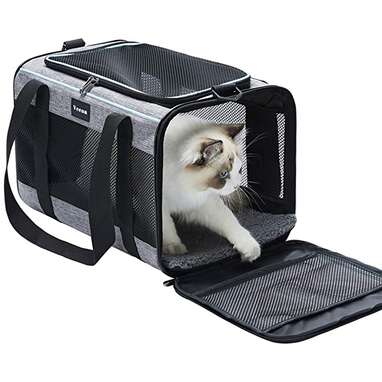 Not only is the Vceoa cat carrier airline-approved, meaning it fits under most airplane seats with ease, but the long strap can easily slip over a passenger seat headrest when your cat accompanies you in the car. According to the pet parents who have given this carrier an average 4.8-star rating, it's sturdy and well-made, and their cats seem to enjoy hanging out in it.
The strap on the Prodigen cat carrier is made to extend to a length that can easily slip over the headrest of your car's passenger seat. It comes in both a medium and a large size, and is the perfect carrier for car trips to the vet. "I was really pleased when I opened the package and delighted with the quality of this carrier," one five-star reviewer wrote. "Used it for the first time a couple of days ago to take my kitty to the vet, and getting him in through the top was easy and stress-free."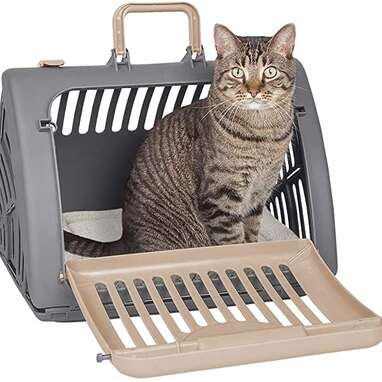 This isn't your average hard-sided cat carrier. The Sport Pet foldable carrier can be set up in seven seconds and stored completely flat when not in use. And its shape makes it incredibly sturdy and stable when your cat is riding in the car. "The triangular shape of the carrier encourages the cat to remain in the middle of the carrier, which means that the cat's weight is balanced in the middle," one five-star pet parent wrote. "It also means that it's virtually impossible for the cat to flip the carrier while it is inside."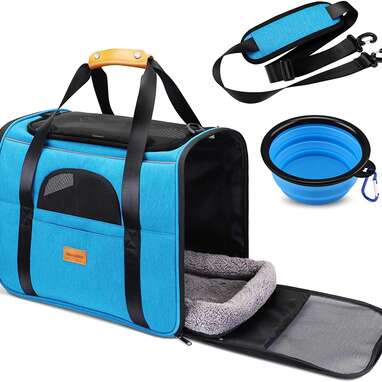 Over 9,000 pet parents love the Morpilot pet travel bag because of its simple-yet-effective design and portability. The seller suggests securing the carrier to the passenger seat of the car by passing the seat belt through the safety buckle at the lower part of the carrier. This will keep the tote secure during your short road trip or visit to the vet.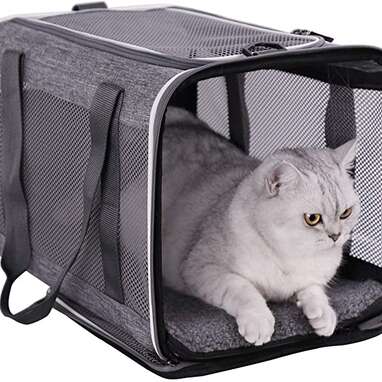 This model from Petisfam is almost completely mesh, making it one of the most breathable carriers on the list. It can be secured to a car seat with the extended handle and safety strap feature. "The long strap is good as a shoulder strap, but also works to secure the carrier to the car seat," one five-star reviewer wrote. "We travel a lot with our cat Lily and the larger carrier gives her a little more space to move around."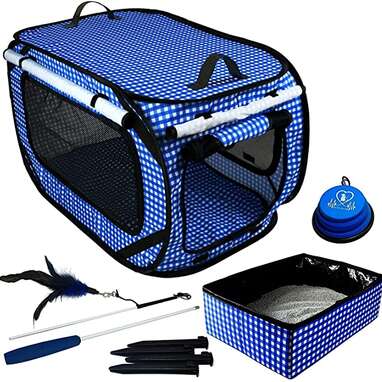 The Pet Fit For Life cat condo comes with all the fixings for a road trip. You get the collapsible condo as well as a travel water bowl and a feather toy to keep cats distracted and busy while traveling. "We used this to transport our cat in the car during a three-day move/road trip from South Florida to Los Angeles," one cat parent wrote. "The carrier fit into the back seat of the Toyota Camry and was big enough to even hold her cat bed. It was a great size for our 12-pound girl, and she just laid in bed in the carrier during the entire drive."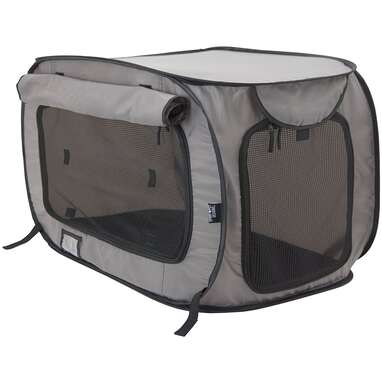 The soft-sided Sport Pet pop-open kennel is awesome for long road trips because your cat can spread out comfortably and safely. The kennel securely attaches to the bench seat in your car with a seatbelt, and one five-star reviewer from Canada wrote that their two cats "did the usual cat stuff but settled in fast," during a two-day road trip. "This is a super quality carrier — well made, easily cleaned and [has] lots of ventilation."