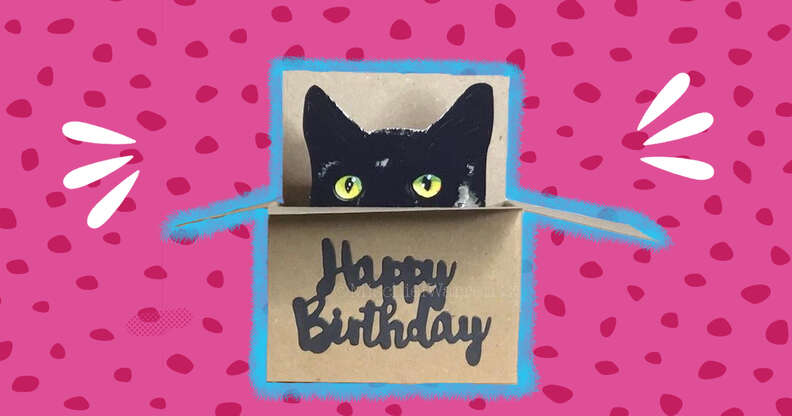 We independently pick all the products we recommend because we love them and think you will too. If you buy a product from a link on our site, we may earn a commission.
Many obsessed cat parents can't get enough of cats — or anything cat-related, whether that's an awesome new toy for their own cat or cat-themed home decor.
So when it comes to cat people's birthdays, what better way to celebrate than by giving them a cat-themed birthday card?
To help you out, The Dodo rounded up the 10 best cat birthday cards — sure to win you points with all the cat people in your life.
This card is perfect for cat lovers who like funny cards. It features a cat saying that a little birdie told him it's your birthday — so you can guess what happened to the bird. The inside is blank so you can add your own birthday message.
As all cat owners know, cats love to hide in weird places — like boxes. So this pop-up card of a cat in a box will be super relatable to cat parents. There's also a blank page on the back to add your own message.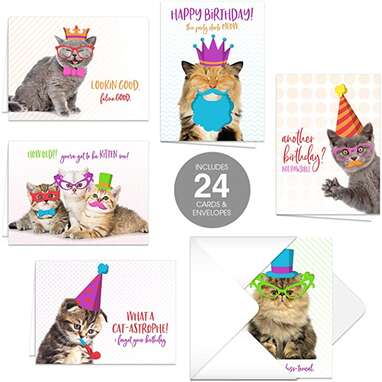 Get this pack of cat cards to give one to every cat person in your life. Each one has a pun that cat lovers will appreciate — plus, cute cats in birthday hats on the front.
This card features a cat in multicolor watercolor, and is so pretty that your cat-loving friend might want to keep it displayed long after her birthday.
The cat on this card has made a surprising discovery — what if the human isn't actually his pet, but the other way around? As any cat parent knows, cats act more like they're the owners, so your cat-loving friend will appreciate this card.
If your cat-lover friend also happens to love Whole Foods (or puns), get her this card. It features two cartoon cats talking about the organic food at "Hole Foods."
Any cat parent will love a card from her cat! This card has a cute kitty on the front asking for his food bowl to be filled immediately, and the inside is signed, "love, the cat."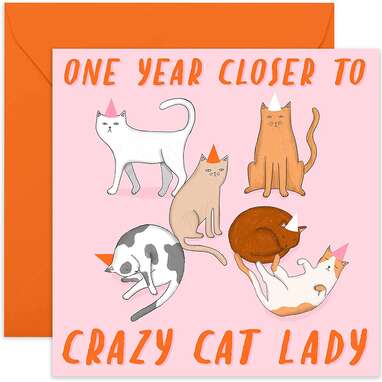 If you have a friend who's approaching crazy cat lady status (and willing to laugh about it), this card is for her. It's blank inside and comes with fun stickers, so you can add your own cute birthday design.
A card definitely beats a dead mouse. Show your cat-lover friends you care with this card instead.
Give this card to your friend to remind her to have some fun on her birthday! It features a cute kitten dancing on the front and says "dance like no one's watching" (the cat certainly is).