You Can Get Your Cat His Own Advent Calendar
Gifts for every day 🎁
Of course you want to get your cat the best holiday gift possible. And what could be better than a daily gift leading up to Christmas — yep, we're talking about a cat Advent calendar.
If it's Hanukkah or Christmas you're celebrating, there's an Advent calendar out there that your cat is going to love as you both get festive for the holidays.
Here are some of the best cat Advent calendars we found to celebrate the magic of the season — from calendars already filled with toys and snacks to those you can fill up yourself with all of his favorite treats. Either way, he's going to be so excited.
12 cat Advent calendars we love
Trader Joe's cat Advent calendar has 24 treats made of salmon and seaweed (raised without antibiotics) to help you and your cat countdown to Christmas. The treats are individually wrapped to keep them fresh all season long.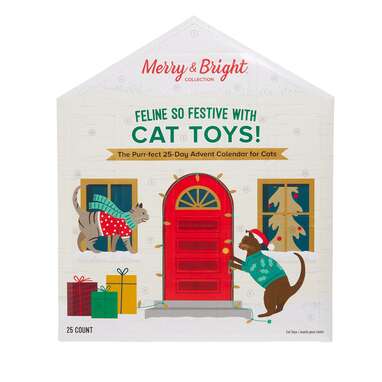 This cat Advent calendar includes 25 toys for the whole month of December leading to Christmas. There are a variety of holiday-themed toys, including some plush ones and some filled with catnip, so your cat will have lots to choose from.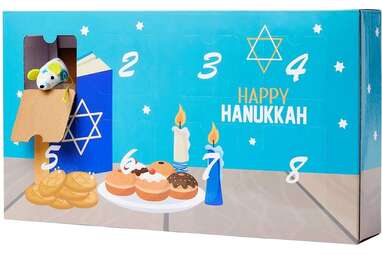 This calendar has eight cat toys, one for every night of Hanukkah. It's filled with plush toys (catnip included!) to get your cat excited for the holidays, including gelt and a dreidel with feathers.
Leading up to Christmas, your cat won't know what to do with all the toys in this Advent calendar. Your cat will love playing with the reindeer kicker, frilly wand teaser, balls and plushies (four of which come infused with catnip).
This cat Advent calendar is Christmas-spectacular-themed. The "stars of the show" are 24 treats made with cranberry added for some holiday fun, and the treats are heart shaped.
This Advent calendar has 24 pockets for you to fill with toys and treats for your cat. There's a cute cat wearing a Santa hat on the top, and it includes a fish that you can use to mark the date in the pockets. It comes with a ribbon so you can hang it up on your wall or door.
This Santa Advent calendar comes in two colors, red and gray, so you can pick one to match the rest of your holiday decor. It has 24 pockets for you to add cat toys and treats, and the pockets have fun pictures on them, like reindeer, snowmen and Christmas trees. It's easy to hang up, too — just use the attached rope to place it on a hook.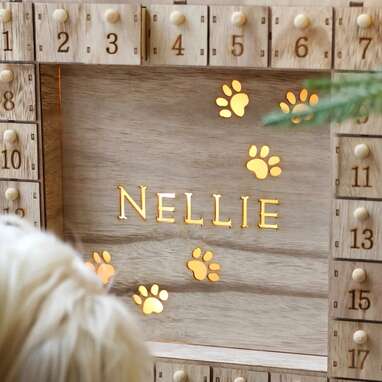 This wooden Advent calendar would be such a pretty addition to your holiday decor. There are lights in the back of the wooden box that twinkle through to the front to light up your cat's name, which you can have laser cut in the center. There are 24 little drawers that surround the center plaque where you can put small treats for your cat leading up to Christmas.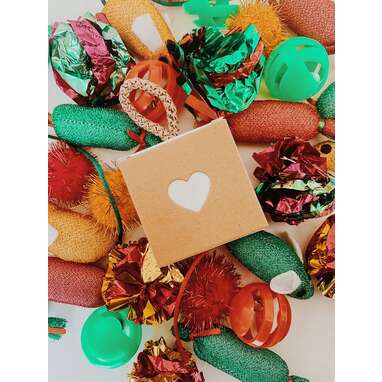 You and your cat will have so much fun opening 10 days of presents as you countdown to Christmas. Inside these beautifully decorated boxes, he'll find eight holiday-themed cat toys, two treats and a custom letter from Santa Paws. Too cute!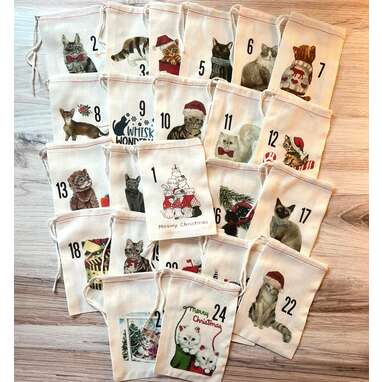 You know what your cat loves the best, so you can play Santa with these adorable Advent calendar bags decorated with a different cat on each one. We love this keepsake item that you can pull out year after year.
This handmade Advent calendar has a cute cat peeking over the top and 24 pockets to add treats and toys for your cat. The numbers are sewn above the pockets, and you can get your cat's name embroidered on the top of the calendar.
This Advent calendar by Purina includes Fancy Feast Medleys cat food, Gourmet Naturals pate cat food and Gravy Lovers cat food. He'll also enjoy two flavors of Fancy Feast Savory Cravings treats, too. In other words, a delicious way to enjoy the season.
Happy Holidays! We're pretty sure the best part of the holiday season is all that snuggle time you'll have together.
We independently pick all the products we recommend because we love them and think you will too. If you buy a product from a link on our site, we may earn a commission.