The Best-Reviewed Calming Treats For Anxious Cats
Turn 🙀 into 😺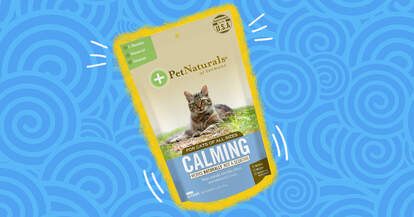 We independently pick all the products we recommend because we love them and think you will too. If you buy a product from a link on our site, we may earn a commission.
Whether your cat struggles with anxiety, hates any kind of change or is just scared of everything, you know she desperately needs to calm down.
Besides, seeing her stressed makes you stressed, too!
When it comes to mellowing your cat out, try giving her supplements she'll actually want to take, like calming cat treats.
Cats are notoriously picky eaters, so this might seem like a daunting task.
But The Dodo rounded up some of the best-reviewed calming cat treats, so your BFF can finally feel totally chill.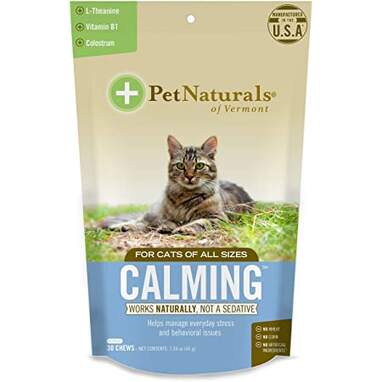 These calming cat treats are made with L-theanine, which is an amino acid that's supposed to keep brain chemicals balanced and keep your cat nice and chill. They also have vitamin B1, which should help your stressed-out cat. And with about 7,000 reviews in, these calming treats have a solid 4-star average rating. Standout review: "My boyfriend's cat is evil. After the treats, she's measurably less evil."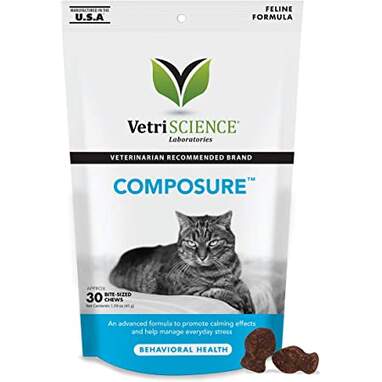 L-theanine and vitamin B1 are also the active ingredients in these calming cat treats. Standout review: "A couple of years ago, one of [my cats] was acting like her yearly vaccinations were a form of horrific torture … The next year, I gave her a Composure 30 minutes before our appointment, and she laid there without so much as a whimper while the vet examined her from head to bob-tail."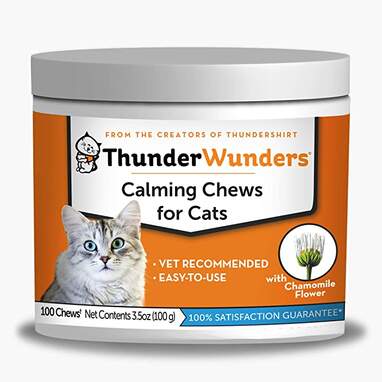 These treats are from the creators of the ThunderShirt, who definitely seem to know a thing or two about anxious cats. Standout review: "For the last month, every night after we went upstairs to go to bed, our own cat would stay downstairs SCREECHING and meowing, and loudly playing with cat toys … I bought these treats just to give them a try, not expecting much. Around bedtime, I gave her two. She has not resumed the crazy behavior since."
In addition to vitamin B1, these calming cat treats include L-tryptophan — aka that amino acid that makes you so relaxed and borderline comatose after Thanksgiving dinner — to up your cat's serotonin levels. Standout review: "This stuff is great! My cats put me on a 4 a.m. weekend 'wake up and feed me' schedule. I started giving them one at bedtime and they leave me alone 'til 6. I also have an extremely aggressive kitty [to] whom I give one every morning and one every evening. Now, my household is nice and calm!"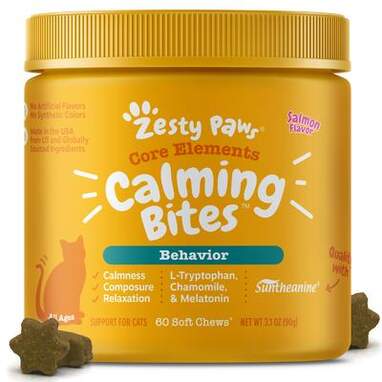 These calming treats have L-theanine, L-tryptophan, chamomile and melatonin to really relax your cat. Standout review: "My Maine Coon kitty really enjoys these chewy treats. The treats have really calmed him down. Visiting the groomer isn't such a hectic ... nightmare anymore."