These Are The Best Tents For Camping With Dogs
Sleep safely outdoors with your pup ⛺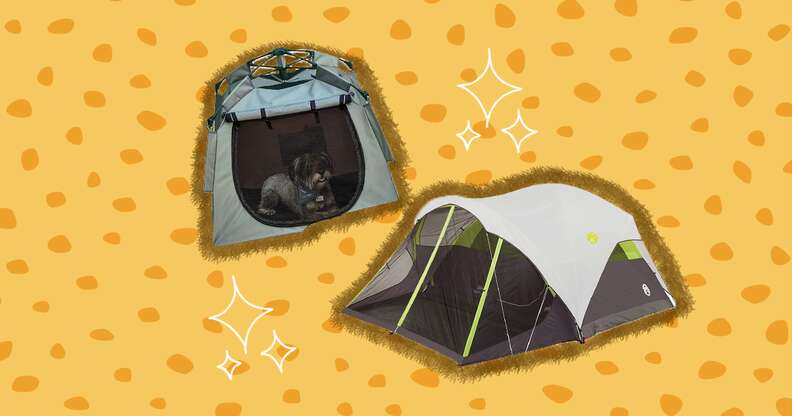 If you're the type of person who loves spending time in nature, camping might be one of your favorite outdoor activities.
And what could be better than bringing your furry companion along for the adventure?
If your dog's up for camping, then you're probably in the market for the right tent to keep her happy and safe in the wilderness.We spoke with Dr. Linda Simon, a veterinary surgeon and consultant for Five Barks, to help you find the best camping tent for your dog.
Should I get my dog a camping tent or share mine with her?
If your dog's a little restless or you'd just prefer your own space to sleep — like if snuggling with her makes you overheat — it's probably a good idea to get her a tent of her own.
"Though many owners will have their dog in their tent with them, some prefer to have a separate sleeping quarters," Dr. Simon told The Dodo. "Indeed, some dogs prefer this arrangement too. You will likely find you get more sleep without your dog moving about, snoring and passing wind through the night!"
But if you do get your dog her own tent, you won't really be able to keep an eye on her when you turn in for the night. So if you're concerned about your pup being alone in her tent, or if you're concerned she might run off, you might want to opt for a tent you can share with your dog. You know, to keep an eye on her.
"While some dogs prefer their own space and independence, many would rather spend the night with their favorite person," Dr. SImon said. "This is especially true for younger dogs, those with separation anxiety and dogs who are used to sleeping with their owner at home."
Regardless of whether you get your dog her own tent or decide to share one, you should get her used to it long before you leave for your camping trip. Leave it out around your house so your dog can inspect it at her leisure. And whenever she comes near it, give her a treat!
How to find the best tent for your dog
If you want to get your dog her own tent, there are a few key features you'll want it to have.
Durability
Your dog's tent is going to be keeping her safe and warm while she's out in the elements, so finding something durable and weatherproof is super important. You also want it to be durable enough to stand up to any wear and tear from your pup, especially if she's a chewer or a digger.
"The fabric should be durable, bite and scratch resistant, and easy to clean," Dr. Simon said.
Lightweight
Your dog might not care if the tent you got her is light or heavy, but you definitely will if you're the one carrying it around.
"This is especially important if you plan on hiking long distances and need to keep luggage weight down," Dr. Simon said.
Ventilation
Any tent you get your dog should be ventilated so she can breathe and stay cool, but it's all about balance.
"Tents must have good ventilation so your dog does not overheat, yet it is important that they offer protection from the wind and cold," Dr. Simon said.
Spacious
You don't have to get a massive tent for your dog, but it does need to be big enough for her to comfortably move around inside.
"Size-wise, your dog should be able to stand up and turn around within the tent without feeling too cramped," Dr. Simon said.
So before you buy a camping tent for your dog, make sure you measure her first so you know which dimensions to look for.
How to find the best tent to share with your dog
To find the best tent to share with your dog, you'll want the same features you would in his own tent — making sure it's durable, lightweight and has good ventilation. But there are some other things you'll want to look for in a tent you'll be sharing with your pup.
Make sure it's big enough
When sharing a tent with your dog, you need to make sure it's the right size.
"This will depend on how many people will stay in your tent and the size of your dog," Dr. Simon said. "When unsure, it's sensible to purchase a tent that is slightly too big for your needs, rather than too small."
If you have a tiny pup who likes to curl right up next to you when you sleep, you might not need a tent much bigger than one you'd get for yourself. But if you have a bigger dog, or prefer to sleep with some extra space, you'll need a tent that can fit your dog's bed in addition to your own sleeping area.
Try a tent with a pop-out area or a vestibule
This is sort of like the best of both worlds: You're sharing a tent with your pup, but she has her own designated area. A tent with a pop-out area or vestibule allows you to maintain your personal space while also being close enough to your dog to make sure she's safe and sound.
Best tents for camping with dogs
These are some of the best camping tents for your dog — so you can worry less about where she'll be sleeping and more about what your next trail will be.
Tents for your dog
Amazon
This pop-up tent takes all the drama out of setting up a tent, since it only takes seconds to spring into action. It's lightweight and comfortably fits extra-small to small dogs.
Amazon
This tent comes in three different sizes, including an extra-large size that will give your pup plenty of room to sprawl out after a long day. It also comes with a carrying case and travel water bowl, so you don't have to worry about adding that to your list.
Amazon
This sturdy tent comes with a removable UV shade that helps protect your pup from harmful rays. The frame's made with reinforced fiberglass, so you know it's durable. According to the company, this tent only weighs 5 pounds, which makes it really easy to carry around.
Tents to share with your dog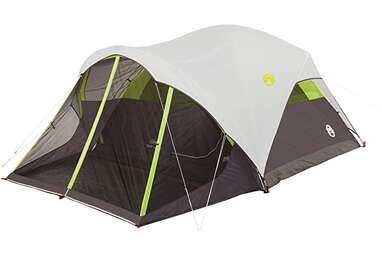 This is a great option if you and your pup want to sleep in the same tent, since it's designed to fit six people. This tent is made with weather-resistant material and even has a separate screened-in area that can serve as your pup's designated sleeping space. And the best part is it's so easy to set up that you should be good to go in under 10 minutes.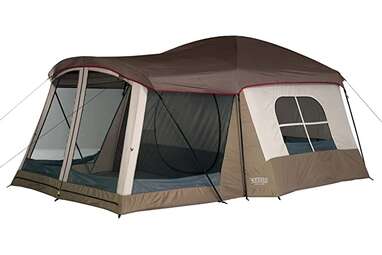 If you're looking to share a tent with your dog, you'll both have plenty of room inside this one. It's got two rooms so you and your pup can each have your own space. There are also accessory pockets sewn into the walls, so you can easily store all your dog's stuff right there.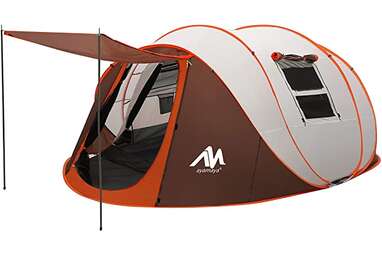 This pop-up tent has so much space — it can fit up to six people inside. Not to mention, it also features a vestibule design, which means there's a separate area where your dog can sleep so she's not in your personal space all night.
We independently pick all the products we recommend because we love them and think you will too. If you buy a product from a link on our site, we may earn a commission.
Everything you need to go hiking with your dog