The Best Self-Cleaning Litter Boxes On Amazon
Say goodbye to scooping.
We independently pick all the products we recommend because we love them and think you will too. If you buy a product from a link on our site, we may earn a commission.
Imagine a world where you don't have to worry about cleaning your cat's litter box on a daily basis. Thanks to self-cleaning litter boxes, that dream world can become your reality.
These top-rated self-cleaning litter boxes on Amazon have pet parents living life in the lap of luxury, only having to go near the litter box once or twice a month. And some automatic litter boxes even work via a smartphone app — who knew litter boxes could be so high-tech?
Here are the best self-cleaning litter boxes The Dodo found on Amazon.
This may just be the fanciest litter box you can buy, and it promises that you'll never have to scoop litter again. The Litter-Robot 3 senses when your cat has left the box and starts a timer countdown to remove waste. The inner chamber rotates and sifts out the solid waste into a carbon-filtered chamber, and you only have to empty the box when the Litter-Robot 3 indicates. Plus, the coinciding app helps you track your cat's health, run a cleaning cycle and will notify you when the box is full. we reviewed this litter box and gave it our Paw of Approval!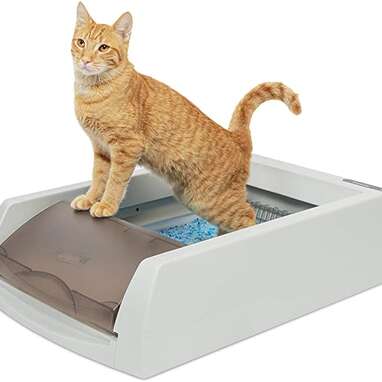 The PetSafe ScoopFree self-cleaning litter box on Amazon uses dust-free crystal litter to trap odors and dehydrate solid waste. The automatic rake scoops waste beneath the waste trap, and one litter tray will last you 30 days. Over 12,000 cat parents have made the switch to the PetSafe ScoopFree system and haven't looked back.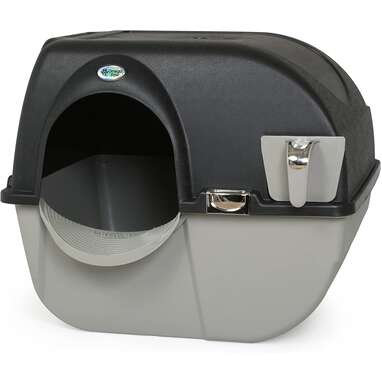 The Omega Paw Elite self-cleaning litter box is designed to be rolled onto one end to capture unused litter while sifting out solid waste rather than scooping. "The construction was easy and it works exactly as described, and cleaning the litter box is fast and easy," one pet parent wrote. "I've only used one other litter box (open tray) once before switching over to this, and from the comparisons I can make, there is much less litter dust flying around when using the Omega Paw Self-Cleaning Litter Box."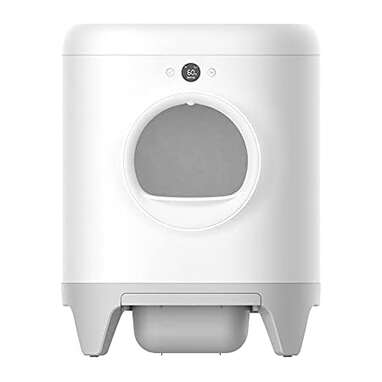 Another favorite high-tech self-cleaning litter box on Amazon is the PETKIT Pura X. This automatic box works with multiple kinds of cat litter, like plant, mixed and clay litters, and uses thermal, infrared and weight sensors to accurately clean waste from the box without scaring your cat. "This thing is so smooth and quiet when it operates," one cat parent wrote. "It came with its own litter mat, and things actually stay clean! With four cats, I only have to empty the tray every four days (so essentially once a week). This is amazing because I don't want to constantly be thinking about cleaning litter boxes, and my kitties get to enjoy a nice, clean box each time they step in."
The mechanism on the Pet Zone Smart Scoop automatic litter box runs a rake across your favorite lightweight litter, collecting solid waste as it goes. Then, the rake tips back and stores the solids in an odor-controlled waste compartment that you can empty on a regular basis. No more scooping, no more dust and no more stinky litter box.