The Best Puppy Toys On Amazon
Perfect for small teeth.
We independently pick all the products we recommend because we love them and think you will too. If you buy a product from a link on our site, we may earn a commission.
There's nothing cuter than watching a puppy play and play until he flops over with exhaustion. And if you're a parent of a new puppy, you'll want to make sure that you have plenty of puppy toys in the toybox to keep your new BFF entertained.
The Dodo found some of the best puppy toys on Amazon with stellar reviews from pet parents, who say these toys can withstand puppy teeth and hours upon hours of playtime.
As always, make sure to supervise your puppy while he's playing with any toys to keep him safe. Here are the best puppy toys you can find on Amazon.
The KONG puppy toy on Amazon is made with a softer rubber than the original KONG, making it perfect for teething pups with sensitive gums. You can fill the KONG up with treats to make playtime more fun, and enjoy watching your puppy chase after the wonky, wobbling KONG that all dogs love.
Over 18,300 pet parents say there's just something about this Lambchop toy that has their pups falling in love — in a weird way. So many pup parents say their dogs love this toy so much that Lambchop ends up needing to be replaced a few times throughout their dog's lifespan. "I bought Lambchop for my dog nine years ago when he was a puppy," one wrote. "Whenever he [needs] comfort, he grabs his Lambchop toy. He sleeps with it every night. With washing and playtime, I have brought a total of four Lambchops, not because they were broken or torn, but because he loves this toy so much. We give him a new one to break in and swap them up when they get slobbered and need to be washed (that way he won't miss a moment without his precious Lambchop LOL)."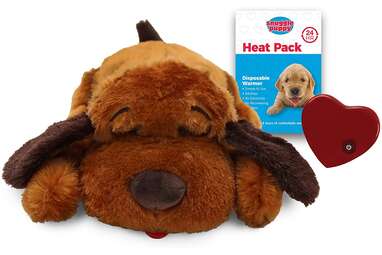 For newborn puppies who may have been separated from their moms too young, the SmartPetLove snuggle puppy toy on Amazon comes with a built-in heartbeat and heat pack that warms and calms puppies' nerves. No more whining, crying and separation anxiety. It's great for newborns but can also help older puppies get situated into their forever homes.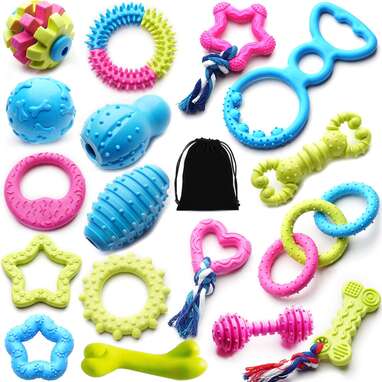 All made with high-quality and bite-resistant rubber, this set of 17 puppy toys on Amazon from SZKOKUHO will keep both you and your puppy busy for hours on end. The set comes with several chew toys, tug-of-war toys and fetch balls — all great for smaller puppies.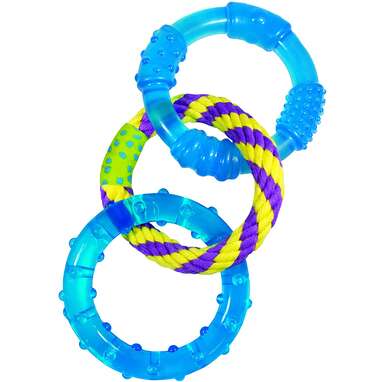 The texture of the Petstages Orka dental links chew toy is meant to massage gums, making it an ideal toy for teething puppies. The link design is great for tug-of-war, and the toy floats, too, so it's ready for a day at the beach.
Made for puppies who are heavy-duty chewers, the Bonebone puppy toys on Amazon are hard to the touch yet soft enough to be safe for baby teeth and sensitive gums. "We've had these for a few weeks, and the only problem is that the new puppy and old dog can't stop fighting over them," one five-star reviewer wrote. "They're a big hit, and they like them better than any of the other hard chewing bones we have. After a few weeks of love, they are definitely chewed a little on the ends but still in really great shape considering how much they've been gnawing on them."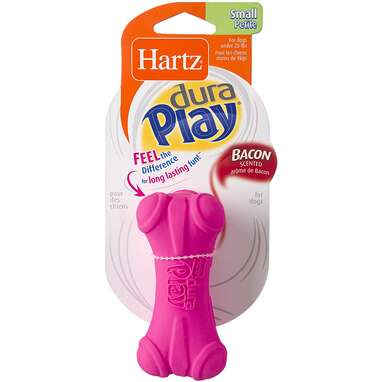 Available in sizes small, medium and large, the Hartz Dura Play flavored bone toy is the perfect chew toy for dogs under 20 pounds. It's soft and flexible yet durable enough to withstand chewing, and its yummy flavor will have your puppy coming back for more.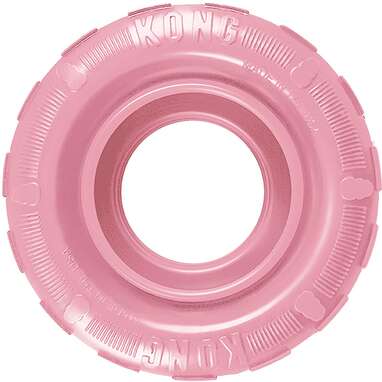 Just like the standard KONG puppy toy, this toy is made with soft rubber that's safe for small teeth, except it has a tire shape that's ideal for puzzle solving. Pet parents in the reviews say they like to fill the inner rim with puppy-safe peanut butter or treats and let their pups go to town trying to get out all the good stuff.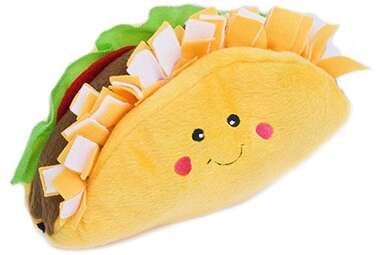 The only hard decision you'll have to make about the ZippyPaws NomNomz puppy toy on Amazon is which fun food-themed toy to pick. There's a taco, an avocado, a boba tea, an ice cream and even a pumpkin spice latte plushy, all with adorable smiley faces and squeakers inside. Both you and your plushy-loving pup will want all of them.
"My pup loves EASTBLUE toys. I love them because they last forever," one pet parent wrote in their five-star review of the EASTBLUE reindeer squeaky toy. "My dog can usually dissect one of these in about an hour, and this one is still going a week later … This, I believe, is what has allowed the toy to outlast others." For pups who love squeaking, tugging, chewing and plush toys, this one is the best of all worlds.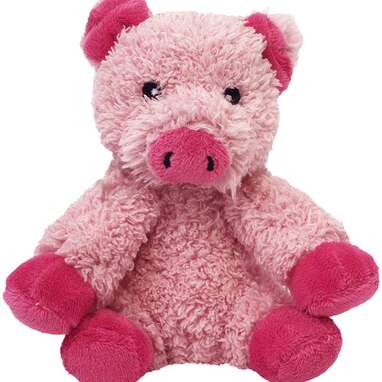 When your puppy squishes the Look Who's Talking pig puppy toy on Amazon from Multipet, he'll hear realistic, big sounds coming from the talkbox inside. Because of the battery-powered soundbox, this toy is best for soft-mouth pups who won't want to rip the fluff from the inside.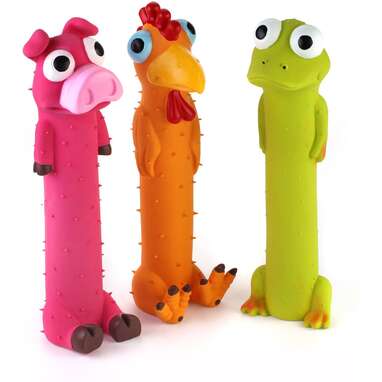 These kooky-looking toys from Chiwava make great squeaky sounds when your puppy bites down on them, and the long shape makes for easy chewing and playing tug-of-war. And because there's no stuffing inside, you won't have to worry about an inside snowstorm should your puppy destroy his toy.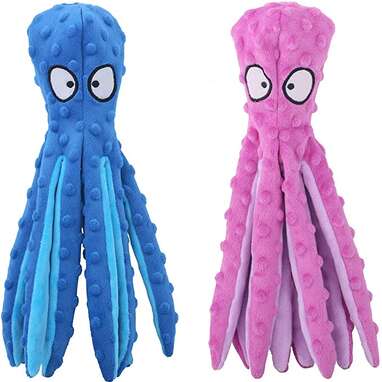 If your puppy loves playing with crinkle toys, this plush octopus puppy toy on Amazon is going to be his new favorite thing. It squeaks, crunches and crinkles, and there's no stuffing on the inside. Plus, with eight legs, this toy is awesome for tug-of-war sessions with multiple playmates.