The 5 Best Puppy Shampoos, According To Experts
Here's what to look for (and avoid) in a puppy shampoo.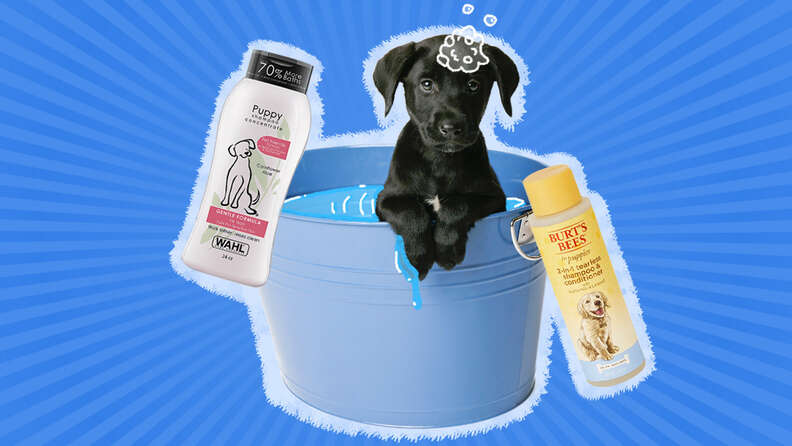 As a new puppy parent, you want to make sure you're prepared for everything — and that includes the inevitable bath time. But out of all the puppy shampoos out there to choose from, which ones are the best (and safest) for your puppy?
We rounded up the best puppy shampoo options you can buy according to both the experts and the pet parents who've tried them so you can make sure you're using the best product for your new dog.
The only struggle you'll have left after reading this is trying to give your energetic puppy a bath without flooding your bathroom!
How often should I be bathing my puppy?
"A puppy can be washed after [he receives] all vaccinations, which is normally around 12 weeks," dog groomer Janet Rabbie, founder of Wow Grooming in London, told The Dodo.
Puppies who are younger than 12 weeks have a hard time regulating their body temperatures, so getting them wet could cause big issues for a small pup. "However, it is important to introduce puppies to baths at a young age so they become accustomed to being washed, and not frightened," Rabbie said.
After 12 weeks, "a general rule of thumb is to wash your pup once a month," Dr. Claudine Sievert, a Kansas-based vet and consultant for Stayyy.com, told The Dodo, noting that if your pup gets dirty or stinky in between bath times, it's OK to give him an extra wash between monthly baths.
"If your pup is prone to dry skin, you'll want to wait longer [between baths] and use [a shampoo] that's gentle on their skin," Dr. Sievert added. She said that young puppies and older puppies with dry skin can also be wiped down with either a warm cloth or puppy cleansing wipes in between monthly baths if they need a quick refresh.
And use lukewarm water when giving your pup a bath, Rabbie said, rather than hot, as hot water is more likely to cause skin to get drier. Plus, you don't want to scald your new BFF!
"Always make sure that the shampoo is thoroughly rinsed away so as not to cause any skin irritation," Rabbie said.
You can learn how to bathe your puppy right here.
What to look for in a puppy shampoo
According to Dr. Sievert, you first need to determine what you need out of your puppy shampoo.
She said you should ask yourself, "Does your pup have a skin condition that needs to be addressed? Are you looking for a flea or tick shampoo [suitable for] the pup's age if he does a lot of rolling in dead or stinky things? Shine, color, tangles and convenience?"
For skin conditions and flea and tick management, it's best to consult your vet first as they can give you either a prescription shampoo or a recommendation based on your puppy's age. Because your puppy is so young, you don't want to grab a formula meant for older dogs as it could be too harsh for his sensitive skin.
But, if you're in need of a standard, all-purpose shampoo, then these are the most important things to look for when hunting for the best puppy shampoo.
It's lightly scented or unscented
"It must be light in scent [or unscented] as the smell of a puppy is so much stronger than a human," Rabbie said, adding that a strong-smelling shampoo can overwhelm a puppy's senses, and fragrances may even cause skin irritation.
"You can look for natural fragrances like chamomile, which is a way to soothe irritated skin naturally," Dr. Sievert said. "Lavender is calming. Eucalyptus … soothes irritated skin, and citrus won't irritate their skin."
It's made with natural ingredients
"Look for natural ingredients," Dr. Sievert said. "Find soap-free ones that are made to soothe and hydrate skin."
She noted that she likes to look for shampoos made in the U.S., as some overseas brands aren't as forthcoming about the ingredients in their products.
It's a pH-balanced formula
Rabbie also said a shampoo should be a pH-balanced formula, meaning it's not too harsh on your puppy's skin and coat. You'll be able to tell if a shampoo is pH balanced by reading the label.
It's labeled for puppies
"Most good brands will display if they are suitable for puppies," Rabbie said, "normally with an age guidance."
Best puppy shampoos and conditioners
Here are the best of the best you can buy.
"Burt's Bees Puppy 2-in-1 Shampoo has all-natural ingredients containing oatmeal to soothe and soften skin," Dr. Sievert said. And because the Burt's Bees formula is both a shampoo and conditioner, your pup will be left with nourished skin and a super soft coat at the end of his bath.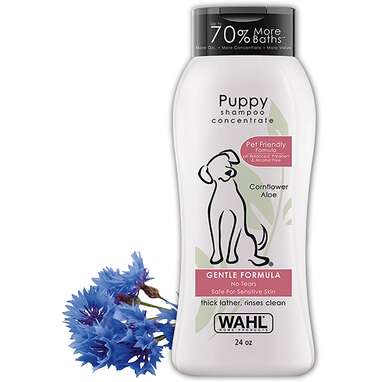 The 24-ounce WAHL puppy shampoo is ultra-concentrated, which means less is more. In fact, you get 70 percent more baths with this bottle than other leading brands. The cornflower aloe formula is ultra-gentle, pH balanced and promises no tears.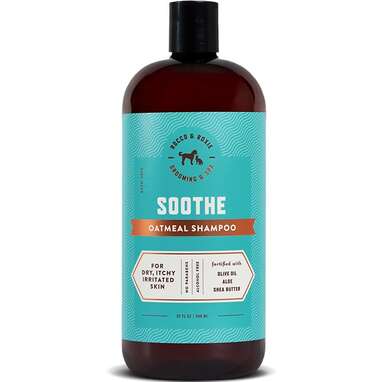 "Rocco & Roxie Dog Shampoo is another great dog shampoo containing natural ingredients with no artificial colors, dyes or chemicals," Dr. Sievert said. "It has skin-soothing ingredients such as aloe, rosemary and chamomile."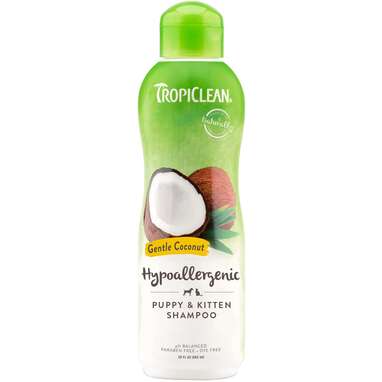 This pH-balanced, hypoallergenic shampoo from TropiClean is so gentle that it's safe to use on both puppies and kittens (as well as older dogs and cats!). It comes in a light coconut scent and is safe enough to use on allergy-affected skin.
If your puppy struggles with acute moist dermatitis (sometimes called hot spots) or other skin irritants, the turmeric in the Paws & Pals shampoo will soothe sore skin. Plus, the sweet basil softens skin and fur while the oatmeal reduces any irritation and dryness.
What shouldn't be used as puppy shampoo
It's incredibly important to know that what's safe for your head is not safe for your puppy's skin and coat.
"You should only use shampoos that are made for your pets," Dr. Sievert said. "Avoid using human shampoo because they are too harsh for your dog's skin." As Rabbie further explained, this is because the pH of our skin is much different than our dog's pH level.
However, Dr. Sievert noted that if you're in a pinch, then choose a baby shampoo over other types as these formulas are much more gentle.
Furthermore, there are several ingredients you want to avoid when choosing a puppy shampoo. "A proprietary blend of coat and skin conditioners, artificial fragrance, phthalates, artificial colors or formaldehyde," are all things to steer clear of, according to Dr. Sievert.
And Rabbie noted that harsh dishwashing liquids like Ajax, Palmolive, Fairy, and other brands are much too drying to be used as shampoo.
With the right puppy shampoo at the ready, you now know you're giving your puppy the spa-like treatment he deserves!
We independently pick all the products we recommend because we love them and think you will too. If you buy a product from a link on our site, we may earn a commission. Links are updated when possible, but note that deals can expire and all prices are subject to change.
Toys For The Dog Who Has Everything