The 8 Best Puppy Pee Pads You Can Get On Amazon
Some are even reusable 💦
We independently pick all the products we recommend because we love them and think you will too. If you buy a product from a link on our site, we may earn a commission.
It might feel like your new puppy will never get the hang of houstraining, but with a lot of positive affirmation, treats and practice, it will happen before you know it. And one of the biggest keys to unlocking this milestone is finding the perfect pee pad for your pup.
If you're on the hunt for an affordable puppy pad that also absorbs quickly, keeps leaks at bay and blocks that puppy pee odor, you're in luck. The Dodo found the best puppy pads on Amazon, and according to real reviews from pet parents who've tried them, your puppy will master the art of housetraining in no time.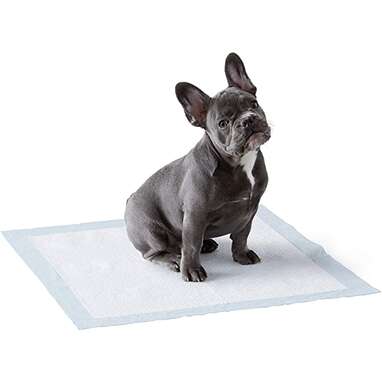 The puppy pads from Amazon Basics feature a five-layer design, which includes a super-absorbent core that turns liquid into gel, a locking layer and a protection layer that keeps your floors dry. Over 90,800 pet parents have rated these puppy pads five stars, with many saying you can't beat the price and that the pads live up to their leak-proof claim.
The activated carbon puppy pee pads from Glad not only absorb liquid and lock it away, but also neutralize urine odor as soon as it hits the pad. Plus, these pads are made using a pheromone attractant to help your dog know where to go when it's time to pee. "We love these pads, we have been using them for over a year," one pet parent wrote. "They absorb the pee and odor … They actually WORK."
"The prices on puppy pads seem to have gone up in the last few months," one pet parent wrote in their review of the AKC puppy pads on Amazon. "I had the challenge of finding a new brand that had the quality, quantity and cost that I prefer. I'm very happy with this choice." These pee pads offer 14-layer protection with liquid-to-gel technology that locks in leaks. They also have an anti-skid feature on the bottom to help the pads stay where they need to be.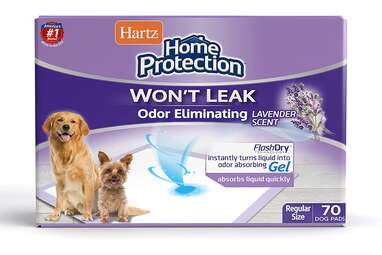 Thanks to the Hartz Home Protection "FlashDry" technology, these puppy pads soak up liquid and dry quickly, leaving a smaller urine patch than other pads. This allows your puppy to use these pads several times before needing a change. "All of the pads made by this company are without fail **perfect**," one puppy parent wrote. "I am so thankful for this product … I have a big dog, and the pads absorb the scent wonderfully."
The ASPCA's puppy pee pads are constructed with six layers that dry urine spots quickly and lock in liquid by turning it instantly to gel. "I have tried nearly every potty pad out there and they were not very good and never held up. But these are awesome, I am a true fan of these and will always buy these," one five-star reviewer wrote. "They have never leaked and they hold a lot of liquid."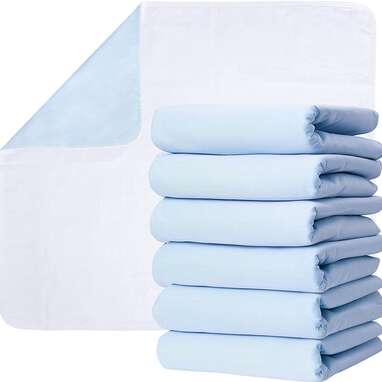 If you're looking for a washable, reusable puppy pee pad from Amazon, this pack of six pads from GREEN LIFESTYLE is a favorite of over 10,000 pet parents. The pads' quilted design locks in moisture, and the waterproof backing makes sure leaks stay put. Plus, each pad is crafted with reinforced seams so you can use them over and over again without fear of them failing.
Pet Parents also makes a washable pee pad that neutralizes odor and sucks in liquid using the brand's WickQuick technology. "We have six of these pads as we go through two per day," one pet parent wrote. "They wash up very nicely, we use [a] warm wash cycle with detergent and OxiClean and double rinse, we dry them with additional dog bedding and fleeces at 'normal' setting [in the] electric dryer."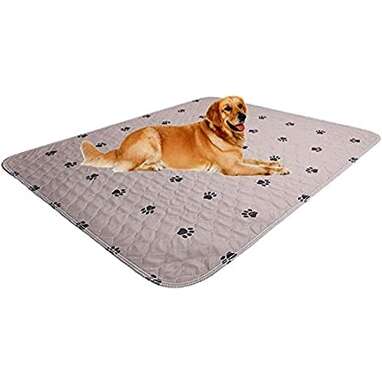 absorbent protection and over 9,000 five-star reviewers have said that the pad is totally leak-proof. "Worth every penny," one wrote. "The pad was very heavy afterwards, BUT not one drop seeped thru on my hardwood floors."