The 6 Best Puppy Pads, According To Reviewers
The five-star reviews say it all.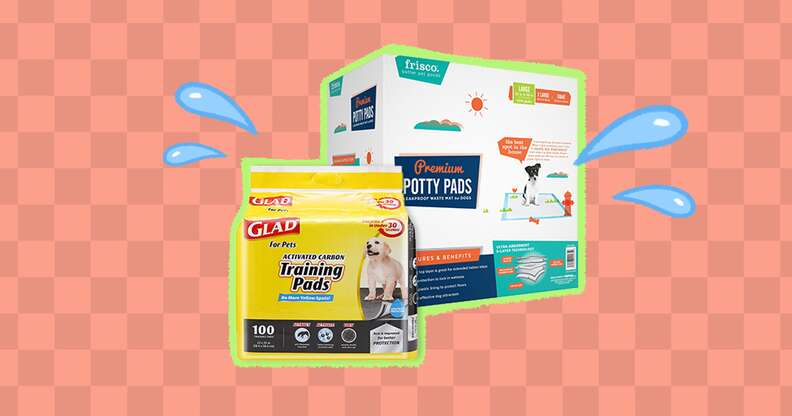 A new puppy brings so much joy into a household, and all the hard work that goes into training him within the first few months and years of his life pays off when you find yourself enjoying life with a loving, well-mannered companion.
And puppy pads are a convenient part of the training process that keep accidents contained in one area of the house. And pee pads can come in handy later in your dog's life, too, when he becomes a senior.
But there are so many puppy pads out there that it can be a bit overwhelming to find the best of the bunch. So, The Dodo did the work, read the reviews and found the absolute best puppy pee pads, according to pet parents who swear by them.
What to look for when buying puppy training pads
All puppy pads achieve the same thing — they encourage your dog to pee in the same spot in your house until you can teach him to go outside — but not all pee pads are created equally. Pet parents need to take a few things into consideration before purchasing their first package of training pads.
Firstly, it's important to pick the right size of training pad. Most brands offer various sizes ranging from small up through extra-large, so pick a size based on how big your puppy is. Large-breed dog parents can and should tailor their puppy pad size to their dog as he gets bigger.
You also need to think about if you want a scented training pad or not. Puppy pads are made with an attractant that your pup sniffs out before peeing, but some pads also come with fresh scents to mask the smell of puppy pee. Choosing a scented pad is a personal choice and shouldn't affect how your dog reacts to the pad, but could affect sensitive human noses.
The best puppy training pads
According to pet parents who have put these puppy pads to the test, these are the absolute best ones you can buy.

With rave reviews on Chewy and Amazon, pet parents say you can't go wrong with the Wee-Wee training pads. These things are tough with their 24-hour leak protection, fast absorption and liquid-to-gel technology that locks away wetness and prevents floor damage. "Perfect size to fit our 24-inch puppy tray without accidents spilling over," one five-star Chewy review reads. "I feel like the attractant is in the middle because the dogs always aim there, which is great."
As the name suggests, the Amazon Basics puppy pads are great for pet parents who don't need bells, whistles and technology built into their puppy training pads. These five-layer pads absorb, lock away wetness and have a floor-protecting base. And with over 113,000 five-star reviews on Amazon, they're perfectly simple and work great. "These are very basic pads," one reviewer wrote. "They are thick enough to hold the liquid. They do not seem to leak. They seem to keep the smell at bay as well."
Pet parents looking for a more sustainable option should check out the Simple Solution washable dog training pads. The top layer of the pads is moisture-wicking and controls odors, and these pads have been proven to last through 300 washes. "I have used the disposable puppy pads and my floors have become wet, [and] my dog would not use them," one Chewy reviewer wrote. "Since switching to these washable pads, my dog never has accidents and she loves using the washable pads. [My] first orders of these lasted 10 years or longer. They are worth the investment, and I highly recommend these."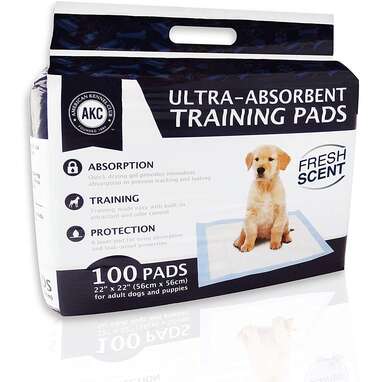 American Kennel Club's puppy pads come in four different scents: fresh, eucalyptus, lavender and lemon, each with six layers of leak-proof protection. "I got the lemon scented and so blessed I did, because they are just the BEST!!!" one Amazon reviewer wrote. "They soak up the urine and keep the poop off the carpet too … Best I've purchased and I've tried probably 30 of them, from inexpensive to more expensive, and these blow them ALL AWAY!"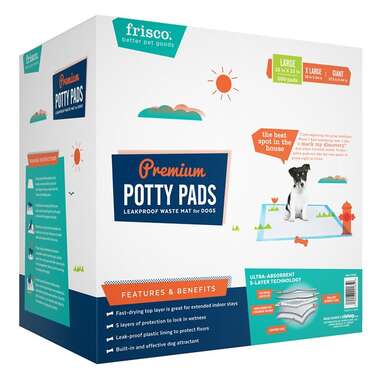 If you're looking to stock up on pee pads without breaking the bank, then Frisco has you covered. You can get a box of 200 pee pads for under $43 on Chewy and 300 for just under $55, which is a steal compared to competitors. And you're not forfeiting quality, either. "When my usual brand of pads became unavailable, I started searching for a comparable dog pad. I chose the Frisco brand because of the great reviews," one five-star review on Chewy reads. "I must say, these pads are above and beyond the quality of my former brand, and I'm impressed with their absorption! I am VERY happy I found these pads, and Frisco will continue to be my 'furever' choice!"
Made with activated carbon, the Glad for Pets black charcoal puppy pads wick away moisture and odor, leaving behind a dry puppy pad without a yellow stain. "Long gone are the days where you pick up … dripping pee pads or the smell never really goes away," one five-star reviewer wrote on Amazon. "You can even lay these face down on liquid, and it will soak it all up and turn it to gel in about 30 seconds … They are completely worth the money, and I will be buying this brand only from now on!"
How to train your puppy to use puppy pads
Veterinarian Dr. Corinne Wigfall, who works with SpiritDog Training, told The Dodo that training your puppy to use training pads is all about positive reinforcement and praise.
Use lots of positive reinforcement
"Puppy training pads have scents added to them that make them appealing to toilet on," Dr. Wigfall explained. "Use them in your puppy crate or playpen in a specific area. If your puppy urinates or defecates on them, give praise and treats and this will reinforce to the puppy that toileting in this area of your home is a good idea."
Never scold your puppy
If and when your puppy relieves himself in another area of the home, never yell or scold, but rather clean up the mess entirely to remove all smells that may encourage him to pee in the same spot a second time. "If your puppy does use this area again, clean and apply puppy pads on top of this area," Dr. Wigfall said. "Never rub your dog's face in a toilet accident or hit your dog when they go toilet inside. This is frightening and they do not understand the negative punishment is because of the toileting inside."
"Simply clean it up and take your puppy outside in case they need to do more toilet activity," she said.
Take him outside regularly
To use puppy pads to train your pup to relieve himself when outside, gradually move the puppy training pads toward the door that leads to your yard or designated pee area.
"At the same time, regularly take your puppy out for toilet breaks every one to two hours," Dr. Wigfall said. "Use a code word, such as 'go potty,' or 'wee-wees,' when they start to urinate. If you say this word every time they urinate, over time when you say the command when they are not urinating, they will associate it with urinating and go for a wee. This can be super helpful if you are in a rush to get to work or traveling and have limited toilet-break time."
Start praising him for peeing outside as soon as you get him home
According to Dr. Wigfall, it's also a good idea to start rewarding your puppy for relieving himself outside as soon as you bring him home. "Throw a 'puppy party' of praise every time they go toilet outside, and make a big fuss of them. This helps communicate to your puppy that going to the toilet outside is a good thing."
But if your puppy just isn't catching on to the whole "going pee and poo outside" thing, then don't beat yourself up about it. This training takes time. "Continue to have a puppy pad station inside as an emergency backup, and only remove it when you have had two weeks of no accidents inside the home," Dr. Wigfall suggested.
With a lot of love, a handful of treats and the best puppy pee pads on hand, your puppy will have the art of using training pads down in no time.