Top 100+ Puppy Names For Boy And Girl Puppies
Names to suit every pup's personality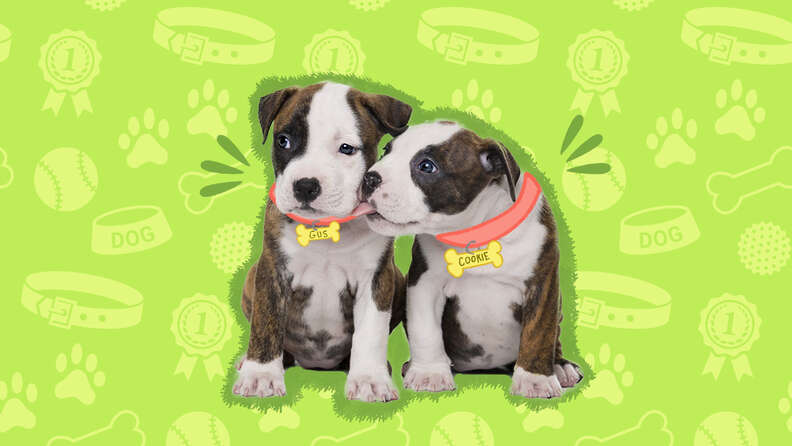 If you're planning on adding a new member to your family this year, then you're probably on the hunt for the perfect puppy name. Luckily, we have more than a few ideas to add to your list.
Just like when parents are preparing for a new human baby, dog parents usually come up with a list of possible names for their new BFF. Sometimes one name reigns supreme among the rest, and other times it's necessary to wait and see which name fits your new pup's personality.
To help you come up with a short list of favorite monikers, we have found some of the best classic boy and girl puppy names as well as some ideas for hilarious and punny names that will make people smile when they meet your pet. Plus, we've rounded up some dog names inspired by movie characters, too.
And if you can't narrow it down to just one, who says you can't give your pup a first, middle and second middle name?
JUMP TO: Girl puppy names | Unique puppy names | Character puppy names | Funny puppy names
Boy puppy names
Here are some classic cute puppy names for boy dogs.
Buddy
Milo
Thor
Bear
Boomer
Max
Duke
Gunnar
Moose
Hank
Tucker
Dallas
Finn
Gus
Brady
Levi
Toby
Girl puppy names
If you're getting a girl puppy, check out these adorable names.
Daisy
Lucy
Winnie
Bella
Maggie
Stella
Rosie
Zoe
Sadie
Dolly
Plum
Willow
Queenie
Birdie
Sabrina
Luna
Mika
Duchess
Moxie
Fifi
Ginger
Tilly
Lily
Gender-neutral names
Want to keep your new puppy's name gender neutral? There are a bunch of great names that fit any gender and any breed!
Scout
Sam
Harley
Billie
Sky
Coco
Taylor
Bailey
Kona
Brooklyn
Mocha
Peyton
Frankie
Charlie
Kai
Presley
Riley
Rory
Shadow
Sawyer
Jessie
Cookie
Unique puppy names
Here are a handful of unique names that will stand out from the rest.
Tippy
Pepper
Parsley
Cici
Leeloo
Midas
Ladybird
Falstaff
Pickle
Penny
Cricket
Mitzi
Denali
Jolene
Wonton
Bean
Kitty
Flint
Blanche
Movie and TV character-inspired names for puppies
Take some inspiration from your favorite movies and TV shows by choosing a puppy name like the ones below.
Marley
Lassie
Winn-Dixie
Copper
Lady
Toto
Balto
Frodo
Cosmo
Wanda
Scooby
Nana
Fiona
Leia
Chewbaca
Elsa
Olaf
Nala
Simba
Rajah
Meeko
Pascal
Mushu
Sansa
Arya
Tyrion
Hermione
Hagrid
Funny puppy names
Or, if you love a good pun, these hilarious names will definitely make you (and everyone else who meets your dog) giggle.
Bark Twain
Snoop Dog
Mary Puppins
RuPaw
Ally McBeagle
Beowoof
Diggie Smalls
Groucho Barks
Jimmy Chew
Dumbledog
Sherlock Bones
Sarah Jessica Barker
Take your time when picking a puppy name. More often than not, your gut will tell you which one best suits your new BFF.
Need some more name ideas? Take a look at our 100+ cute dog names and 100+ hipster names lists.
What To Buy If You Just Adopted A Dog
We may earn a commission if you purchase from our links.