The Best Puppy Harnesses On Amazon
Lesson number one: Learn how to go on walks.
We independently pick all the products we recommend because we love them and think you will too. If you buy a product from a link on our site, we may earn a commission.
Puppies have a lot to learn when they first enter into the world, like how to walk on a leash properly.
Though it can be challenging for puppies to learn not to pull, run or get wrapped up in their own lead, you can give your pup a leg up on this important lesson by suiting him up in a comfortable harness. Many of the below puppy harnesses on Amazon are built to teach puppies and dogs not to pull while out on walks, and they're comfortable enough for your puppy to feel as though his harness is his second skin.
Here are the best puppy harnesses on Amazon.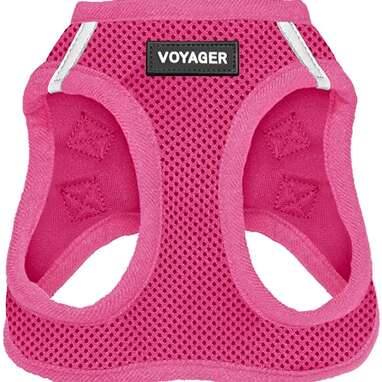 This simple puppy harness on Amazon from Voyager is available in sizes ranging from 3XS up through XL, making it a great fit for puppies of all sizes. The harness itself is lightweight, reflective and uses one clip to stay on. Over 72,200 pup parents say this harness is awesome for active puppies and dogs.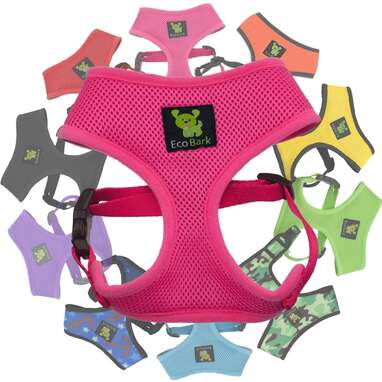 Available in sizes meant for toy breed puppies up through large breed adult dogs, the Ecobark dog harness is made using recycled materials like plastic water bottles. The soft mesh body of the harness prevents your dog from choking if he pulls and won't chafe or dig into your pup's skin.
With four points of adjustment, a soft breathable mesh body and two no-pull metal D-ring leash attachments, your puppy will learn how to go on walks without any discomfort. One of the over 79,400 five-star reviewers wrote, "The difference in walking my 5-month-old puppy has been night and day since I got this and attached her leash to the front of the harness … The first time I put this harness on her and took her for a walk, she pulled a couple of times [but] didn't like how it automatically pulled her back and to the side, and stopped pulling immediately."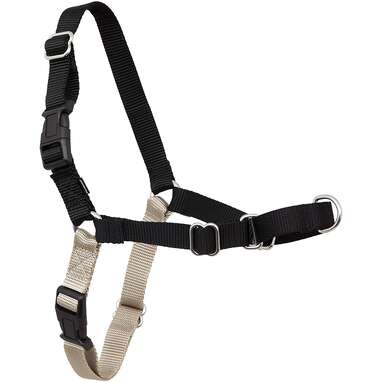 This simple nylon dog harness will teach your puppy not to pull while walking on a leash thanks to the front D-ring leash attachment. And because the front nylon strap sits on your dog's chest rather than his neck (like with standard collars), you won't have to fear him choking if he does pull. Each part of this harness is adjustable, and over 17,200 pet parents say this harness is the best there is.
No more having to pull your puppy's harness on over his head. Instead, simply wrap the straps of the PoyPet puppy harness around your dog's chest and belly, adjust to the right size and clip into place. Plus, the no-pull chest leash attachment will ensure your puppy learns good walking manners, and the top handle allows you to easily grab your pup if need be.
Pet parents who bought the ThinkPet all-weather puppy harness on Amazon say they love the harness so much they've come back to purchase another when their pups have grown into adult dogs. "I bought the small for my Boston terrier puppy. Now that she's almost a year older, she needed a bigger size," one pet parent wrote. "I went ahead and ordered another one. I love that it's reflective. I love the color. Most importantly, I love the mesh chest part. I have a seat belt clip for her harness, and that was the most important decision in purchasing this."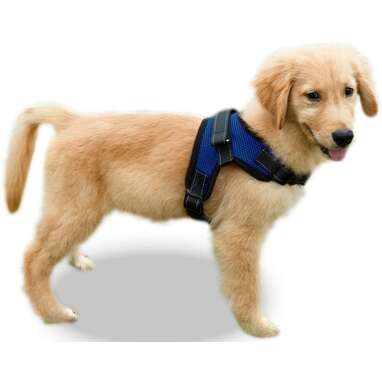 Available in sizes from 2XS up through XL, the Copatchy puppy harness on Amazon is a favorite among pet parents, who say it's lightweight, easy to adjust and a harness they will buy again when their puppy grows out of his first one. The breathable mesh material keeps your pup cool during walks, and the top handle is great for keeping an excited pup at bay if a potential new friend passes by.