The Best Puppy Food You Can Get On Amazon
Puppy-approved 🐶
We independently pick all the products we recommend because we love them and think you will too. If you buy a product from a link on our site, we may earn a commission.
As a new puppy parent (congratulations, by the way!), you want to ensure that you're starting your pup off right by feeding him the best food out there. But which puppy food is best?
The Dodo read the five-star reviews and found that, according to puppy parents, these puppy foods on Amazon are winners. Each formula contains a healthy combination of puppy-specific nutrients and minerals that will help your pup develop into a strong, happy dog.
Here are the best puppy foods you can feed your new pup.
The easy-to-digest formula of Purina's Beyond puppy food has farm-raised chicken as its first ingredient. It also contains pumpkin and oatmeal that are both gentle on the digestive system yet loaded with vitamins and probiotics. "My golden and my [6-month-old] golden puppy just LOVE this stuff," one five-star reviewer wrote. "It's nice to see them dancing around for their meals. I use it for treats too. This has become their basic food with the other brands secondary now."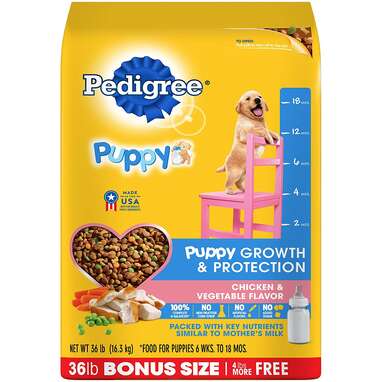 Packed with the same nutrients as those found in mother's milk, Pedigree Complete Nutrition focuses on the development of good digestion, a shiny coat, a strong immune system and healthy teeth. It's free from added sugar, high fructose corn syrup and artificial flavoring.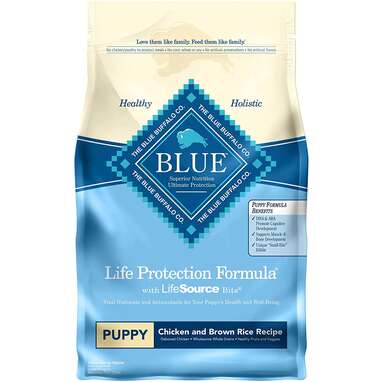 The Blue Buffalo Life Protection Formula puppy food is made with natural ingredients — like high-quality real chicken, brown rice and sweet potatoes — and promises to give your puppy the needed DHA and ARA to develop healthy eyes and brain. The smaller kibble sizes are perfect for little mouths, and the included essential vitamins and minerals help your pup develop strong muscles. Over 10,900 pet parents say Blue Buffalo puppy food is the best.
According to one pet parent who feeds their puppy Purina ONE SmartBlend, "It is easy on the system, as it contains non-allergenic ingredients for my super-sensitive big baby!" They continue, "When you look at the ingredients, the main ones are as they should be — meat (protein), vegetables, etc. You can read the ingredients and identify them without needing a dictionary to know what they are." This protein-rich food promises healthy skin, muscles, immune system and coat.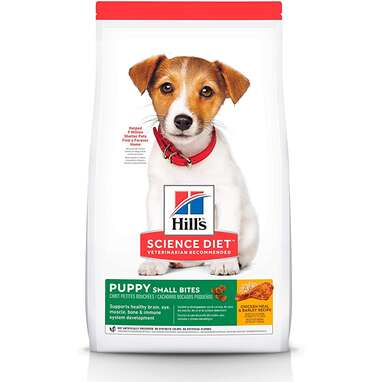 The Hill's Science Diet puppy food is made with DHA from fish oil for brain health, a healthy balance of minerals for strong bones and teeth, and high-quality protein for strong muscle development. You can grab a bag of Hill's puppy food from Amazon in either the small-breed or large-breed variety.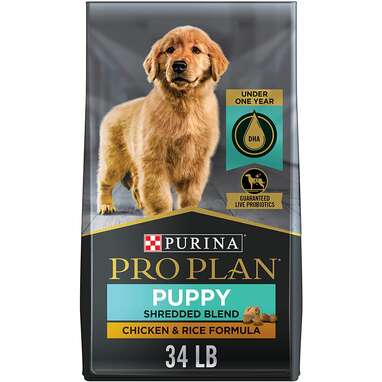 The shredded morsels in the Purina Pro Plan puppy food are easy on the teeth and contain live probiotics to bolster gut health. This formula also contains DHA to aid brain and eye development and antioxidants to boost your dog's immune system.
Available in formulas for both medium- and larger-sized puppies, the IAMS puppy kibble is made with wholesome ingredients like chicken, whole grain, carrots, beet pulp and chicken fat. Each kibble also contains 22 key nutrients found in mother's milk, including omega-3 for brain health and development.
"I have been on the search for a new dog food that would provide my puppies with the correct nutrition and allow them to be full after the recommended serving size," one pet parent wrote in their five-star review for Diamond Premium puppy food. "I began to see results with this food less than a week after switching food. They have more energy, and their coats are beginning to return to normal." Packed with probiotics and antibiotics, the Diamond formula is nutritious and perfect for growing dogs.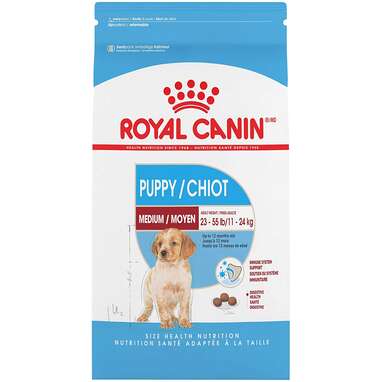 For smaller-sized puppies, Royal Canin's puppy food on Amazon will give them a great start to life. It's packed with nutrients, vitamins and antioxidants that help build a healthy immune system while giving him all the energy he needs to enjoy life as a rambunctious puppy.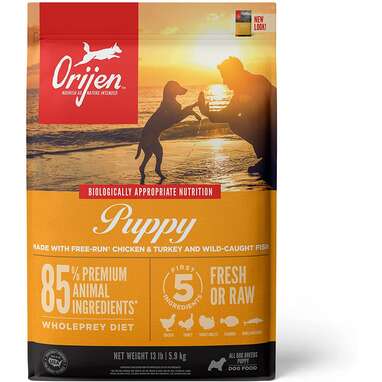 ORIJEN prides itself on being the best "biologically appropriate" dog food there is, using 85 percent animal ingredients sourced from trustworthy, local vendors. This brand is Amazon-approved Climate Pledge Friendly, and over 1,300 pet parents say this kibble is a favorite in their household.