The Best Puppy Food, According To Veterinarians
Here's advice from the pros 💪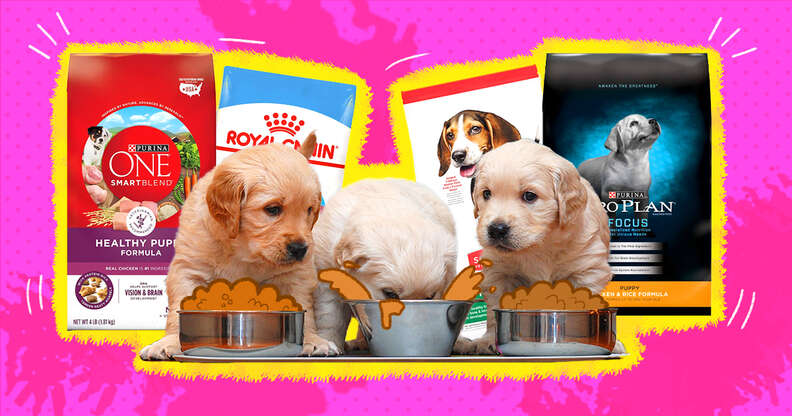 Getting a new puppy is super exciting, but it also comes with a lot of important decisions. You need to pick the right toys, bedding and crate — but one of the most important decisions is what to feed your new family member.
With so many puppy foods on the market, it can be overwhelming to pick the right one. So we spoke with Dr. Zay Satchu, cofounder and chief veterinary officer at Bond Vet in New York City, Dr. Angie Krause, the holistic veterinarian on staff at I and love and you in Boulder, Colorado, and Dr. Chris Bryant, a member of the Independent Veterinary Practitioners Association and owner of Cherokee Animal Hospital in Canton, Georgia, to get some recommendations.
What's the difference between puppy food and adult dog food?
"Some adult dog foods may not contain the nutrients needed for a growing puppy," Dr. Krause told The Dodo.
She said that pet parents can make sure they're feeding their puppies well-balanced puppy food by "[choosing] a food that is labeled by AAFCO standards to be complete for puppies or all life stages."
What pet parents should look for in a puppy food
When looking for a great puppy food, Dr. Krause said it's less important to look for specific ingredients and more important to ensure that a selected food "is balanced for puppies or all life stages."
Besides, as Dr. Bryant noted, your vet will let you know if you should be looking for specific puppy food ingredients depending on a potential medical diagnosis.
But there are a couple of other factors pet parents should consider when choosing the right food for their puppies besides ingredients.
Wet vs. dry food
"Canned food often contains more moisture and is sometimes higher in protein," Dr. Krause said. "Kibble is dry with more carbohydrates added."
Some puppies are picky when it comes to what formula they like best, so you can test both options to see which one your puppy gravitates more towards. Some pet parents even prefer feeding their puppies dry food at one feeding time and wet food at another.
"I don't stress too much about their choice if the brand is decent," Dr. Bryant told The Dodo.
Large- vs. small-breed puppy food
According to Dr. Satchu, you should always make sure to buy the breed formula that's appropriate for the type of puppy you're getting, since they'll differ based on your puppy's nutritional needs.
"Most of these foods are available in regular, large-breed and small-breed formulations," Dr. Satchu told The Dodo. The breed formulas correlate to the size a puppy is expected to be as an adult.
"Large-breed formulas are most appropriate for large- and giant-breed puppies, expected to weigh over about 60 to 75 pounds as an adult," Dr. Satchu said. "Small-breed formulas are most appropriate for toy- and small-breed puppies, expected to weigh under 20 pounds as an adult."
For anything in between, you should go with a regular formulation.
"Large versus small comes down to not ingredients but a reduction in protein for large breeds," Dr. Bryant explained. "The theory is that this slows their growth just a bit to decrease the potential of some joint diseases."
Best vet-recommended puppy foods
Here are the puppy foods Dr. Satchu, Dr. Bryant and Dr. Krause recommend:
Dr. Satchu and Dr. Bryant both recommend Purina Pro Plan's puppy formula for dogs under 1 year. It contains fish-oil-derived DHA for brain and vision development as well as live probiotics for digestive health and protein for building muscle.
Dr. Satchu also likes Purina One's puppy food that comes in both wet and dry formulas and is packed with calcium and glucosamine for healthy joints and DHA for brain and vision support.
Dr. Bryant is also a fan of the puppy food from Hill's Science Diet that is made with natural ingredients that help support strong bones, teeth, muscles, the brain and the immune system.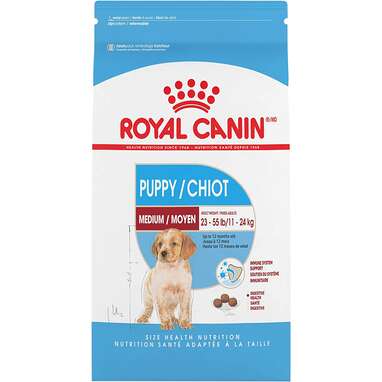 Another favorite of Dr. Satchu's is the puppy food from Royal Canin. Best for medium-sized puppies aged between 2 and 12 months, this formula provides antioxidants and vitamins that help support healthy growth and joint health.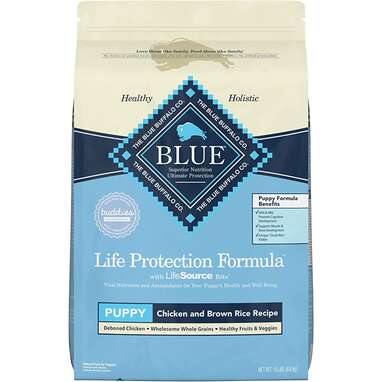 Dr. Bryant also recommends the puppy formula from Blue Buffalo, which is made with natural ingredients enhanced with vitamins and minerals that help puppies grow strong muscles and bones and develop healthy immune systems.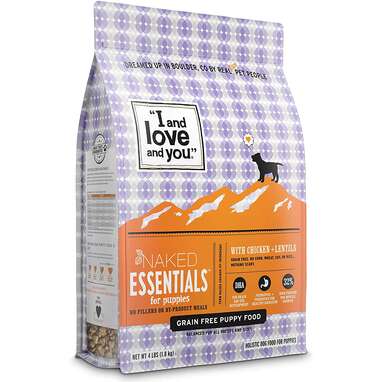 Dr. Krause loves the Naked Essentials puppy formula from I and love and you that contains both prebiotics and probiotics for healthy digestion, as well as DHA, protein and other essential vitamins and minerals.
How to transition your puppy to adult food
When it comes time to transition your puppy from puppy food to an adult formula, make sure you're making the switch over a long period of time.
"Transitioning should be done over a month or so, gradually decreasing [the] puppy [food] and increasing the amount of adult food," Dr. Bryant said, noting that the transition should happen around the age of 12 months "[Pet parents can wait] until 16 months for giant breeds."
Starting your puppy on the right foot with a great vet-recommended puppy food will prepare him for a long, healthy and happy life. So make sure you're making an informed decision, and don't forget to ask your vet for guidance.
We independently pick all the products we recommend because we love them and think you will too. If you buy a product from a link on our site, we may earn a commission. Links are updated when possible, but note that deals can expire and all prices are subject to change.