6 Pooper Scoopers That Make Cleanup A Breeze
Scooping poop just got a lot less gross.
We independently pick all the products we recommend because we love them and think you will too. If you buy a product from a link on our site, we may earn a commission.
Though cleaning up after your dog does his business is certainly the least glamorous of jobs as a pet parent, it's something you can't avoid. Luckily, there are helpful pooper scoopers out there that make the job a little less gross.
From portable scoopers that help you clean up on the go to scoopers that help keep your lawn poop-free, there are several different models pet parents can choose from — all of which make scooping poop a breeze.
Check out these top-rated pooper scoopers that have changed dog parents' lives forever.
Never bend down to pick up poop using your hands again. This pooper scooper from PPOGOO has a foldable handle, making it an ideal scooper for walks, and promises that it will never break. Simply put the waste bag over the open claws of the scooper and grab your dog's business for disposal. Over 8,700 pet parents say this is the best pooper scooper they've ever used.
Another great portable option is the DogBuddy pooper scooper on Amazon. It comes in two sizes and has a compartment for waste bags as well as an expandable carry compartment so you can finish your walk without having to look at your pup's poop. It even comes with a carabiner clip for easy carrying. "If you own a dog, buy this without thinking about it," one five-star reviewer wrote. "When she goes, I just put the bag in and scoop and seal. It's that easy. Literally, don't even really have to look at it."
If you need to bring in the big guns every time your dog does his business, then Nature's Miracle advanced jumbo jaw scooper should help you out greatly. It's lightweight, nonstick and picks up poop from nearly any surface using its jumbo-sized jaws. And pet parents have found that the best thing about this pooper scooper is that it's tall enough to use without having to strain your back.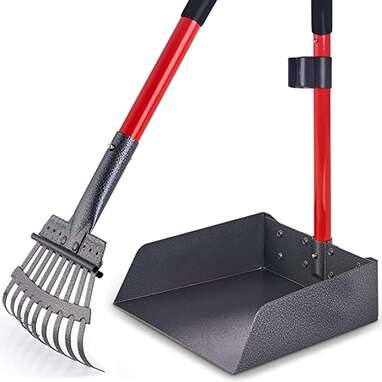 Meant for larger cleanups, the Pawler pooper scooper on Amazon has a larger tray than most scoopers as well as a rust-proof rake that makes scooping a breeze. With over 10,000 five-star reviews, dog parents say this pooper scooper gets the job done without any hassle. "I've had all kinds of pooper scoopers, and without a doubt, this is the biggest METAL tray, the best METAL handle that does not bend, break or come loose from the tray, and the BEST rake I've ever bought," one wrote.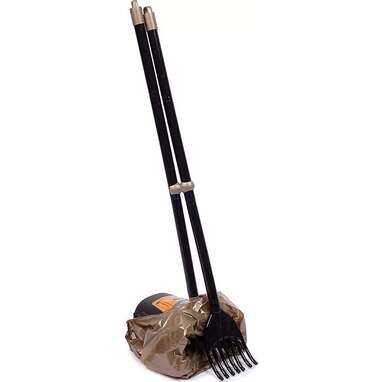 The swivel bin on the Arm & Hammer pooper scooper makes for easier pickup of poop in multiple locations. The bin and rake can handle both waste from small and large dogs, and the hooks on the side of the bin ensure that the waste bag stays in place during pickup. This pooper scooper has over 38,300 five-star reviews, so it's obvious that this thing means business.
This pooper scooper on Amazon from Snagle Paw comes with both a metal rake and a spade to ensure that everything is picked up from the lawn. Each piece of this set comes with an adjustable handle so you can set it to your preferred height, and the lightweight aluminum tray is rust-proof and large enough to fit multiple pickups.