The 7 Best Pill Pockets For Picky Dogs
Taking medicine made easy 🌟
We independently pick all the products we recommend because we love them and think you will too. If you buy a product from a link on our site, we may earn a commission.
It seems that our dogs have collectively made a pact to never willingly take their medications. Even if you try to hide the pills in peanut butter or cheese, your smarty pants knows something is up, and it's only a matter of seconds before that pill ends up spat out on the floor.
Luckily, a handful of dog treat brands have picked up on this seemingly endless war between pups and their parents, and pill pockets for dogs are now a thing. These tasty little morsels cleverly hide pills within them so your BFF thinks they're being rewarded — but you're sneakily giving them their medication. Genius.
Here are the best options out there that, according to thousands of real-life pet parents, actually work.
Easily give your pup his tablet-sized medication using these Greenies pill pockets. You can insert the tablet into the hole in the treat, then squeeze the top to completely seal in the pill. These Greenies come in four flavors, including yummy peanut butter — which tastes just as great as the real thing, but is a lot less messy. "These have been great," one of the over 9,300 five-star reviewers wrote. "She loves the flavor so much that she eats them too quickly to know there is a pill in there."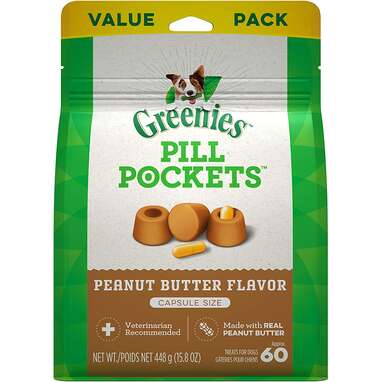 For pups who have to take medication that comes in a larger capsule, these Greenies pill pockets for dogs are the perfect size. These treats are a bit bigger than the tablet-sized ones, but still offer the same great taste, and it's just as easy to pop a pill in, seal and feed to your dog. Greenies pill pockets are also great because they mask the smell of medication, so even the most observant pups won't know there are pills involved in their treat session.
Milk-Bone's version of the pill pouch for dogs is a clever, sealable cube that fits most sizes of pills and tablets. Plus, each treat is lower in calories compared to the usual at-home standbys of peanut butter and cheese. Over 6,600 pet parents say these pill pockets are perfect for their pups, with one writing, "My Great Dane snarks it down so quick he does not realize there is a pill hidden in it. They are large enough that I can put two capsules in one of the pouches for him on his once-daily dose of medication. If I need to give one pill, I can cut it in half and they are soft enough to mold around the pill."
Available in six different flavors, the Pillbuddy Naturals pill pockets for dogs are free of corn, soy and artificial flavorings and colors. They can fit most pill shapes and sizes and are wrapped in pairs of two to keep the pill pockets fresh. "My dogs LOVE these things," one five-star reviewer wrote. "They have no idea they are getting meds."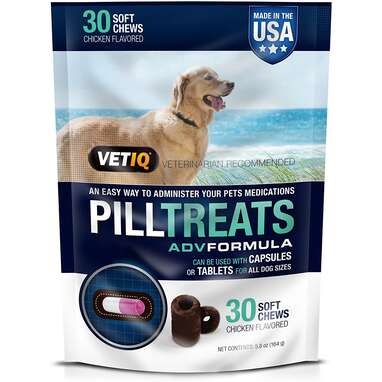 The VetIQ pill pockets for dogs are completely tubular, so any sized capsule can fit snugly inside. Simply pinch both ends and feed to your pup. "They are chewy enough that they don't notice the pill, but small enough that they eat them quickly so no worries about the pill being left over," one five-star pet parent wrote. "All of my dogs seem to like the flavor and they now look forward to pill days!"
Like Pillbuddy Naturals' pill pockets, the Zoë Pill Pops come wrapped in twos to maintain peak freshness. These pill pockets are made with natural ingredients, and so far, pet parents are impressed. "These are fantastic!" one pet parent wrote. "I literally just push the pill/capsule and it sinks in with ease. I definitely plan on purchasing these tasty pill nuggets for him again and again."
Hide tablets, capsules, powders and liquids in the PetMD Wrap-A-Pill paste. This malleable formula has a similar consistency to PlayDoh, making it a great product to create custom-sized pill pockets. It's low-calorie and masks the smell of medication with a great flavor. "I can use a smaller amount more suitable in size," one pet parent wrote. "It is not messy or sticky. I am a vet tech and I would recommend this product."