These Are The Top-Rated Pet Cameras On Amazon
Sometimes you just need to spy on your pets 🔍
What do your pets get up to when you're not around? You can easily find out by installing a pet camera in your home. And Amazon has a great variety of pet camera options to choose from.
The Dodo compiled a list of the highest-quality and best-rated pet cameras that send you notifications when they sense movement, barks or the smash caused by your cat pushing a planter off the windowsill.
Now, even the sneakiest of pets will be caught in the act (of snoozing all day on the couch, that is).
This small-but-mighty camera blends into your decor but is highly sensitive and will alert you when any motion or noise disturbance is detected. "I bought the 360 because I need to check whether my dog behaves well while I'm away," a five-star customer wrote. "So exciting to watch and talk with her, [it] seems like I'm still with her ... It did follow her movement automatically thanks to its motion-tracking feature. I can see her all day long. Absolutely love this camera!"
When the motion-detection sensor is triggered on the TENVIS security camera, it records a 15-second video of what caused the disturbance, and it automatically switches to night-vision mode when the room goes dark. "We got this because our puppy started having seizures," a pet parent wrote. "Night vision is very, very nice! A little lag, but not bad."
"Love this camera to watch my pups while I'm at work!!!" a five-star reviewer wrote, adding that the NETVUE pet camera was easy to install and even easier to use. Plus the camera quality and two-way speaker system is great. "I can also talk to anyone in the room," they continued. "I've talked to them, but then they go running to the front door thinking I'm home."
The Victure two-piece pet camera set is just as loved as the brand's single 1080p camera. With two cameras, you can get different angles of the same space or set them up separately in different rooms. "I love this camera. The setup was really easy and the image quality is great!!" one person wrote.
The Wansview 1080p camera records in high quality and is able to spin 320 degrees and tilt to an 80-degree angle. For the low price, over 13,800 people say the Wansview is definitely a steal — "My review stands, I love these cameras," one dog parent wrote. "However, I wanted to add a little note. My dog can hear when this camera comes on. She is very clever and she now hides from the camera when it comes on." Sneaky!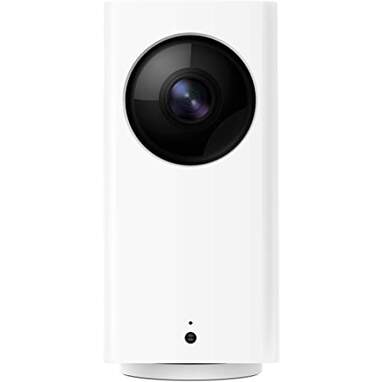 The low-profile Wyze pet cam has the ability to pan 360 degrees in under three seconds and tilt vertically up or down 93 degrees. It's also voice-controlled and equipped with night vision, and it streams live to the connected app. Nearly 50,000 people have rated this camera five stars with some saying it performs better than the more expensive Nest IQ.
Furbo's dog camera was specifically designed with pet parents in mind. Not only does it feature a barking sensor that notifies you when your dog is barking, it also has a treat dispenser that can be activated through the coinciding app. "The treat shooting mechanism shoots small treats, which is fine for [my pug] — well maybe not for him because he'd prefer it shot pizza slices — but they're the proper size treats for a smaller dog," one of the over 17,200 five-star reviewers hilariously wrote. Too true.
The Conico pet and security camera can spin a whopping 350 degrees to get a full sweep of the situation. This rotating feature also allows you to follow the action from your app so you can see what your pup is getting up to when he moves out of frame. "We use this to monitor our pets when we are not home," one reviewer wrote. "The picture quality and night vision are amazing!"
The YI security and pet cameras work with your Alexa system to turn the cameras on and/or view the live feed. All the features of these cameras, including night vision and motion-detection notifications, can be accessed through the YI app. "Let me tell you, I'm super impressed with the picture quality of these cameras," one five-star customer wrote. "The audio quality is incredible, plus it's a two-way speaker."
The newly-upgraded Victure 1080p camera not only has a movement-tracking feature, but also has night vision that can detect movement up to 30 feet away in a dark room. Motion-detection notifications will be sent to your phone, and you can even speak to your pet through the coinciding app and speaker system. Over 8,500 five-star reviewers said the quality is superb for such a low price."This camera has features that higher-priced cameras charge extra for. I love that I can talk to my dogs if I need to," one person wrote.