The Comfiest Outdoor Dog Beds For Hanging Outside
So you can spend more time together ❤️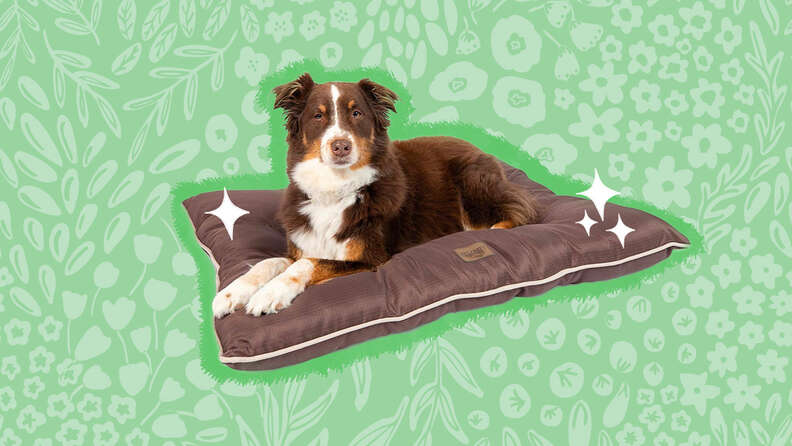 If your dog's crazy about the great outdoors and much prefers chilling on the patio to lying on the couch, you should invest in an outdoor dog bed.
An outdoor dog bed is meant to be your pet's version of a lounge chair or sleeping bag — some are awesome to keep poolside, whereas others are ideal to take with you camping.
The best outdoor dog beds are made with weather-resistant materials, like waterproof and quick-drying fabrics and rust-resistant metals, and are (most importantly!) padded or elevated so your dog's comfort is at the forefront!
What to look for when choosing the right outdoor dog bed for your pup
You'll want to keep a few things in mind when searching for the right outdoor dog bed for your pup.
Weather resistance
For a dog bed to meet the main "outdoor" standard, it needs to be weather resistant. This means it's made with polyester or other synthetic fabrics that can get wet and dry quickly (or be baked in the sun for hours on end), rust-repelling metals, and polyfill stuffing that won't clump together and grow mold.
Climate
Many outdoor dog beds do well in cooler weather and are great for chillier camping trips, but some are specifically designed for warmer climates and hotter weather. These elevated, cooling pet beds allow for greater airflow and will keep your pup cool during warm weather. And on the other end of the spectrum, some beds are designed with warming mechanisms that provide enough heat to keep your dog comfortable while he's hanging out with you outside in cooler weather, like when you go camping.
Keep in mind, though, that dogs should never go outside in extreme weather (though it's true that some dogs love cold weather — but have them experience cold weather for short periods at a time only), so avoid bringing your pup outdoors when it's either very cold or hot outside, even if you have an outdoor dog bed available.
Does it have a shade canopy?
Going hand-in-hand with beds designed for warmer climates, some beds also come with canopies attached to further help your pup stay cool. These beds are perfect for areas without much shade, and can really help knock down the temperature of your pup's outdoor hang.
Is it travel friendly?
If you're planning on bringing this outdoor dog bed with you on camping adventures, picnics or other outdoor activities, then you need to look for one that's travel friendly. Some outdoor pet beds are designed to roll up and fit nicely in a travel bag, whereas others come with an easy-to-fold frame like a beach or camping chair. Look for a bed that saves space and is easy to tote around if you're planning on taking it with you here, there and everywhere.
Your dog's size
Obviously, you'll want to pick out a bed that will suit your dog's size. Some beds come in a handful of different sizes to suit a variety of pups, so make sure you're reading the measurements of these beds before you click "add to cart."
The best outdoor dog bed options
Here are the best outdoor dog beds you can buy.
Perfect for any size pup, this outdoor dog bed from Pet Craft Supply is made with UV-resistant fabric treated with a water-resistant finish and packed with padding for ultimate outdoor comfort. It's also padded in a way that lets your dog snuggle into a little nest or stretch out and rest his head on the surrounding bolster-like support. The weather-resistant fabric is also chew-proof, and the entire bed can be tossed in the wash for quick-and-easy cleaning. It's a comfy bed that can be used outdoors in any season and can even be brought in for use indoors, too!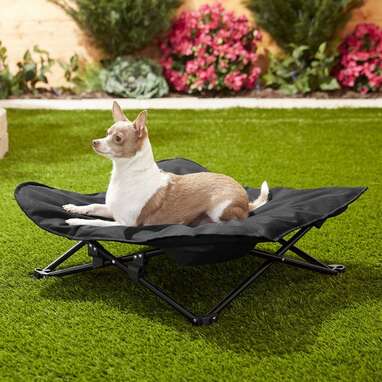 The second-best outdoor dog bed we found is the HDP Padded Napper Elevated Bed from Chewy. It comes in two different sizes and four different colors and features powder-coated, rust-resistant foldable legs that keep your pup off the hot (or cold!) ground. This waterproof and weather-resistant padded bed has a removable cover for easy cleaning, and the entire thing can be folded up and put back in its case for convenient storage and travel. This bed is best for dogs who weigh up to 40 pounds and can be used in both warmer and cooler weather.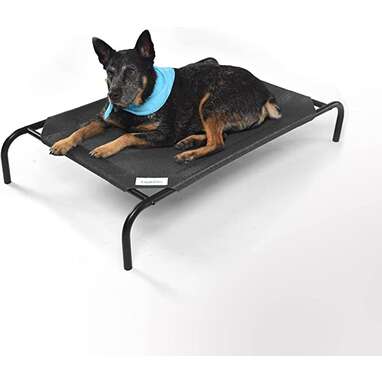 The Coolaroo elevated pet bed has over 43,900 five-star reviews on Amazon because dogs can't seem to get enough of it. It comes in sizes ranging from small up through extra-large and is made with breathable, heavy-duty polyethylene fabric that promotes airflow on all sides of the bed, which keeps your pup cool and comfortable in warmer weather. The elevated design also relieves joint pressure, and the entire thing is weather resistant, so it can stay outdoors. And to clean it, just give it a wipe-down with a damp cloth.
Available in two sizes, the Love's cabin elevated pet bed comes with a canopy attached for added shade and sun protection that's perfect in yards that get a ton of sunlight. The removable mesh bed keeps your pup cool in warmer weather, and the canopy can even be removed for days when your pup might want a little extra sun and warmth.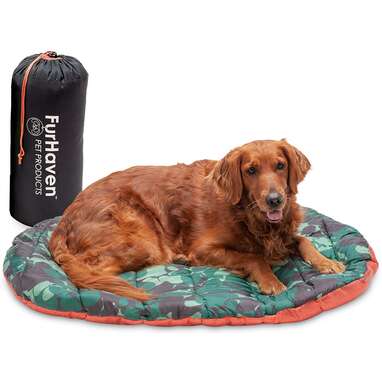 For families who love to go camping or are always on the go, check out the Furhaven travel pet bed. It comes in both small and large sizes, as well as three different colors, and it's so easy to roll up and stuff into a storage sack, just like a standard sleeping bag. It's puffed with cozy insulated padding and is completely machine washable. And the polyester fabric is so lightweight that if this bed gets wet, it only takes a few minutes for it to dry out completely. This bed shouldn't be left outside for hours on end, but it's absolutely perfect for any short-term outdoor adventure.
Available in sizes small, medium and large, the K&H Pet Products Lectro-Soft heated dog bed can be plugged in to provide warmth for your pup while he hangs out with you outside during cooler weather fire pit hangs, camping trips, or while you're raking leaves. It comes with a fleece cover for extra coziness, an internally regulated thermostat, and is water resistant, meaning it can safely stay outside for hours. But remember, don't leave your dog outside in cold weather for extended periods of time, and never leave him alone outside, either.
These beds are so comfy, your dog will jump at the next opportunity to spend some time with you outside. And more time spent together with your pup is totally priceless!
We independently pick all the products we recommend because we love them and think you will too. If you buy a product from a link on our site, we may earn a commission.
5 Dog Beds To Bring With You When Camping With Your Pup