The Best Non-Stick Litter Boxes On Amazon
Scooping is so much easier.
We independently pick all the products we recommend because we love them and think you will too. If you buy a product from a link on our site, we may earn a commission.
Cleaning the cat's litter box is a chore that no one likes to do — but maybe that's because you've made the job harder than it has to be. By picking up a non-stick litter box, you're well on your way to making the dreaded litter-box-clean-out a much faster (and less gross) process.
According to cat parents who have made the switch from standard litter boxes to non-stick ones, there's no way they're ever going back. The Dodo read the rave reviews and found that these non-stick litter boxes on Amazon are the absolute best ones out there.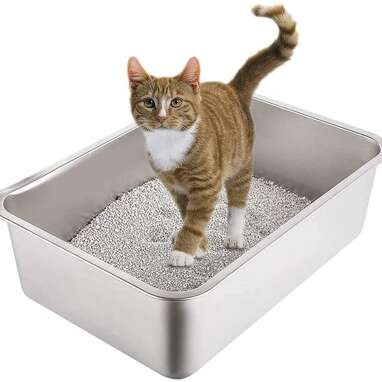 This stainless steel litter box from Yangbaga offers a stick-free surface that makes litter box cleaning a breeze. It doesn't hold odors, scratch up or stain, and over 1,500 cat parents have made the permanent switch to this stainless steel box and aren't going back to the standard plastic version anytime soon.
The BetterBox non-stick litter box on Amazon from PetFusion is lined with a non-stick coating that won't grab onto clumps of wet litter like standard plastic pans. Its low entry makes it ideal for senior cats and kittens, and the curved angles help you scoop out all the used litter — no more clumps hiding in the corners.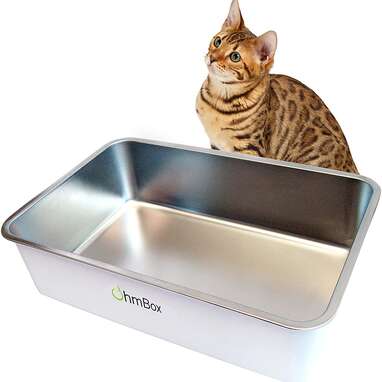 "​​This is the best litter box I have had," one five-star reviewer wrote of the Ohmaker's OhmBox stainless steel litter box. "The litter clumps do not stick to the bottom of the pan; it absorbs odors and is perfect for large or little cats." This litter box is built to last and promises to be the only litter box you will ever purchase. It's easy to keep clean and will not scratch or absorb odors.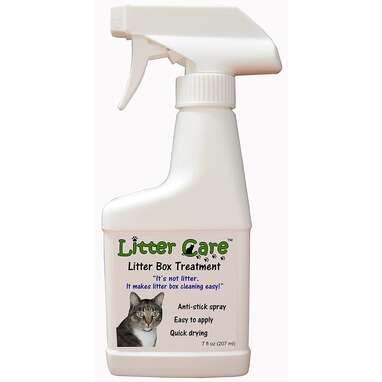 If you'd like to try to make your existing litter box non-stick, try out the Litter Care non-stick litter box treatment spray. This stuff promises to cut down on the amount of clumps sticking to the sides and bottom of your pan, and as one cat parent wrote, "I rarely write reviews, but I'm so impressed with this I'm back to re-order! … This product miraculously seems to make my clumping litter (Cat Attract) clump better. It's so much easier to scoop, and anything that does stick to the bottom of the litter pan slides off easily. The boxes definitely seem cleaner because waste can be removed more completely."