Here Are 10 Of The Best Natural Dog Shampoos
Clean and natural 🌱
If you're into all-natural products for yourself, you might want to get some for your dog, too — like a natural dog shampoo.
But what exactly is natural dog shampoo, and how can you find the best brand for your pup?
We found some of the best natural dog shampoos you can buy to take the guesswork out of getting your dog a clean grooming routine you can feel good about.
What is a natural dog shampoo?
Natural dog shampoos (like you might assume from the name) are made with natural ingredients, such as plant-based oils. They don't include chemicals, toxic ingredients or dyes, which can irritate your dog's skin.
Many natural dog shampoos are made with organic ingredients, too. You'll know if a product's organic if it has the USDA label.
If something's organic, that means it's been produced without the use of anything artificial. The USDA requires all organic products to contain at least 70 percent organic ingredients in order to include the official label.
Since labeling a product as "natural" isn't as regulated as labeling it as "organic," pretty much any company can call their product natural — so be sure to check the ingredients of any natural dog shampoo to double-check it truly excludes undesirable ingredients.
Benefits of a natural dog shampoo
There are plenty of benefits to using natural shampoo on your dog, including:
They're less likely to irritate dogs who have sensitive skin or allergies.
They're less likely to strip natural oils from your dog's coat.
You'll expose your dog to fewer chemicals.
They're better for the environment.
They're typically cruelty-free.
Best natural dog shampoos
These are some of the best natural dog shampoos you can buy, all without artificial chemicals, colors, sulfates, parabens or other harmful ingredients.
This conditioning dog shampoo is vegan, hypoallergenic, and paraben- and sulfate-free. Plus, it has no dyes, fragrances, alcohol or chemicals. It's gentle and conditions as it cleans, and it helps with itchy skin. You can choose from two scents to make your pup smell super clean and fresh: grapefruit lemongrass and eucalyptus peppermint.
This dog shampoo is made for pups who shed, which is most dogs. (And if your dog doesn't shed, you can get this shampoo.) It hydrates your dog's fur and moisturizes her skin at the same time with coconut and argan oil, and it has a coconut scent. There are no sulfates, parabens, silicones or dyes. Plus, it's veterinary dermatologist-approved.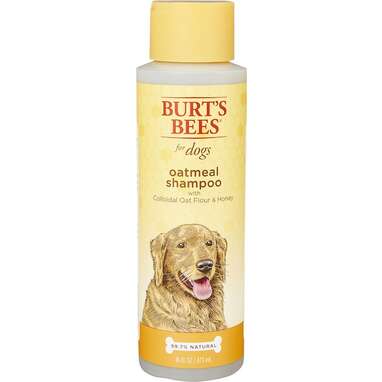 This shampoo includes natural ingredients like colloidal oatmeal, honey and beeswax for sensitive skin. Plus, it's pH-balanced specially for dogs and free from fragrances, sulfates, dyes and harsh chemicals. It's also veterinarian-recommended, so you know it's extra safe. You can even get a dog conditioner to go with it.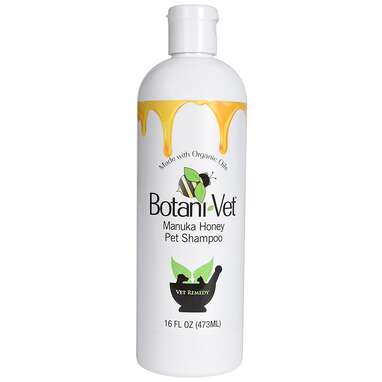 This dog shampoo is USDA-certified organic and 100 percent natural, and it's free from sulfates, alcohols, harsh chemicals and detergents. The shampoo contains Manuka honey, which is non-irritating and promotes skin health. Other organic ingredients include aloe vera and coconut, olive and jojoba oils. Plus, it's formulated by veterinary dermatologists, so you know it's super safe to use on your pup.
This USDA-certified organic dog shampoo includes aloe vera; coconut, olive, lemongrass and jojoba oils; plus rosemary extract to soothe and moisturize itchy skin. There are no chemicals, sulfates, parabens, enzymes or phosphates, so it's perfect for dogs with sensitive skin.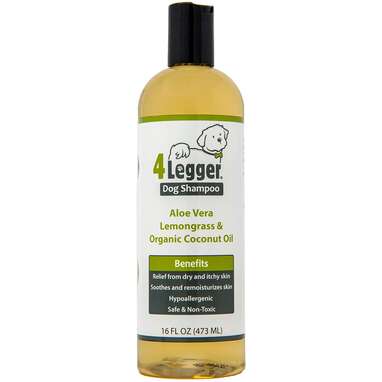 This dog shampoo is USDA-certified organic and cruelty-free. It's hypoallergenic and contains plant-based ingredients such as coconut oil, organic lemongrass essential oil and aloe vera. Your dog's coat will be soft and shiny after washing her with this shampoo.
You get five in one with this shampoo, so it's basically all you need for bathtime. It cleans, deodorizes, conditions, detangles and moisturizes. This eco-friendly formula is plant-based and includes natural ingredients such as oats and aloe.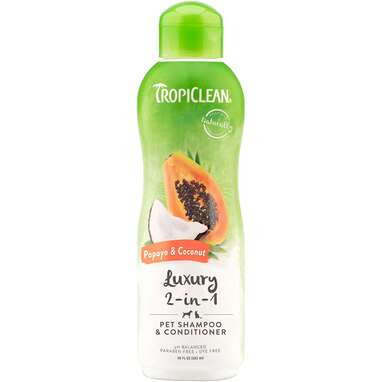 This natural dog shampoo is a two-in-one shampoo and conditioner that cleans and moisturizes all at once to save you time. It's pH-balanced and paraben- and dye-free and includes only naturally derived ingredients. And it has a yummy papaya and coconut scent.
This oatmeal shampoo is pH-balanced and alcohol- and paraben-free. It includes oatmeal, aloe, coconut, lime and lemon verbena to moisturize and soothe itchy and irritated skin.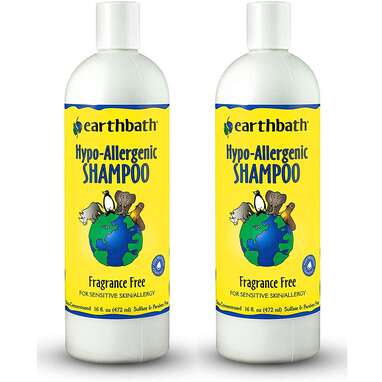 If your dog has allergies or super sensitive skin, this hypoallergenic shampoo is perfect. It's made with renewable plant-derived and coconut-based cleansers, organic aloe vera, and vitamin E. Plus, it's free from any toxic ingredients, like alcohol, parabens, dyes, soap, sulfates and phthalates. And it's fragrance-free, so it's great if you or your pup have a sensitive nose.
If your pup has sensitive skin or allergies, you'll definitely want to try out one of these natural shampoos. And even if he doesn't, they'll still keep him clean and healthy.
We independently pick all the products we recommend because we love them and think you will too. If you buy a product from a link on our site, we may earn a commission.